La dolce vita isn't limited to the Seven Hills of Rome, at least not when it comes to great Italian cuisine. When Texoma Living! asked Chris and Amy Goedecke to host a party at their home north of Whitesboro, we decided it was time to bring our readers our version of an Italian connection, and Executive Food Editor, Chef Robert Aranson of Kelly Square in Sherman, came up with a menu that would be appreciated in any palazzo in the Eternal City.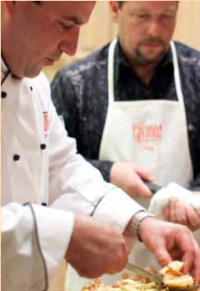 This issue's principal food feature, the Italian Party at Chris and Amy Goedecke's home in Whitesboro, had to overcome a few obstacles along the way. Originally scheduled for the February 12, it was as done in by the blizzard of '10, not much of a snow by Northeast standards, but more than enough for North Texas. Undaunted, the Texoma Living! team moved things to the next Friday and went to work.
The choice of Italian cuisine was one jointly but independently reached by editor Edward Southerland and me. "What will we do?" was the question, and "Italian" was the answer we both blurted out at the same time.
Italian is a lot more than pizza, pasta, and tomato sauce. The variety of Italian cooking, both rustic and the more sophisticated offerings, is amazing. Italian dishes also tend to be easier. Recently I made an eggplant and zucchini lasagna. The dish was nothing more that sautéed eggplant and zucchini layered with lasagna noodles, chopped tomatoes and mozzarella, and filled with a simple béchamel sauce. It couldn't have been easier.
The next time you're looking for something different to fix for a meal, scout around on the Internet or pick up a book on Italian cooking. You're sure to find something to tempt your palate.
-Chef Robert Aranson
Guest List
Amy and Chris Goedecke
Kim and Tim Ferguson
Kelly and Jimmy McCorkle
Gina and Tom Axtell
Janis and Joe Crawley
Su and Dee Welch
Credits
Chef Robert Aranson – Executive Food Editor
Edward Southerland – Associate Food Supervisor
Brenda Hantsche – Production Coordinator
Christy Auten – Kelly Square Catering
Jacki Lee and Jim Miller – Photographers
Menu
Pinzimonio – An antipasto of raw vegetables with olive oil salt, pepper
Bruschetta – Toasted bread with Roma tomatoes, garlic, red onion, and balsamic vinegar
Gnocchi – Potato dumplings with roasted garlic, sun dried tomatoes, oregano, and shaved parmesan
Pasta – Penne pasta with prawns, arugula, roasted tomatoes, garlic, and olive oil
Entrée – Tuna Livornese—Roasted ahi tuna with thyme, oregano, tarragon, and lemon
Vegetable – Asparagus Luciano—asparagus with prosciutto, garlic, and olive oil
Dessert –  Chocolate Panna Cotta—an espresso cream