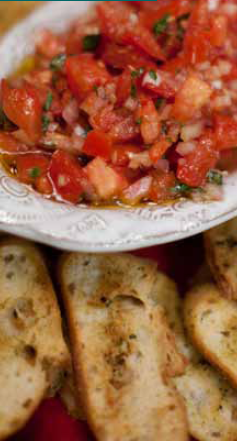 Originating in Italy during the 15th century, this simple appetizer is certain to add some spice to your next meal.
Ingredients
-6 ripe medium tomatoes, diced
-10 leaves fresh basil, chopped
-6 tablespoons extra-virgin olive oil, plus more for drizzling
-3 cloves garlic, thinly sliced
-½ teaspoon sea salt
-8 teaspoon freshly ground pepper
-2 fresh baguettes cut into half inch slices, cut and toasted, then rubbed with garlic
Preparation
Mix tomatoes, basil, olive oil, garlic, salt, and pepper together in medium bowl. Spoon onto bread and drizzle with extra-virgin olive oil.