Although Texoma Living! is no longer being published, you can search every story on every page of every issue.
The last issue published was October 2010. The economic downturn caught up with us.
Read the official news release on the closing from May 4, 2010.
It took two years of work to move all of Texoma Living! Magazine's nineteen issues to this final online resting place. There are over 2,000 pages available.
To search for a particular story or subject, click on the magnifying glass icon in the menu bar above, just to the right of the STAFF menu item.  A search window will open. Put in a name, a place, a subject, and read to your heart's delight.
On Reflection
As I update with this supplement in the Fall of 2023, it is with great pride that I share the pages of Texoma Living!. As of this update, over 10.5 million visits have been to our pages.
I also want to pay tribute to Edward Southerland. He passed on July 15, 2020, after a long illness. Edward's words enlivened the best stories we published. His article on Lee Hudgins in issue #1 convinced me it was worth the investment to continue to publish.
Read Edward's obituary and comments from friends here.
The First Cover Story
I never intended to put the Hudgins story on the cover. When photographer Anne Marie Shumate showed us the prints from her session with Mr. Hudgins, there was no question that it would be the first cover.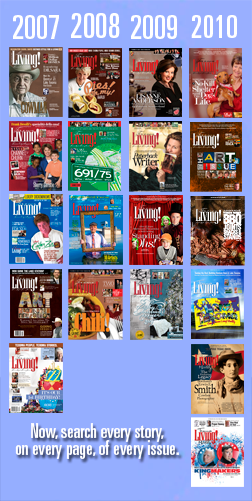 Many people don't know the origin story of Texoma Living!. It was supposed to be a once-a-year magazine for the Sherman Chamber of Commerce —you may notice the name on the first cover as "Sherman Living!".  It took four months to produce that issue. When the finished magazine arrived from the printer, we realized this is something special.
Publishing Texoma Living! fulfilled a dream for both Edward and me.
What a Picture is Worth
Anne Marine Shumate was our first contributing photographer. But Texoma Living!'s pages came alive thanks to the creativity of a short list of artists whose photos matched anything seen on the pages of the biggest and best magazines. Stephen Olner's magnificent architectural photos of unique homes and his intimate images for some of my favorite features are still on my personal favorites list. Jacki Lee (Miller) Sanoja became a go-to photographer for capturing almost anything. I was first attracted to her out-of-the-box style and composition. There were many contributors to Texoma Living! you will see their names attached to stories in this archive. You can browse the staff list here. All were important and part of what made this magazine special.
Remembering The Grammer Boss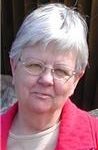 If Jesse Gunn Stephens were still alive, she would have cringed and corrected that headline. Jesse passed away on March 10, 2014.
Jesse was Senior Editor at Texoma Living!, but we considered her the "Grammar Boss." Her attention to detail and understanding of colloquialisms and what a predicate nominative was put her above the rest of the staff.
She was also a published author, a Master Gardener, and a fount of knowledge on many subjects. She kept us grammatically in line and out of trouble with English teachers everywhere.
"She was a master of words," said Kay Casey, treasurer of Press Women of Texas. The organization named Mrs. Stephens a "Communicator of Achievement" in 2011, the highest honor a member can receive. "She was a master writer and a master editor," Casey continued. "She was incredible."
A Grand Experiment
Words and pictures. The legacy of a grand experiment in big city publishing for a small community in North Texas.
Rarely a day goes by that I do not have the opportunity to reminisce about my time as the publisher. I am convinced that in the end, my obit will lead with "former publisher of Texoma Living! Magazine." I'm OK with that.