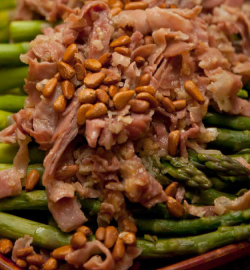 If you are looking to prepare a healthy vegetable with an Italian flavor, you can't go wrong with an asparagus Luciano.
Ingredients
-3-5 pounds fresh asparagus
-1 pound prosciutto ham cut julienne
-4 cloves of garlic, chopped
-Olive oil
-Sea salt and pepper
Preparation
Cut woody ends off asparagus (about 2-3 inches from bottom).
Heat 1 cup of water to boil in a large skillet, add asparagus and cover for 1 minute. Remove from pan and pour off remaining water. Return pan to heat and add olive oil and garlic, and sauté for 1 minute.
Add prosciutto and sauté for 30 seconds. Season with salt and pepper. Pour over warm asparagus and serve.