Served great as an entree (as it is prepared in Italy). The gnocchi is similar to dumplings, only with a little Italian zest to it.
Ingredients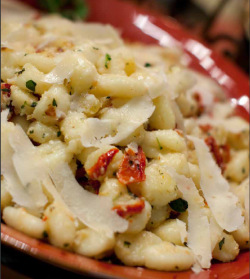 -2 – 16-ounce packages of gnocchi
-¼ cup pureed roasted garlic
-1 cup re-hydrated sun dried tomatoes
-2 tablespoons fresh oregano, chopped
-½ cup fresh parmesan, shaved with vegetable peeler into strips
-Salt and pepper
Preparation
Prepare gnocchi according to package directions and cool under cold water. Pat dry on paper towels.
Place gnocchi and other ingredients in a large skillet over medium high. Toss occasionally to prevent burning. Cook until gnocchi is heated through.
Garnish with shaved parmesan cheese.