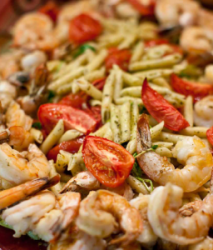 A must-have on anyone's Italian menu, the penne pasta alongside prawns, mushrooms and arugula will bring the taste of Italy right to your table.
Ingredients
-30-36 shrimp, the larger the better, deveined, shelled (you can leave the tails on if you like)
-2 cloves minced garlic
-2 tablespoons extra virgin olive oil
-1 pound penne pasta, prepared according to package directions and drained
-¼ cup pesto
-1 tablespoon fish sauce or salt sprinkled to taste
-Juice from ½ lemon
-½ teaspoon red pepper flakes
-2 cups sliced mushrooms
-4 cups arugula leaves (can substitute spinach)
-Freshly cracked black pepper to taste
-Sprinkle of pine nuts and parmesan cheese, optional, for garnish
Preparation
Heat 1 tablespoon of olive oil in a large skillet over medium high heat, add garlic and sauté for about 30 seconds. Add the shrimp and sprinkle with a dash of salt, black pepper, and a pinch of red pepper flakes. Sauté until the shrimp is just opaque. Transfer the shrimp to a bowl.
In the same skillet, add another tablespoon of olive oil, then add the mushrooms and drained pasta. Add the pesto, lemon juice, fish sauce and red pepper flakes. Stir to combine until the penne is coated with all ingredients. Season to taste.
Add the shrimp and arugula to the pasta and cook until arugula wilts.
Top with freshly cracked black pepper.