Jacki Lee, co-owner of Jimmages Photography in Sherman is a frequent contributor to these pages. While working with us on the issue, she decided it was missing something, so she proceeded to do something about it. She enlisted cake baker extraordinaire Renee Marze whose spectacular handiwork graced the cover of our first birthday issue in the winter of 2007, to provide the sweet treats. Jeff Buckner of Jeff Buckner Designs created the table with a flower tree and topiary by Special Occasions, and Texas Laundry and Dry Cleaning provided the linen. "I wanted to create a vintage Valentine's tablescape with easy, homemade items that anyone could make for a party," Jacki said, and did she ever. The beautiful and tasty results, the combined efforts of all of these artists, are displayed.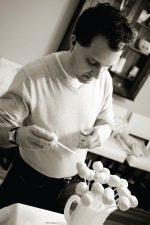 Menu:
Table Components:
The predominant table color is white, which creates a clean, elegant backdrop. Cream lace adds a bit of color variation but still keeps things neutral. Milk glass, antique red and white china and vintage Fostoria crystal make the table glow, but you can use similar pieces from your own collections. The rest of the table decorations are easy and fun to create.
Oreo Cakester Hearts: Cut cakesters with heart-shaped cookie cutter.
Powdered Sugar Cakes: A mountain of powdered sugar doughnuts makes a pretty display.
Marshmallow Tree: Toothpicks, marshmallows, and an inexpensive Styrofoam® form give height, texture and depth to the table. The form was wrapped with yarn to dress it up.
Cherries and strawberries add a burst of red color and charm. Twin balls covered with hot-glued white buttons rest on slanting stacked teacups, adding a bit of whimsy.
Fluffy pom-poms hang from the ceiling by monofilament line.
Materials:
-White or colored tissue paper
-12 – 20 inch by 20 inch sheets of tissue for each pom-pom
-Floral wire
-Monofilament line
Directions:
Stack 12 tissues and fold stack into 1½ inch accordion folds, sharply creasing each fold.Tie the floral wire around the center of the folded paper. Trim the ends of the paper into pointed or rounded shapes or leave them plain. Separate the layers of tissue by pulling each layer into the center of the paper strip. Tie monofilament line to center of pom-pom and hang from ceiling at different heights.