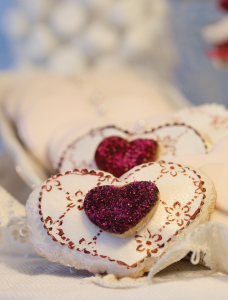 These sugar cookies were crafted and hand decorated by Renee Marze. She drew a quilt pattern on rice paper to create a beautiful, one-of-a-kind cookie that is 100 percent edible. Renee made the ornate cake top in the form of a pink dahlia entirely with Royal Icing.
-12 cups butter, softened
-2 cups white sugar
-4 eggs
-1 teaspoon vanilla extract
-5 cups all-purpose flour
-2 teaspoons baking powder
-1 teaspoon salt
In a large bowl, cream butter and sugar until smooth. Beat in eggs and vanilla. Stir in flour, baking powder, and salt until well blended. Cover and chill dough for at least 1 hour or overnight. Heat oven to 400°. Roll out cookie dough ¼ to ½ inch thick on floured surface, and cut heart shapes with cookie cutter. Place cookies 1 inch apart on ungreased cookie sheet. Bake 6 to 8 minutes. Cool completely on wire rack, before icing.
Royal Icing
-whites from two large eggs (If you are concerned about using raw eggs, substitute pasteurized egg whites.)
-2 teaspoons fresh lemon juice
-3 cups confections sugar, sifted in the bowl of your electric mixer (or with a hand mixer)
Beat the egg whites with the lemon juice. Add the sifted powdered sugar and beat on low speed until combined and smooth. The icing needs to be used immediately or transferred to an airtight container and refrigerated. Royal Icing quickly hardens when exposed to air, so cover with plastic wrap when not in use.