Pink Cakepops
-1 box cake mix (your choice of flavor) prepared as directed in 13 x 9 pan
-1 can (16 ounces) cream cheesefrosting
-1 package candy melts or chocolate bark
-waxed paper
Crumble cooked cake in large bowl. Add cream cheese frosting and mix thoroughly. This is best done with your fingers.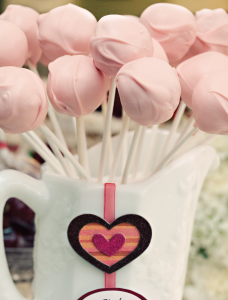 Roll mixture into small balls the diameter of a U.S. quarter, and arrange on cookie sheet. You should get 45-50 pops.
Chill in refrigerator or freezer until firm. Choose freezer for speed, but make sure pops don't freeze.
Melt candy melts or bark in microwave as directed on package. Melt only a few pieces of coating at a time as it thickens on cooling and becomes more difficult to work with.
Using a spoon, dip pops in melted coating and place on waxed paper to set.