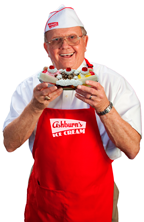 "We didn't make homemade ice cream. We made Ashburn's ice cream," said Bill Ashburn, and he is correct, of course. Commercially-made ice cream has different properties than the homemade version cranked out in the old-fashioned ice cream churn, with its canister turning easily at first and then slower and slower, as the ice cream freezes and thickens.
But then perhaps he is cutting too fine a point. For thousands of people in Denison and Sherman, grownups, kids, and kids who became grownups, Ashburn's was homemade—hometown made, anyway. From Ashburn's beginnings in 1907 until well after World War II, almost all ice cream was local and made in small batches to satisfy one day's worth of customers. Its local flavor meant that local tastes became accustomed to unique offerings, not the uniformed sameness of mass-produced ice cream.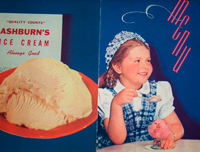 Consider Ashburn's peach ice cream. "We had a guy over in Colbert, Oklahoma—I don't what he did full time—he'd put boards on his pickup and go to Arkansas," Ashburn recalled. "The best flavor time for fruit is when it's almost rotten, and he'd go up there and buy a whole truck load. He'd have peaches hanging off that thing. He'd bring them back to Colbert and hire some local women to come in and peel and pit the peaches and put them in cans. We'd give them ice cream to eat while they were doing it."
When the peaches arrived at the Ashburn's Ice Cream plant in Denison, workers would add sugar to the fruit and put the cans in the frozen food vault, so the supply would last a little longer. "When we made ice cream, we'd thaw out a five gallon can of these peaches—and this is the part the big guys can't do—we'd put those peaches in the barrel of the batch freezer and then add the ice cream mix and let it soak before we'd freeze it. That imparts the peach flavor to the ice cream. The health department probably wouldn't let you do that today."
The blades that continually scraped the ice cream from the sides of the barrel during the churning process cut the chunks of fruit in the mix so it was rare to find a piece of a peach in the ice cream. All you got was the flavor. "You hardly ever saw any peaches, but when you ate the ice cream, boy, you knew peaches had been there."
Ashburn's Peach Ice Cream was a seasonal treat. "We didn't have it all year round, but when we did, we'd get some high school kid who was an artist to paint huge peaches on our great big windows, and the people would just swarm in there for peach ice cream."
Starting up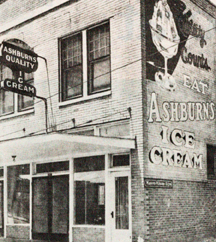 For more than seventy-five years, ice cream in Texoma meant Ashburn's. In 1901, W. L. Ashburn, Bill's grandfather, started a dairy east of Denison. He and his seven sons delivered dairy products in horse-drawn wagons to people in the town. It was a time when even many city dwellers kept a milk cow, so the elder Ashburn started a grazing service. His seven boys would spread out across Denison each morning collecting cows, drive them to the dairy, and turn them out to graze in the pasture. In the evening, the mini cattle drive would be reversed.
W. L. Ashburn and his oldest son, Martin, started an ice cream factory at 115 S. Rusk Street in 1907 to use the surplus milk and cream the dairy produced. "That was in the days before refrigeration," said Bill Ashburn. "They had to make it with ice and salt in ten-gallon freezers, and whatever you made, you sold it, or ate it, or threw it away."
When W. L. retired in 1911, Martin took over the business. In 1918, he moved the operation, ice cream factory and retail store, to 615 W. Main Street, where it shared a building with a cobbler who soon moved on. The factory was in the rear and the shop was on the ground floor. In the late 1950s, Bill and his wife Yvonne lived in an apartment above the store, a space that is now a loft. By the time of the move to Main Street, Ashburn's had expanded its business and was selling ice cream to local restaurants, cafés, and hotels.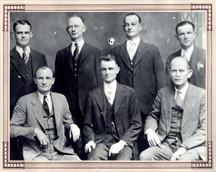 In 1926, Martin sold the Denison store to two of his brothers, Harrell and W. L. Jr. (Bill Ashburn's father), and moved to Fort Worth to start another ice cream business. "Uncle Martin was a starter," said Bill. "After a while, Harrell and W. L. Jr. bought the Fort Worth store, too, and Martin moved over to Dallas and started up there. When they got the Fort Worth store, my uncle and my father flipped a coin to see who would go to Fort Worth, and my father won and stayed in Denison."
Do you remember Ashburn's Ice Cream? Share your memories with other readers. Click on "Leave a Comment."
Let's see, that accounts for three of the seven Ashburn brothers. Bill continued, pulling out a pencil to jot down some names to insure none of his uncles was left out."Eventually the Dallas store was run by Uncle Martin's son and Uncle Lawrence," Bill said. "There was another brother named Paul Ashburn, who had a dairy. He went back into the milk business here in Denison, with grocery stores and home delivery." That makes five.
"Then there was Frank Ashburn. He was an electrical engineer from A&M. Well I guess there weren't a lot of calls for electrical engineers around here, so when he got out of college, he taught school in Denison, worked part time for his brothers. Finally he went over and started an ice cream store in Sherman. Finally, there was Thompson Ashburn. He had a dairy farm out by Perrin Air Force Base." And Thompson makes seven.
Through the years, Ashburn Ice Cream continued to expand. There were several stores in Dallas and Fort Worth, as well as Denison and Sherman, but they were connected only in name. Each city had its own ice cream plant, and "Each one of them thought they made the best ice cream," Ashburn said. The Dallas operation spawned several Polar Bear Ice Cream Parlors in Oak Cliff, and eventually the Denison Ashburn's had franchise stores of a sort in Paris, Gainesville, and McKinney. The stores paid no franchise fee, but bought their ice cream from the Denison plant.
The Third Generation
William L. Ashburn III didn't want to follow WLA I and WLA II into the ice cream business. He was a tennis player and a very good one. He started early, while he was still a little boy, when a Denison teacher and tennis coach named M. M. Marshall introduced him to the game. "Denison had real good tennis teams because of Mr. Marshall.  Most schools would just assign a P.E. coach or someone, but Mr. Marshall loved it. He had a lot of players go on and play college tennis."
One of those was Ashburn. East Texas State University (now Texas A&M Commerce) offered him a full-ride scholarship, but his father insisted he follow in the footsteps of Uncle Frank and go to Texas A&M. In College Station, Ashburn played tennis for the Aggies, and was the team's captain in his senior year. "My forte was doubles. I didn't have a big serve, but I was a good doubles player." When he returned to Denison, Ashburn continued playing, was one of the top players in the area in several age brackets, and still plays today at seventy-four.
He was planning to coach tennis and teach school, but like most young men in the 1950s, Ashburn first had to give another uncle, Uncle Sam, two years in the service. Ashburn was nearing the end of his hitch in 1957, when his father had a series of heart attacks, and the coaching and teaching plans were put on ice. Bill III came back to Denison to take care of his mother and run the ice cream business, a family legacy to which he devoted the next twenty years.
The Sweet Life
It wasn't what he wanted to do, but let's face it, who doesn't like the ice cream man, and it was fun. And because it was still a relatively small operation, there was room to take a chance.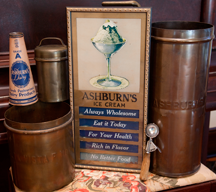 "We had a lot of flavors, and we'd experiment with flavors," Ashburn said. "Like licorice ice cream—that was a bad deal. The color was black, and it got on people's clothes. Tasted like licorice though." An idea that worked, indeed that Ashburn devotees still talk about today, was Hawaiian Pineapple Delight. "It was three colors of pineapple, and if the nuts weren't too expensive, we'd put pecans or something like that in it. It was really a favorite. I don't know if anyone makes it today—people really loved it."
During the 50s, the Denison store added sandwiches to the menu to attract lunch business from Denison High School and later from B. McDaniel Junior High just up the street, and Ashburn's also scored by being open when other places were closed. "In the early years, very few places, refreshment places, were open on Sunday. We were open every day except Christmas," said Ashburn.
He was also quick to capitalize on special events. "The ice cream soda was supposedly invented in Denison, but we didn't do it. It was before our time. But during the Centennial days (Denison's 100th birthday in 1972) we had ice cream soda sales. Normally we didn't sell a lot of sodas, but because of all the publicity, we were selling a jillion of them."
Then there were banana splits. "Once a year we'd have a banana split sale, and I'm telling you, it was unbelievable the banana splits we'd sell. People would be lined up around the block. Banana splits took time to prepare, so we'd hire extra help and set up a table for prep work."
Over the years, Ashburn's benefitted from the talents of many long-time employees. Bill recalled Ray Shone, who helped run the company for W. L. Ashburn, Jr. and his son. The chief ice cream maker was Earl Aynes, and a man named Robert Boney was with the business for years. Bill's brother-in-law, Ralph Skaggs, was the bookkeeper for the enterprise. While adults ran the business, teenage boys usually staffed the front of the house. The boys—Ashburn said fourteen was the perfect age—dressed in white shirts, bow ties and neat white overseas caps. They could eat all the ice cream they wanted while at work. Later, the stores hired teenage girls too, but the boy-girl mix never worked very well. Taking care of romantic business tended to get in the way of taking care of Ashburn's business.
Looking back, Ashburn said the ice cream business started to change after World War II. Advances in refrigeration meant ice cream could be made and shipped long distances, and small, local producers found it difficult to compete economically with national companies, such as Borden or Foremost. And the invention that some say made modern Texas possible may have played an even bigger part in the slow decline of the hometown ice cream store.
"People got out in the evening because it was so hot at home," Ashburn said. "They went out to get refreshments and cool off. We'd have them lined up all down Main Street. When air conditioning came out, folks started staying home to stay cool." And watch television and eat ice cream bought in half gallon containers at the grocery store and stored in the new deep freeze in the kitchen. It would not be out of place to say that Ashburn's Ice Cream and small stores like it in towns all over America were the victims of the unintended consequences of Mid Century progress.
Eventually Bill Ashburn bought out his Uncle Frank's store in Sherman and consolidated the manufacturing end of the business in Denison. A cousin bought the stores in Dallas and Fort Worth and ran them under the Polar Bear brand. Ashburn, no longer able to compete with the larger operations and after years of watching the numbers on the ledger sheets decline, sold the Denison and Sherman stores to Polar Bear in 1979. By 1984, they were both gone too, the Sherman location razed to make room for the new Justice Center and the Denison store just gone. Ashburn went into the insurance business in 1978 and continues to serve many of his old customers and their offspring in that capacity today.
"When I had the ice cream store, I wish I had kept track of all the people who came back home and said that was the only place they wanted to see. They would have come in when they were in school, or their parents brought them up there at night. 'I'd come in here every day and have a cherry-vanilla cone,' they'd say. Then they'd order a chocolate or something else. Just doesn't figure, does it?"
Share your own memories of Ashburn's Ice Cream. Leave a Comment.