The Art and Coffee Club which meets each Sunday morning at 9 at Panera Bread in the Sherman Town Center, is perking right along.  Founder Steve Black is working on several projects with his GCC art students and the group has new Web site–well new if you haven't see it–and are involved in a number of projects. Catch them the Denison Fall Festival and possibly putting forth some public art before year's end. Plaster casting experiments are currently happening in the studio in hopes of creating full-scale plaster figures in the style of artist George Segal.  Coffee clubbers were kind enough to smuggle out a photo of Black working on the process.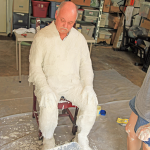 Featured Archive Story

Tucked away off Taylor Street in Sherman is a hidden house of horror. Next door to a snow cone stand, and within sight of Fairview Park, the old Anderson Slaughterhouse has been gutted and transformed into its own spookier, creepier twin.

Category: Business, Destinations

Olive oil is not only a light and delicate addition to many wonderful dishes, it also is one of the most health-promoting types of oils available. Kathleen Hagan, creator of Olive Oil de Fino, a locally-made infused olive oil, says that if one is going to cook with oil, olive oil is the only way to go.

Category: Business, Food & Dining

By Dan Acree

If you want a home on Lake Texoma, you see Lezlie Rube. It's just that simple. There are other realtors of course, but there is only one Queen of Lake Texoma Real Estate. She works under the umbrella of Century21 Dean Gilbert, Realtors, and Gilbert says that she is, "a high energy person with an enthusiastic positive outlook on life."

Category: People
Looking for the Printed Version?

You can find a complete set of Texoma Living! Magazine in the library at Austin College.