The Art and Coffee Club which meets each Sunday morning at 9 at Panera Bread in the Sherman Town Center, is perking right along.  Founder Steve Black is working on several projects with his GCC art students and the group has new Web site–well new if you haven't see it–and are involved in a number of projects. Catch them the Denison Fall Festival and possibly putting forth some public art before year's end. Plaster casting experiments are currently happening in the studio in hopes of creating full-scale plaster figures in the style of artist George Segal.  Coffee clubbers were kind enough to smuggle out a photo of Black working on the process.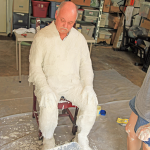 Featured Archive Story

She has high-dollar exercise equipment and offers Pilates classes, but owner Colleen Grafa is quick to correct anyone who mistakes her as just a fitness trainer or her business, Ability Physical Therapy & Pilates, as a health club.

Category: Business

One. It's the number of stars in the Texas flag. It's the number of U.S. Presidents who have conducted the OU-Texas pre-game coin toss. And it's the number of shirts lost by Texas Laundry in the last six months. For a business that handles upwards of 1,000 garments per day, the statistic is unbelievable.

Category: Business

By Dan Acree

One of the benefits of being a writer is the opportunity to speak to community groups. But I clearly understand that the main mission of the meeting is not to hear me speak, but to have fellowship and eat picnic food on a weekday.

Category: Dan Acree
Looking for the Printed Version?

You can find a complete set of Texoma Living! Magazine in the library at Austin College.