The Art and Coffee Club which meets each Sunday morning at 9 at Panera Bread in the Sherman Town Center, is perking right along.  Founder Steve Black is working on several projects with his GCC art students and the group has new Web site–well new if you haven't see it–and are involved in a number of projects. Catch them the Denison Fall Festival and possibly putting forth some public art before year's end. Plaster casting experiments are currently happening in the studio in hopes of creating full-scale plaster figures in the style of artist George Segal.  Coffee clubbers were kind enough to smuggle out a photo of Black working on the process.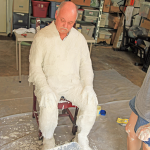 Featured Archive Story

On September 25, 1941, Gasway followed her passion and opened her first shop in the newly renovated Binkley Hotel in Sherman. The lower floor of the hotel was subdivided into spaces for small shops with access to Travis Street. Gasway's shop, Elinor's, also had an entrance into the lobby of the hotel. This was an attractive feature, as husbands could pass the time in the hotel coffee shop or read the newspaper in the comfort of the lobby while their wives shopped.

Category: Heritage

From frontier times to last fall's rollback election, Denison citizens have made education a top priority. Local leaders always have seen a top-notch educational system as a key to economic development while teachers have done their best to foster students' growth, and students have focused on having fun, figuring out their futures, and finding mates. Tying all these threads together is an interesting new book, Two Schools on Main Street: The Pride of Denison, Texas, 1873–2007.

Category: FOB

Ray Bledsoe doesn't believe in day-old cookies. They have to be fresh to be good in his estimation, which is why he mixes his dry ingredients the night before and puts them into zipped plastic bags, three batches at a time. In the morning all he has to do is add the eggs and liquid or oil and whatever other ingredients are called for, and he is in business.
Looking for the Printed Version?

You can find a complete set of Texoma Living! Magazine in the library at Austin College.