The Art and Coffee Club which meets each Sunday morning at 9 at Panera Bread in the Sherman Town Center, is perking right along.  Founder Steve Black is working on several projects with his GCC art students and the group has new Web site–well new if you haven't see it–and are involved in a number of projects. Catch them the Denison Fall Festival and possibly putting forth some public art before year's end. Plaster casting experiments are currently happening in the studio in hopes of creating full-scale plaster figures in the style of artist George Segal.  Coffee clubbers were kind enough to smuggle out a photo of Black working on the process.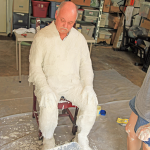 Featured Archive Story

Building the smaller homes was not an afterthought for Barton and Lund. When they started Cupid Homes, they made the decision to build houses for what they called a "forgotten segment" of people—those looking for a nice new home, but in a price range that is closer to $70,000 than to $90,000. "We wanted to come up with a product that was a great alternative for people who lived in urban areas," Barton said.

Category: Business

By Dan Acree

At first sight I was drawn to her shiny stainless steel outfit and fascinated by the colorful screen—blinking at me like some come hither siren, Then her voice. "Welcome to Albertson's where check out is fast and easy.

Category: Dan Acree, Editor Blogs

Lee Simmons vowed to avenge the guard murdered in the escape and stop the Barrow gang at any cost. He went to Austin where he met with Governor Miriam A. Ferguson. Simmons explained to her that extraordinary measures had to be taken right away in order to bring the Barrow gang to justice. He told Governor Ferguson that he was the very person to do it. She gave him the special powers he requested for this purpose.

Category: Heritage
Looking for the Printed Version?

You can find a complete set of Texoma Living! Magazine in the library at Austin College.