The Art and Coffee Club which meets each Sunday morning at 9 at Panera Bread in the Sherman Town Center, is perking right along.  Founder Steve Black is working on several projects with his GCC art students and the group has new Web site–well new if you haven't see it–and are involved in a number of projects. Catch them the Denison Fall Festival and possibly putting forth some public art before year's end. Plaster casting experiments are currently happening in the studio in hopes of creating full-scale plaster figures in the style of artist George Segal.  Coffee clubbers were kind enough to smuggle out a photo of Black working on the process.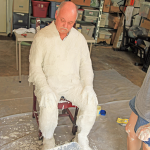 Featured Archive Story

The knock on the door of Richard Pressley's house in Sherman on January 4, 1960, was one he never expected. Standing on the porch was Grayson County Sheriff Woody Blanton, and he was there to end the fifteen years of freedom enjoyed by Pressley following his escape from prison in 1945.

Category: Heritage

Think of a pinball machine, the kind with the little steel sphere that rockets off the end of the plunger, a bundle of kinetic energy that bounces and careens and ricochets off the bumpers and over the triggers, making lights flash and bells ring and things go whirr until it runs out of momentum and slips through the return slot.

Category: People

It may seem like a cultural anomaly, but it is not, not really. Few of the artists whose works reflect the legacy and heritage of the American West were born to the land they portrayed. Frederic Remington was from upstate New York, the son of an emigrant hardware merchant. Charles Schreyvogel was born in New York City and raised in Hoboken, New Jersey, and N.C. Wyeth was a Massachusetts boy.

Category: People
Looking for the Printed Version?

You can find a complete set of Texoma Living! Magazine in the library at Austin College.