The Art and Coffee Club which meets each Sunday morning at 9 at Panera Bread in the Sherman Town Center, is perking right along.  Founder Steve Black is working on several projects with his GCC art students and the group has new Web site–well new if you haven't see it–and are involved in a number of projects. Catch them the Denison Fall Festival and possibly putting forth some public art before year's end. Plaster casting experiments are currently happening in the studio in hopes of creating full-scale plaster figures in the style of artist George Segal.  Coffee clubbers were kind enough to smuggle out a photo of Black working on the process.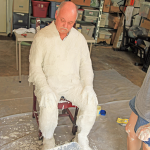 Featured Archive Story

By Staff Report

Walter E. Potts was born in Denison in 1892 and lived to be 105 years old. The son of William and Mollie Potts distinguished himself in World War I serving as one of thousands of "Buffalo Soldiers" assigned to the U.S. Army's 92nd and 93rd Infantry Divisions. The 92nd was attached to France's 4th Army.

Category: FOB

At the heart of the thing, it is simple. Billy Holcomb loves movies, especially cowboy movies. "I like all of them, and I kept track of all of them—the bad men, the comics. I could tell you who the bad man was and the name of his horse."

Category: People

By Kathy Floyd

Dolls of all types imaginable wait in glass cases to catch your eye. Then, out of all the painted faces, you spy a certain doll, one just like a favorite you played with as a child, or one you desperately wanted but did not have, and memories long buried deep come flooding back.

Category: Style
Looking for the Printed Version?

You can find a complete set of Texoma Living! Magazine in the library at Austin College.