The Art and Coffee Club which meets each Sunday morning at 9 at Panera Bread in the Sherman Town Center, is perking right along.  Founder Steve Black is working on several projects with his GCC art students and the group has new Web site–well new if you haven't see it–and are involved in a number of projects. Catch them the Denison Fall Festival and possibly putting forth some public art before year's end. Plaster casting experiments are currently happening in the studio in hopes of creating full-scale plaster figures in the style of artist George Segal.  Coffee clubbers were kind enough to smuggle out a photo of Black working on the process.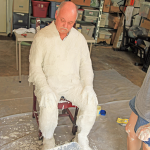 Featured Archive Story

John Frair knows the role that luck plays in the career of a news photographer. In the summer of 1966, when Charles Whitman started shooting from behind the thick walls atop the Tower on the campus of the University of Texas in Austin, Frair was the only professional photographer on the scene.

Category: People

By Staff Report

High-quality tools in the garden are an essential investment. You buy them new just once, then enjoy them as they become even more valuable with age. A typical Big Box Store-bought implement may not last nearly as long. And certainly brings no cachet to the tool shed.

Category: FOB

Texoma is deep in the heart of the Red Dirt music scene. Taking their names from the iron- oxide-rich soil that colors the Red River, Red Dirt trailblazers such as Cross Canadian Ragweed and Stoney LaRue blurred the line between country and rock in Oklahoma and let the winds carry the grit south to Texas, where artists such as Texoma's Spur 503 have put their own spin on the dirt.

Category: FOB
Looking for the Printed Version?

You can find a complete set of Texoma Living! Magazine in the library at Austin College.