The Art and Coffee Club which meets each Sunday morning at 9 at Panera Bread in the Sherman Town Center, is perking right along.  Founder Steve Black is working on several projects with his GCC art students and the group has new Web site–well new if you haven't see it–and are involved in a number of projects. Catch them the Denison Fall Festival and possibly putting forth some public art before year's end. Plaster casting experiments are currently happening in the studio in hopes of creating full-scale plaster figures in the style of artist George Segal.  Coffee clubbers were kind enough to smuggle out a photo of Black working on the process.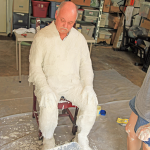 Featured Archive Story

The couple had a wish list for their perfect home. They wanted a master suite addition, an enlarged kitchen, a pantry and a laundry room, as well as a den with room for a television that Lawrence could call his own private space. Peggy drew plans to divide the existing large master bedroom into a pantry for the expanded kitchen, a guest bedroom, a utility room, and a hallway to access the new master bedroom suite that would be added onto the rear of the house. After several meetings they finalized the plans to start construction.

Category: Style

It may seem like a cultural anomaly, but it is not, not really. Few of the artists whose works reflect the legacy and heritage of the American West were born to the land they portrayed. Frederic Remington was from upstate New York, the son of an emigrant hardware merchant. Charles Schreyvogel was born in New York City and raised in Hoboken, New Jersey, and N.C. Wyeth was a Massachusetts boy.

Category: People

By Dan Acree

Why do radio stations have commercials?
Same reason cars have license plates: revenue. Some people think radio stations get paid for the music they play. I wish. In fact, we have to pay an annual fee to the writer and the publisher of each song. Advertising makes the record go'round.

Category: FOB
Looking for the Printed Version?

You can find a complete set of Texoma Living! Magazine in the library at Austin College.