The Art and Coffee Club which meets each Sunday morning at 9 at Panera Bread in the Sherman Town Center, is perking right along.  Founder Steve Black is working on several projects with his GCC art students and the group has new Web site–well new if you haven't see it–and are involved in a number of projects. Catch them the Denison Fall Festival and possibly putting forth some public art before year's end. Plaster casting experiments are currently happening in the studio in hopes of creating full-scale plaster figures in the style of artist George Segal.  Coffee clubbers were kind enough to smuggle out a photo of Black working on the process.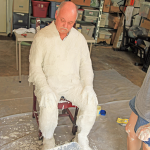 Featured Archive Story

I bought a book off the discount rack at a local bookstore not long ago entitled Quintessence: The Quality of Having IT. On the jacket fly, the author explained the book's purpose. "This a book about the objects of this world that transcend their form and function, that offer more to us than we ask of them—that rise above themselves to assume iconic stature."

Category: Edward Southerland

When the economy tanked in 2008, progress slowed on plans to develop the intersection of US Hwy 75 at FM 691 across from Texoma Medical Center in Denison.

Category: Business

I met George Nolen of Pottsboro when I interviewed him for the story about Icky Twerp and Slam Bang Theater. His friends mentioned that Mr. Nolen was a poet, and so I asked him to send me some of his pieces. He did, and here are a few. But first, from this pen, a short introduction.

Category: Edward Southerland
Looking for the Printed Version?

You can find a complete set of Texoma Living! Magazine in the library at Austin College.