The Art and Coffee Club which meets each Sunday morning at 9 at Panera Bread in the Sherman Town Center, is perking right along.  Founder Steve Black is working on several projects with his GCC art students and the group has new Web site–well new if you haven't see it–and are involved in a number of projects. Catch them the Denison Fall Festival and possibly putting forth some public art before year's end. Plaster casting experiments are currently happening in the studio in hopes of creating full-scale plaster figures in the style of artist George Segal.  Coffee clubbers were kind enough to smuggle out a photo of Black working on the process.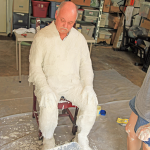 Featured Archive Story

By Gene Lenore

Denison retiree Jim Tygart wanted to keep busy, so he volunteered to help the Denison Development Alliance. As a career salesman, Tygart decided to make a "cold call" on a Oklahoma City manufacturer just to see if they might be interested in buying a closed printing plant. Guess what happened?

Category: Business

The meeting came to order at three o'clock in the afternoon at the home of George Nolen in Pottsboro. Present in fact were Nolen, Phil Crow and Clem Candelaria. Present in spirit were Ickamore Twerpwhistle aka Icky Twerp, Mortimer Moolah, Gorgon, Captain Swabbie, Blitz and Blotz of department store fame…

Category: FOB

Poinsettias are one of the longest-lasting blooming plants available to consumers. Here are the basic Do's and Don'ts to keep yours alive and well throughout the year!

Category: FOB
Looking for the Printed Version?

You can find a complete set of Texoma Living! Magazine in the library at Austin College.