The Art and Coffee Club which meets each Sunday morning at 9 at Panera Bread in the Sherman Town Center, is perking right along.  Founder Steve Black is working on several projects with his GCC art students and the group has new Web site–well new if you haven't see it–and are involved in a number of projects. Catch them the Denison Fall Festival and possibly putting forth some public art before year's end. Plaster casting experiments are currently happening in the studio in hopes of creating full-scale plaster figures in the style of artist George Segal.  Coffee clubbers were kind enough to smuggle out a photo of Black working on the process.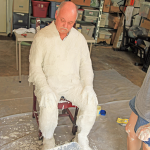 Featured Archive Story

Diamond Pointe was built during the real estate boom. Then, "boom." Today there are always units available and those who take up residence love the views and the amenities.

Category: FOB

Why in the world would elementary school children want to stay after school? In the case of the seventy-five members of the "Green Team" at Wakefield Elementary school, it's because they want to dig in the dirt.

Category: FOB

By Staff Report

William Wallace is a name that rings throughout Scottish history and now, thanks to Hollywood, the world. From Dehli to San Francisco people could tell you about this national hero of Scotland and his exploits against the English. But who was the real William Wallace?

Category: FOB
Looking for the Printed Version?

You can find a complete set of Texoma Living! Magazine in the library at Austin College.