The Art and Coffee Club which meets each Sunday morning at 9 at Panera Bread in the Sherman Town Center, is perking right along.  Founder Steve Black is working on several projects with his GCC art students and the group has new Web site–well new if you haven't see it–and are involved in a number of projects. Catch them the Denison Fall Festival and possibly putting forth some public art before year's end. Plaster casting experiments are currently happening in the studio in hopes of creating full-scale plaster figures in the style of artist George Segal.  Coffee clubbers were kind enough to smuggle out a photo of Black working on the process.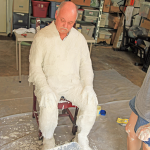 Featured Archive Story

By Gene Lenore

"I don't make a pretty bit. I don't make a high shiny show bit. I make a working bit. Some say a bit is a bit. No, it's not. It's like any other working tool. You got to have different things for different horses," Kirby said.

Category: Business

By Marcus Vela

The most unusual thing was on Crockett Street. I went to mark the tires, and there weren't any. It was sitting on cement blocks. Later I found out that the driver was renting the tires and had had them repossessed. I kind of laughed, because I was like, I know someone is watching me right now, thinking "Is she going to mark the rims?" Shoot, I thought, I'll give this driver a break.

Category: Style

By Dan Acree

By most accounts the business of photographing kids on ponies began not long after the camera was invented. There are tintypes in museums with faded images of boys and girls astride, usually Shetland horses.

Category: Dan Acree
Looking for the Printed Version?

You can find a complete set of Texoma Living! Magazine in the library at Austin College.