The Art and Coffee Club which meets each Sunday morning at 9 at Panera Bread in the Sherman Town Center, is perking right along.  Founder Steve Black is working on several projects with his GCC art students and the group has new Web site–well new if you haven't see it–and are involved in a number of projects. Catch them the Denison Fall Festival and possibly putting forth some public art before year's end. Plaster casting experiments are currently happening in the studio in hopes of creating full-scale plaster figures in the style of artist George Segal.  Coffee clubbers were kind enough to smuggle out a photo of Black working on the process.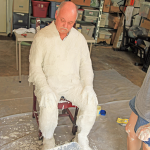 Featured Archive Story

My dad, J.D. Bush, was a civilian firefighter, Crew Chief, at Perrin Air Force Base for 28 years. He retired when the base closed in 1971. I started to work for Chief Bill Palya in November 2001. When he told me that he was trying to get possession of the old fire station, I was thrilled.

Category: FOB

By Will Watson

In the anteroom of the People's Congress in Beijing, U.S. Ambassador to China Charles Whitfield nervously paces back and forth. In his early fifties, Whitfield has spent the better part of his adult years as ambassador to China. However, this is the defining moment, the culmination of his career.

Category: FOB

The ice cream was too cold, and that got J. F. McCullough to thinking. Mc-Cullough and his son Alex had started the Homemade Ice Cream Company in Davenport, Iowa, in 1927, and they had done pretty well, eventually moving to a former cheese factory in Green River, Illinois, and converting it to make ice cream mix.

Category: FOB
Looking for the Printed Version?

You can find a complete set of Texoma Living! Magazine in the library at Austin College.