The Art and Coffee Club which meets each Sunday morning at 9 at Panera Bread in the Sherman Town Center, is perking right along.  Founder Steve Black is working on several projects with his GCC art students and the group has new Web site–well new if you haven't see it–and are involved in a number of projects. Catch them the Denison Fall Festival and possibly putting forth some public art before year's end. Plaster casting experiments are currently happening in the studio in hopes of creating full-scale plaster figures in the style of artist George Segal.  Coffee clubbers were kind enough to smuggle out a photo of Black working on the process.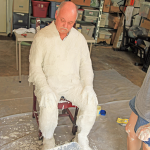 Featured Archive Story

Spence Hardie grew up in the years after the Civil War wanting to be a cowboy. His family ranched in Montague County near Saint Jo not far from the point where the Chisholm Trail crossed the Red River from Texas into Oklahoma and ended up on a ranch in Gunter.

Category: Heritage

Photographer Erwin Smith of Bonham, Texas was to the American cowboy what Matthew Brady was to the Civil War. Smith captured the life of the cowboys of West Texas and New Mexico in a time when the West was changing forever.

Category: Heritage

By admin

People are taking notice of Betty Nash's art. Her works, done in oil, are graceful, subtle manipulations of light and shadows, of deep colors and reflections. She uses the chiaroscuro style (the play of light and shadow) embraced by masters such as Rembrandt and Raphael.
Looking for the Printed Version?

You can find a complete set of Texoma Living! Magazine in the library at Austin College.