The Art and Coffee Club which meets each Sunday morning at 9 at Panera Bread in the Sherman Town Center, is perking right along.  Founder Steve Black is working on several projects with his GCC art students and the group has new Web site–well new if you haven't see it–and are involved in a number of projects. Catch them the Denison Fall Festival and possibly putting forth some public art before year's end. Plaster casting experiments are currently happening in the studio in hopes of creating full-scale plaster figures in the style of artist George Segal.  Coffee clubbers were kind enough to smuggle out a photo of Black working on the process.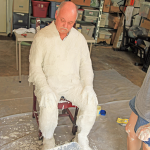 Featured Archive Story

By Dan Acree

Almost daily I receive an invitation to join a social or business network. Ninety percent of the time I opt-in and take the few minutes to respond and connect. When I don't respond I feel guilty. I feel compelled to check "yes" or "no." But sometimes the note just lies on my desk (opened, read, not responded to) or I eat it (trash).

Category: Dan Acree, Editor Blogs

Some folks say that you can tell a lot about a man by his shoes. If true, Naif Risk's shoes, sturdy, dependable and well maintained, declare him an amiable man with a can-do attitude. His father's shoes would say the same, as would have his grandfather's. All three generations of Risk men have shaped the success of one of Sherman's oldest businesses with their skill and congeniality.

Category: Business

Color is the hottest trend in landscaping all over the South. But to most homeowners in our area, color means one thing—water-thirsty plants—and we all know what a fragile resource water is.

Is there a way to have it all in Texomaland? Can you punch up your landscape with high impact color, and still enjoy the satisfaction of knowing you're a wise water steward?

Category: Style
Looking for the Printed Version?

You can find a complete set of Texoma Living! Magazine in the library at Austin College.