The Art and Coffee Club which meets each Sunday morning at 9 at Panera Bread in the Sherman Town Center, is perking right along.  Founder Steve Black is working on several projects with his GCC art students and the group has new Web site–well new if you haven't see it–and are involved in a number of projects. Catch them the Denison Fall Festival and possibly putting forth some public art before year's end. Plaster casting experiments are currently happening in the studio in hopes of creating full-scale plaster figures in the style of artist George Segal.  Coffee clubbers were kind enough to smuggle out a photo of Black working on the process.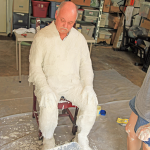 Featured Archive Story

If Roger Sanders were an insect, most likely he would be a boll weevil. Now wait a minute. Before the Sherman lawyer's friends start raising sand, let us consider the attributes of the little black bug.

Category: People

When Patti and Mike Morgan built a home on the lake, they decided to rely on their own experience and creativity rather than on outside help. Mike has been in the construction business for forty-six years and is a real estate developer, so the experience was a given.

Category: Style

She would never allow her customers to slide in the wrong direction when it comes to insurance, but she will slide herself every now and then. Stacy Rake is a cardboard box slider. Well, no, Stacy doesn't slide much herself, but her children do. Wait a minute, that still not quite clear.

Category: Business, Special Sections
Looking for the Printed Version?

You can find a complete set of Texoma Living! Magazine in the library at Austin College.