The Art and Coffee Club which meets each Sunday morning at 9 at Panera Bread in the Sherman Town Center, is perking right along.  Founder Steve Black is working on several projects with his GCC art students and the group has new Web site–well new if you haven't see it–and are involved in a number of projects. Catch them the Denison Fall Festival and possibly putting forth some public art before year's end. Plaster casting experiments are currently happening in the studio in hopes of creating full-scale plaster figures in the style of artist George Segal.  Coffee clubbers were kind enough to smuggle out a photo of Black working on the process.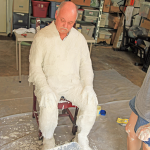 Featured Archive Story

On September 25, 1941, Gasway followed her passion and opened her first shop in the newly renovated Binkley Hotel in Sherman. The lower floor of the hotel was subdivided into spaces for small shops with access to Travis Street. Gasway's shop, Elinor's, also had an entrance into the lobby of the hotel. This was an attractive feature, as husbands could pass the time in the hotel coffee shop or read the newspaper in the comfort of the lobby while their wives shopped.

Category: Heritage

By Staff Report

Slaid Cleaves is often referred to as a "songwriter's songwriter," which is code for the fact that his voice isn't exactly melodious.

Category: FOB

Bob Allen has been in the radio business since he was a kid in Oklahoma City. He owns and operates Texoma's KJIM-AM. With a notable career in radio and advertising from one coast to the other, Allen always wanted his own radio station.

Category: FOB
Looking for the Printed Version?

You can find a complete set of Texoma Living! Magazine in the library at Austin College.