The Art and Coffee Club which meets each Sunday morning at 9 at Panera Bread in the Sherman Town Center, is perking right along.  Founder Steve Black is working on several projects with his GCC art students and the group has new Web site–well new if you haven't see it–and are involved in a number of projects. Catch them the Denison Fall Festival and possibly putting forth some public art before year's end. Plaster casting experiments are currently happening in the studio in hopes of creating full-scale plaster figures in the style of artist George Segal.  Coffee clubbers were kind enough to smuggle out a photo of Black working on the process.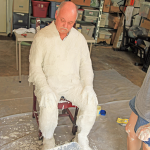 Featured Archive Story

"[The state of Texas history] is strong, and it's changing," said Cummins. "Texas has changed a lot in the last thirty or forty years. Texas history, as an enterprise, is being revitalized, and the state has put a tremendous amount of monetary resources into advocating the study of Texas history. Right now, for example, the Texas State Archives are being remodeled with a multimillion dollar renovation."

Category: Heritage

By Gary Carter

"The problem with many restauranteurs today, is that people get into the business to make money," said Charlie Watson. "Well, we got in it to make good food. Some think they can work 8 to 5 and make $200,000 a year in the restaurant business. Well, that ain't gonna happen."

Literary Lions

Eustis McGurk was a meek little clerk who worked in a local bookstore. When the circus came round to Eustis's town he decided his life was a bore.

Category: Edward Southerland
Looking for the Printed Version?

You can find a complete set of Texoma Living! Magazine in the library at Austin College.