The Art and Coffee Club which meets each Sunday morning at 9 at Panera Bread in the Sherman Town Center, is perking right along.  Founder Steve Black is working on several projects with his GCC art students and the group has new Web site–well new if you haven't see it–and are involved in a number of projects. Catch them the Denison Fall Festival and possibly putting forth some public art before year's end. Plaster casting experiments are currently happening in the studio in hopes of creating full-scale plaster figures in the style of artist George Segal.  Coffee clubbers were kind enough to smuggle out a photo of Black working on the process.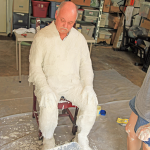 Featured Archive Story

By Dan Acree

If you want a home on Lake Texoma, you see Lezlie Rube. It's just that simple. There are other realtors of course, but there is only one Queen of Lake Texoma Real Estate. She works under the umbrella of Century21 Dean Gilbert, Realtors, and Gilbert says that she is, "a high energy person with an enthusiastic positive outlook on life."

Category: People

If you are looking for a Texas symbol as big as the state itself, consider the longhorns. They evolved from cattle brought to the Americas from the Canary Islands by Spanish explorers in the late 1400s and early 1500s. By the early 1800s wild longhorn cattle were common throughout Texas.

Category: Business

Judges at bodybuilding competitions look for models with the most symmetry in their physique, for physical size, and for the least amount of body fat. To stay lean, Teamann diets for eight weeks prior to competitions, noting that, "It takes years to perfect the right diet for competitions."

Category: Style
Looking for the Printed Version?

You can find a complete set of Texoma Living! Magazine in the library at Austin College.