The Art and Coffee Club which meets each Sunday morning at 9 at Panera Bread in the Sherman Town Center, is perking right along.  Founder Steve Black is working on several projects with his GCC art students and the group has new Web site–well new if you haven't see it–and are involved in a number of projects. Catch them the Denison Fall Festival and possibly putting forth some public art before year's end. Plaster casting experiments are currently happening in the studio in hopes of creating full-scale plaster figures in the style of artist George Segal.  Coffee clubbers were kind enough to smuggle out a photo of Black working on the process.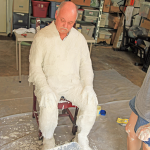 Featured Archive Story

By Staff Report

Chuck Allen Floyd has been on the road for what he says seems like forever, crisscrossing Texas and Oklahoma promoting "Livin' Like a Rock Star (in a Honky Tonk Band)" the first single from his debut full-length album.

Category: FOB

It looks like a castle keep with its crenellated top, just the place from which to pour boiling oil down on the heads of any knaves and varlets trying to capture Loy Park. But there has not been an attack of knaves and varlets in quite a while, so what is up with Grayson County's medieval monument? The stone tower in the park stands on a small hill just off the road to the fairgrounds. It is separated from the lake by a cluster of oak and pecan trees.

Category: FOB

By Dan Acree

Had it not been for the Civil War and Reconstruction periods, our own Austin College might still be in Huntsville.

Category: FOB
Looking for the Printed Version?

You can find a complete set of Texoma Living! Magazine in the library at Austin College.