The Art and Coffee Club which meets each Sunday morning at 9 at Panera Bread in the Sherman Town Center, is perking right along.  Founder Steve Black is working on several projects with his GCC art students and the group has new Web site–well new if you haven't see it–and are involved in a number of projects. Catch them the Denison Fall Festival and possibly putting forth some public art before year's end. Plaster casting experiments are currently happening in the studio in hopes of creating full-scale plaster figures in the style of artist George Segal.  Coffee clubbers were kind enough to smuggle out a photo of Black working on the process.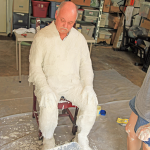 Featured Archive Story

We pass them on our way to work. Situated on a well-manicured landscaped hill, tucked deep into a stand of old-growth oaks, or sitting stately in the center of a large parcel of acreage, surrounded by pristine white pipe and wire fencing, at the end of a private road. They are Texoma's Multi-Million Dollar Homes.

Category: Style

There are neighborhoods in Texoma's towns where, if no modern automobiles intrude, a visitor could believe he was back in the the 1920s or 30s. In contrast, the growls of earthmovers drown out the birds around the new developments near US 75 and US 82. This dichotomy of old and new may be Texoma's signature.

Category: Editor Blogs, Edward Southerland

By Dan Acree

Giant pine and spruce logs—some of the largest diameter logs in North America—were cut and prepared for construction near their growth site, then transported over fifteen-hundred miles by truck to Lake Texoma.

Category: Style
Looking for the Printed Version?

You can find a complete set of Texoma Living! Magazine in the library at Austin College.