That is holy smoke you see rolling over the barbecue stand in Knollwood. Dale Bryant thanks the Lord for leading him to the smoked meat business, and business is booming at Smokey D's Bar-B-Q in the little suburban community north of Sherman.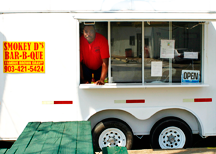 Bryant's experience with barbecue started when he was working the line at the Dickey's franchise in Van Alstyne. The barbecue bug bit him, and he went looking for a way to go into the business for himself. "I truly am blessed to be in this place," Bryant said, stretching out his long arm to indicate his little trailer on a corner in Knollwood. "I asked the Lord for this. And he blessed me."
He asked the brothers in his church, New Hope Christian Fellowship in Denison, to help him pray for a way into the barbecue business. It must have worked, because about a year ago, some residents of Knollwood asked Bryant if he would open a barbecue stand in a little trailer they owned across from the gas station and liquor store that constitute Knollwood's business district.
Bryant set the trailer on a pad where another barbecue stand had stood ages ago. For two months it sat empty, as folks drove in and out of a nearby trailer park, wondering what was to come. "Finally, I threw myself into it. I opened it up with only twenty bucks in my pocket. Now, thank the Lord, business is booming."
Today, people come from as far away as Bells and Durant for a slice of his pecan smoked brisket and a rack of pork spareribs. But it's not just the smoked meat that is bringing folks to Smokey D's. They come for the magic elixir of the local barbecue biz known as "brown gravy sauce."
Bryant said about 80 percent of the people who buy a sandwich or a plate from him ask for the spicy brown gravy sauce. What is the secret to the sauce? He is not talking.
He is one of many in the barbecue business in Texoma who cut their teeth on PO Sam's barbecue in Colbert "back in the day." He said his mother would take him over there, and he was introduced to the spicy brown gravy at an early age. His version is a close cousin to PO Sam's gravy, so it is no surprise that many people visit Smokey D's to purchase the gravy sauce in half-gallon containers. There is a pot of it bubbling on his stove at all times.
While Bryant sells plenty of potato salad as a side dish, he will be quick to tell you that it is the brown gravy that is truly his barbecue's No. 1 sidekick.
Smokey D's
Owner: Dale Bryant
101 Knollwood Drive
Knollwood, Texas
No Phone
Mon-Tues, Fri-Sat 5pm-9pm
Thu 11am-9pm
Closed Wed & Sun