Shannon Cain was the sleeper in Texoma Living's first Art Issue. A virtually unknown sculptor at the time of his appearance in the Fall 2007 issue, he is now a familiar face in art circles in Texoma and beyond. Since then, the artist aka father, aka student, aka hospital marketing director has been balancing a lap full of diverse responsibilities while creating art. "I am still sculpting on my dining room table," he said with a laugh when asked about plans. When he describes those plans, it is obvious that the dining room won't be large enough for long.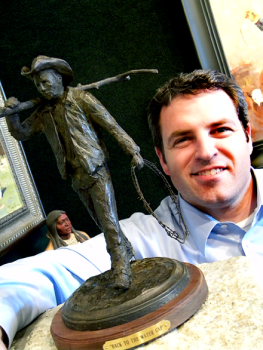 In 2008, Cain's work explored Western imagery, the human figure, and wildlife. His current body of work continues those themes, but now focuses specifically on regionally inspired subjects. When asked about upcoming sculptures, he touched on the importance of presenting the natural history, wildlife, and people of North Texas. "As our area becomes more suburbanized, I think it is important to present the natural history and heritage of our region so that we can stay connected with it. Artists have a unique opportunity to share and document that narrative for others. Art allows me the opportunity to enjoy the outdoors and explore my experiences and memories gained there in a new way."
Over the past couple of years Cain has brought his work to a wider audience by participating in the annual Sherman Art League Show, working with the National Wild Turkey Federation and the Wilson N. Jones Foundation, as well as with Rick's Chop House during the McKinney Art Walk. He also completed a detailed custom bronze commission of two trophy whitetail bucks and continues to show regularly at the Pat Waymon Gallery.
Cain currently is working on two new pieces and has a project proposal for a public sculpture in the final stages of development. Two of the three ideas involve life-size bronzes, so the pressure is on to find a bigger studio space to accommodate the projects—or at least a bigger dining room table. The increase in scale also presents new challenges in the time needed to complete the fine details Cain is known for. He will have to overcome these dilemmas to translate his ideas into tangible form and breathe life into the bronze.
Cain is quick to acknowledge the support he garners from his family, local mentors, and patrons. "They have nurtured my work and allowed me an opportunity to explore my art. Without their participation, my creativity would be limited. Mentors and patrons provide the fuel that facilitates my creativity." So far, the results of his experiences have added to the love of his medium and set the stage for many artistic opportunities to come. Cain's artwork may be viewed locally at the Pat Waymon Gallery in Denison or online at the artist's website www.shannoncainart.com.