The Cake Girls and The Bald Angels
The request was a simple one, more to learn a bit about computer graphics than to gather further material for the story. "How do you start drawing a quilt design?" Becky Goldsmith brought up a blank page in Adobe Illustrator® and produced a bull's eye set of concentric circles. She added a simple line drawing of a flower petal. Blip, blip, blip—the petals reproduced themselves around the bull's eye to make a flower as she clicked the mouse.
Linda Jenkins leaned forward and looked over Goldsmith's shoulder, nodding with approval as—click, click, click—the computer added color to the circles and the petals, and the flower bloomed. "Actually," said Goldsmith, "that's not bad. That could be something." What it could be is a quilt and the cover design for a book in a couple of years.
Piece o' Cake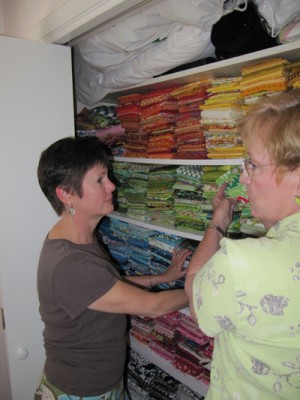 Goldsmith and Jenkins are superstars in the world of quilts. "They call us the 'cake girls'," said Jenkins. "People know us because we've done a lot of TV. We can be in a crowded room and people will recognize our voices—from our DVDs." The pair makes and sells the DVDs of their lectures and seminars that are available in English as well as four other languages. And the crowded rooms could be on cruise ships or in convention centers in the U.S., Canada, South America, Europe, Japan or Australia. These women get around.
They design quilts and write about quilts, publish books of quilt designs and books of "How to" about quilts, talk about quilts and make quilts, all to the tune of $500,000 a year in gross sales. "We also travel and teach all over the country and design fabric, and we have a very active Website and blog," Jenkins said. She operates the business end of the business from her home in Grand Junction, Colorado, while Goldsmith does the design work from her home in Sherman.
They call their company "Piece o' Cake." "Becky has always been a designer, and she was always drawing something and giving it away," said Jenkins. "I'd look at the designs and say, 'I wish I could do that,' and she'd say, 'It's a piece of cake. Here, let me show you.' So when we started the company, she thought it should be named 'Happy Dance,' and I said, 'No, there's only one name for this—it's 'Piece o' Cake.' I never had the business put in the Yellow Pages, because people can't seem to get it through their heads that we are not a bakery."
Stitches in time
It all started about twenty years ago in Tulsa, Oklahoma, when both women joined the Green Country Quilters Guild. "I started quilting because I needed quilts for my sons," said Goldsmith. "Linda and I both started quilting. We both had a passion for it, and we both got better at it."
Jenkins was a hairdresser by trade, and "I had a customer who would come in and do appliqué under the drier. I loved handwork, and I decided I had to learn how to do this."
They met in the guild meetings and became friends, never dreaming that their shared passion would put them in the spotlight in an industry that brings in $2.8 billion a year in the United States and at least as much or more in the rest of the world.
"Eight years after we joined the guild and started quilting, Linda and Todd [Linda's husband] moved to Colorado, and we moved to Sherman," said Goldsmith, whose husband, Dr. Steven Goldsmith is the Dean of Sciences at Austin College. "As we were waving goodbye, we said, 'We should start a business. Sure, let's do it.'" So they did.
Goldsmith had a background in art and design, and Jenkins had experience running a business, so their talents meshed nicely. Except for the fact that the two principals were about a thousand miles apart, it was a fairly standard arrangement. For eight years, the pair published their designs and books themselves, adding a complex and wearing layer to the business. "Somewhere in there Linda moved back to Tulsa, and we decided that self-publishing was just too physically demanding," Goldsmith explained.
"We needed to take off from that," said Jenkins, and her partner quickly added, "It was just too much, too much, too many employees, too much stuff." The solution was to find a publisher. They did, and now they can concentrate on designing and writing and on live and recorded lectures and seminars.
[book id='7'/]
Designing women
When it comes to the design end of the business, Goldsmith holds the pencil—it's a computer program now—but Jenkins guides her hand half the time. "One week Becky designs for herself. One week she designs for me," Jenkins said. The approach brings two different mindsets to the process and keeps the output from becoming singular in focus.
"We are known for our appliqué, and one reason we did well is that we went to market with an idea that the more challenging things weren't out there. There was very little of it," said Jenkins. "So from the beginning, we have always done things that were a little more challenging."
More challenging? Flip through the pages of a Piece o' Cake design book to understand how painstaking the process of quilting can be and why the most spectacular designs draw oohs and aahs from appreciative viewers. But don't think for a moment that the quilt in one of their books is an abstraction. Goldsmith and Jenkins make every quilt they design before it goes into a book.
"That's the part of the business we like the most," said Goldsmith, "and we decided way back when that we wouldn't chase the dollars. We would make what we wanted to make for ourselves and publish it. If people liked it, and it sold, well and good. If they didn't, that was going to be OK too." So with every quilt in every book, Goldsmith and Jenkins have been there and done that, so the quilter has the benefit of all they have learned in the process.
"If we come up with a design that might be commercially successful, but we don't want to make it, we don't publish it," Jenkins said. "We pretty much don't follow the pack, because in any industry, everybody gets to copying everybody else, and you go to market and all the booths look alike. If you go to our booth, it's different. We hear that comment all the time."
Fabric of the business
In quilting, the fabric can be as important as the design and the stitching. Goldsmith and Jenkins also design fabric to achieve the effects they want. "Most quilters who know what they're buying go to a quilt shop," said Goldsmith. "The quality of fabrics, the selection of fabrics is really there."
"What separates one quilt from another is often the fabric. It's all the different fabrics used. It has to do with value and scale," said Jenkins.  "We give quilters patterns and colors, but it's still up to the individual to put that together, so that two people making the same quilt won't make quite the same quilt."
Without technique, a painter will be unable to translate an artistic vision to the canvas; so it is also with quilters. Know-how is as important as knowing what. "We're also known for our technique," said Jenkins. "Our technique book is in its third printing, and often quilt shops will teach from the book."
Goldsmith explained what quilters mean by "technique." "It's how you hold the needle, how you position the needle in the fabric, how you pin, how you place the template for each shape on the fabric, how you stitch an inner point or a curve. It would be very difficult to just pick up a pattern and needle and thread with no direction and do a really good job. What we try to do, and I think we do a pretty good job, is to give people pretty specific instructions."
Bald angels
Over the years Goldsmith and Jenkins have made far more quilts than they can keep. Some they give as presents, some they donate for favorite groups and causes, and some they sell. "This quilt sold for $4,000," said Jenkins, pointing to a quilt in one of the books. "This one has been appraised for $15,000."
"Then we have quilts that might bring $150. Quilts we have made to advertise what can be done with a certain fabric and that sort of stuff," said Goldsmith.
Do they have favorites? "It's usually whatever I am working on at the time," said Goldsmith. "Once I've finished a project, I generally file it away." Do they have ideas that just don't pan out? "Sure, but it's very rare."
"Early on, we did these angels," said Jenkins. "We called it 'Angels Wear Smart Shoes,' because quilters have to wear smart shoes when they go to these shows. I was a hairdresser for twenty years, and Becky drew them all bald, and I couldn't stand it. I didn't think they'd sell for flip. When we got to market—well, it's unreal how they sold. So then we needed to do more angels for the quilt show, and we put hair on them, and they didn't sell worth a flip. Sometimes you learn by doing."
"Learn by doing." That's not a bad slogan for quilters.
For more information about Piece o' Cake:
Piece O" Cake Designs
2977 Comanche Court
Grand Junction, CO 81503
(970) 424-0428
www.pieceocake.com
Becky: rebeccagoldsmith@mac.com
Linda: pieceocake@bresnan.net
C&T Publishing
PO Box 1456
Layfayette CA 94549
www.ctpub.com