This article appeared in the Fall 2008 issue of Texoma Living!.
by Mandy Montgomery
Travel Writer
High-Dollar, Urban Camping for Families
Great Wolf Lodge in Grapevine, just off U.S. 26, is just seven miles from DFW Airport. Located on 52 acres the place has plenty of "wow factor." Pulling into the parking area, a question came from the backseat, "Is that a space ship?" From seeing the pictures on the hotel's website I knew that the "space ship" was just one of the four big water slides. The idea of going to a waterpark when it's 100-degrees outside makes perfect sense, but now that the temperatures are dropping? Great Wolf Lodge offers a respite from the cold weather between now and spring. Start saving money now.
Once inside the lobby we were drawn to the huge wall of glass overlooking the 80,000 square foot indoor waterpark—kept at 84 degrees. Check in was smooth. Even though we arrived earlier than the 4 p.m. check-in time, our room was ready by 2:30 p.m. The waterpark is exclusive to hotel quests and open for use even if your room is not ready. So, with wristbands in hand for entrance to the waterpark, we headed to our room to drop off our things. On our way up, I made a mental note that Starbucks was next to the gift shop and I would be making a visit first thing in the morning.
Our room was clean and comfortable. The mattresses are what you would expect in any typical $100-a-night hotel, but at these prices you should expect more. The Wolf Den™, KidKamp™, and KidCabin™ Suites are fun for the younger kids (under 11). These cave-, tent- and cabin-themed areas of the room have bunk beds and a flat screen TV closed off from the rest of the room with only a door way and small window. Once the boys called their bunks, off we went.
We grabbed a furnished life jacket for our 4 year old and a few provided towels. We found a table to lay claim to—perfect, right at the entrance to the lazy river. We started slowly, easing into the 111,000-gallon wave pool for 10 minutes of rafting. Raccoon Lagoon™, located outside the enclosed area, is full of activities for little ones, with zero-depth entry—short slides, a splash area, and knee deep water with stationary ride-on toys with spray nozzles attached to squirt anyone in your path.
Soon we ventured over to the medium water slides at Fort Mackenzie™, a four-story 12-level tree house water fort with fun sprays and surprises. While wandering up a maze of steps and obstacles, kids everywhere are squirting anyone, especially unsuspecting parents. The kids stayed busy for a while with the suspension bridges and cargo nets. At the top we had the option to pick a green slide or an orange slide. Green it was, I went first to wait at the bottom for the kids then my husband would follow. Simple, I sat straight up and made it to the bottom. The family followed. "Let's do it again", is all I heard. The lines weren't long and the kids could easily go up and down without help.
The big boys, 6 and 7 years old, wanted to do the big water slides with the dads. So my girlfriend and I took the little boys to the Lazy River. With its swift current and cool water who couldn't be perfectly content floating in a tube? Did I mention the waterpark has a full bar?
The Howlin' Tornado™ with its six-story extreme funnel drops you 30-feet per second. Not for the faint of heart, seriously.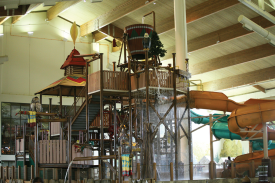 There are plenty of places to eat, but understand this is amusement park food in price and quality, and you might decide to go off-site for a meal or two. The breakfast buffet offered a lot of variety and good quality, but you may be disappointed with the other fare. Do some advance work and check out available nearby restaurants, of which there are dozens.
During the off-season October 1- rates based on 2 adults and 2 children under 12 for the Wolf Den and the KidKamp range $229 weekdays to $289 weekends; the KidCabin suites run $279 weekends to $359 weekends. Over Christmas and New Year's the rates will climb to $589. There is an infinite number of date-room-amenities-occupancy combinations when booking, so use Great Wolf Lodge's easy-to-use website and play with dates and room types for the best deals.
Great Wolf Lodge, across from the Gaylord Texan Hotel, Grapevine; (817) 488-6510 www.greatwolflodge.com.