This article appeared in the Fall 2008 issue of Texoma Living!.
Sherman Orthodontist Offers State-of- the-Art Care and Technology in Homelike, Comfortable Environment
It doesn't look like a medical office, outside or in. The building is set back off East Lamberth in a cluster of trees, and if given only a passing glance, it could be mistaken for a residence.
Just inside the front door is the old waiting room. It looks like what it is, or perhaps "was," as no one uses it much anymore. The patients who come in don't give the room a second look as they head to the back and the computer terminal adjacent to the receptionist area to check in. A finger to the computer's fingerprint recognition sensor, and there is instant recognition. The screen lights up with all the particulars concerning the patient's visit—the how, what, when of the appointment. It's that fast.
The kids know the drill. Brush your teeth and then head for the playroom. It is a playroom too, with video games, books to read, and a big television on the wall. Watching over the room are the mascots of schools from all over North Texas. A Bearcat, a Yellowjacket, a Ram, a Purple Warrior from Bonham or an Eagle from TCS, no one is left out, they are all up there.
The grownups, whether they are accompanying a child or waiting for their own appointment, take a seat in the lounge. With the array of plush sofas and chairs clustered around a large screen high-definition TV, it would be wrong to call it anything else. Looking for some alone time to read a book or want something to drink… coffee, tea, no problem. But don't forget to brush your teeth when you finish.
Don't let all of the creature comforts fool you. Dr. Caskey has brought leading edge orthodontics to Sherman. Need an appointment reminder, just check your email, a text message to your phone or request a phone call. Creative, innovative and effective orthodontic care is available right here at home. Home is an important idea for Caskey, that's why he has designed his "state-of-theart" practice to be as home like, friendly and personal as possible.
Combining the latest orthodontic advances with a warm environment makes his Sherman office a place folks don't mind coming for a procedure they know will help them.
Caroline McKee is thirteen. She is tall and pretty and by Christmas she will have a smile that will dazzle. Nature provided her looks. Dr. Caskey is providing her smile.
"I decided to get the perfect smile, Caroline said. "Everybody in my family has great smiles." Dr. Caskey has used the most advanced techniques to craft Caroline's smile. She calls it a "very positive experience," not difficult, not uncomfortable, not scary.
Caroline's program has been more complicated than many, but both she and her mother, Carmen Blacketer, know that the rewards will be worth it. Dr. Caskey created a treatment plan that will provide the same aesthetic result that, until a few years ago, could only have been achieved with the help of an oral surgeon. "I think it makes a huge difference if you have a very competent orthodontist," Carmen said. "This place is so… It's all about the kids. It's very relaxed, very organized. Caroline knows exactly what to do when she comes in. That helps. She doesn't dread coming over here. She never has."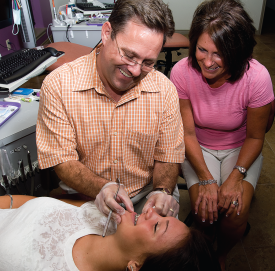 That is why Carmen has been bringing Caroline to Sherman for the past three years. She had seen other orthodontists closer to her Blue Ridge home, but her mother just wasn't satisfied. "I knew when I met Dr. Caskey that he knew what he was talking about. He gave me a plan. It's been right on schedule on everything he said."
Jim Caskey has been a man with a plan ever since he was a boy growing up in the West Texas farm country in Lamesa. He wanted to be an orthodontist from early on. "I was one of five kids and the only one that needed braces—it was the best thing that ever happened to me—and the guy who did it was always happy. He had fun, he worked for himself, and it seemed like a great job." By the time Caskey went to Southwest Texas State, the computer revolution was gearing up, so he studied computer programming and after graduating Cum Laude, he found himself in the middle a burgeoning industry. He was enormously successful in his eight year career, but he wasn't happy. With a little reflection he convinced himself to make a new start. He returned to school when he was thirty years old to follow his earlier dream of a career in orthodontics.
Caskey rehabbed old houses and his wife, Judy, worked in a bank, while he went back to college to get the science education he had missed. Then he spent four years in dental school and two and a half studying the highly specialized skills of orthodontics.
He and his wife made a considered choice to start his practice in Sherman. They wanted the positive things that come with life in a smaller city. They have made a good life here for their two children, Madelyn, twelve and Ryan, seven.
Jim Caskey likes helping people be the best they can, and giving them a perfect smile is no small part of that equation. It makes the good doctor smile too. "What I want to do is continue to get better and help my patients feel better. If I can keep doing that for several more years, I'll be the happiest man in the world." He'll be all smiles.