---
Some of Our Favorite Stories
---
Although Texoma Living! is no longer being published,
you can search every story, on every page, of every issue
of Texoma's Best Read Magazine, ever.
The last issue to be published was in October 2010. The economic downturn caught up with us.
It took two years of work to move all of Texoma Living! Magazine's nineteen issues to this final online resting home. There are already more than 2,000 pages of material available. Plus, we are adding new stories (never before published) whenever possible.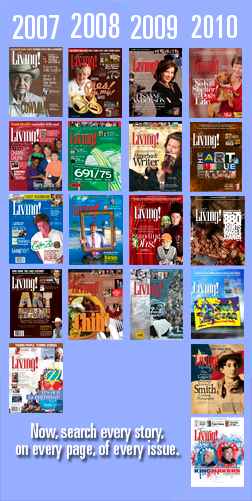 To search for a particular story or subject, just use the search box on the above right of the page. Put in name, a place, a subject and read to your heart's delight.
On Reflection
As I update this addendum in Spring of 2014, it is with great pride that I share the pages of Texoma Living!. Since putting these past issues online there have been 1,030,540 visits to our pages. That's impressive for a local magazine in a small community.
Rarely a day goes by that I do not have the opportunity to reminisce about my time as publisher. I am convinced that in the end, my obit will lead with "former publisher of Texoma Living! Magazine." I'm OK with that.


Featured Archive Story

Not so long ago, the nightscapes of many American cities were bright with brilliant electric signs and the rainbow hues of glowing neon. Actually, neon (Ne) is used for red and orange. The other noble gases on the Periodic Table of Elements, argon (Ar), helium (He), krypton (Kr), and xenon (Xe), are used for other colors along with phosphors and a bit of mercury (Hg). The sixth member of the nobility is radon (Rn), but it's radioactive and not to be messed with.

Category: Business

By Carol Davis

Filling the gap between desire and reality is just a matter of planning. Making every space do its part—living areas, kitchen, bedrooms, event storage areas—requires thinking how to make every inch count.

Category: Style

Right after my eighth birthday in January, I began to long secretly for a bicycle. I watched with envy as the older kids whizzed about the neighborhood on their brightly colored beauties, with names emblazoned on the fork—Schwinn, Roadmaster, Raleigh. They were like thoroughbred horses, sleek and fast and beautiful.

Category: FOB
Looking for the Printed Version?

You can find a complete set of Texoma Living! Magazine in the library at Austin College.