---
Some of Our Favorite Stories
---
Although Texoma Living! is no longer being published,
you can search every story, on every page, of every issue
of Texoma's Best Read Magazine, ever.
The last issue to be published was in October 2010. The economic downturn caught up with us.
It took two years of work to move all of Texoma Living! Magazine's nineteen issues to this final online resting home. There are already more than 2,000 pages of material available. Plus, we are adding new stories (never before published) whenever possible.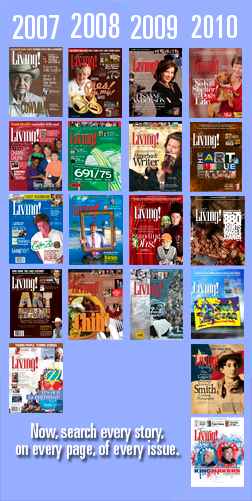 To search for a particular story or subject, just use the search box on the above right of the page. Put in name, a place, a subject and read to your heart's delight.
On Reflection
As I update this addendum in Spring of 2014, it is with great pride that I share the pages of Texoma Living!. Since putting these past issues online there have been 1,030,540 visits to our pages. That's impressive for a local magazine in a small community.
Rarely a day goes by that I do not have the opportunity to reminisce about my time as publisher. I am convinced that in the end, my obit will lead with "former publisher of Texoma Living! Magazine." I'm OK with that.


Featured Archive Story

By Gene Lenore

Denison retiree Jim Tygart wanted to keep busy, so he volunteered to help the Denison Development Alliance. As a career salesman, Tygart decided to make a "cold call" on a Oklahoma City manufacturer just to see if they might be interested in buying a closed printing plant. Guess what happened?

Category: Business

On January 16th, 2009 a team of 24 Boy Scouts and 10 Scout Leaders traveled to Washington D.C. representing the Texoma Valley District, and Circle Ten Council of North Texas, during the week of the Presidential Inauguration festivities.

Category: FOB

We pass them on our way to work. Situated on a well-manicured landscaped hill, tucked deep into a stand of old-growth oaks, or sitting stately in the center of a large parcel of acreage, surrounded by pristine white pipe and wire fencing, at the end of a private road. They are Texoma's Multi-Million Dollar Homes.

Category: Style
Looking for the Printed Version?

You can find a complete set of Texoma Living! Magazine in the library at Austin College.