---
Some of Our Favorite Stories
---
Although Texoma Living! is no longer being published,
you can search every story, on every page, of every issue
of Texoma's Best Read Magazine, ever.
The last issue to be published was in October 2010. The economic downturn caught up with us.
It took two years of work to move all of Texoma Living! Magazine's nineteen issues to this final online resting home. There are already more than 2,000 pages of material available. Plus, we are adding new stories (never before published) whenever possible.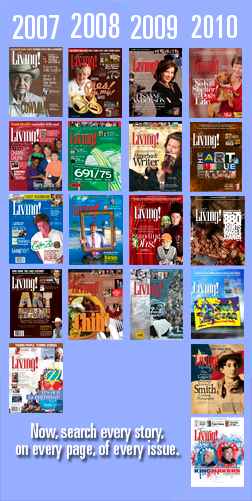 To search for a particular story or subject, just use the search box on the above right of the page. Put in name, a place, a subject and read to your heart's delight.
On Reflection
As I update this addendum in Spring of 2014, it is with great pride that I share the pages of Texoma Living!. Since putting these past issues online there have been 1,030,540 visits to our pages. That's impressive for a local magazine in a small community.
Rarely a day goes by that I do not have the opportunity to reminisce about my time as publisher. I am convinced that in the end, my obit will lead with "former publisher of Texoma Living! Magazine." I'm OK with that.


Featured Archive Story

By Dan Acree

An estimated 3.5 billion wire hangers go into U.S. landfills every year, and they sit there for over a hundred years. That does not count the 1.25 million hangers in my closet at home. Leave it to American ingenuity to identify a problem and turn it into an advertising campaign. A New York company, EcoHanger®, is making a 100%-recyclable, biodegradable clothes hanger made of paper.

Category: Dan Acree

Why in the world would elementary school children want to stay after school? In the case of the seventy-five members of the "Green Team" at Wakefield Elementary school, it's because they want to dig in the dirt.

Category: FOB

By Donna Hunt

Drive across the Red River Bridge from Denison into Oklahoma without paying a toll, and you have State Representative Jake J. Loy to thank. Go fishing or to a livestock show at Loy Park, and you have County Judge Jake J. Loy to thank. You can even listen to a recording of trumpet player Tommy Loy, and you can thank a doting Uncle Jake J. Loy.

Category: Heritage
Looking for the Printed Version?

You can find a complete set of Texoma Living! Magazine in the library at Austin College.