---
Some of Our Favorite Stories
---
Although Texoma Living! is no longer being published,
you can search every story, on every page, of every issue
of Texoma's Best Read Magazine, ever.
The last issue to be published was in October 2010. The economic downturn caught up with us.
It took two years of work to move all of Texoma Living! Magazine's nineteen issues to this final online resting home. There are already more than 2,000 pages of material available. Plus, we are adding new stories (never before published) whenever possible.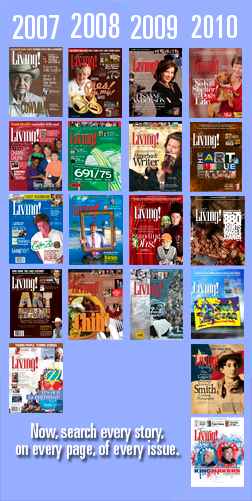 To search for a particular story or subject, just use the search box on the above right of the page. Put in name, a place, a subject and read to your heart's delight.
On Reflection
As I update this addendum in Spring of 2014, it is with great pride that I share the pages of Texoma Living!. Since putting these past issues online there have been 1,030,540 visits to our pages. That's impressive for a local magazine in a small community.
Rarely a day goes by that I do not have the opportunity to reminisce about my time as publisher. I am convinced that in the end, my obit will lead with "former publisher of Texoma Living! Magazine." I'm OK with that.


Featured Archive Story

One. It's the number of stars in the Texas flag. It's the number of U.S. Presidents who have conducted the OU-Texas pre-game coin toss. And it's the number of shirts lost by Texas Laundry in the last six months. For a business that handles upwards of 1,000 garments per day, the statistic is unbelievable.

Category: Business

By Will Watson

In the anteroom of the People's Congress in Beijing, U.S. Ambassador to China Charles Whitfield nervously paces back and forth. In his early fifties, Whitfield has spent the better part of his adult years as ambassador to China. However, this is the defining moment, the culmination of his career.

Category: FOB

By Staff Report

Chapin Title Company traces its roots back to the 1800's when the city of Sherman was a rural, undeveloped area. The year was 1872, the city of Sherman was booming. Almost 6,000 people called it home, and others were streaming in steadily to grasp the opportunities the rich prairie soil promised.

Category: Business
Looking for the Printed Version?

You can find a complete set of Texoma Living! Magazine in the library at Austin College.