Although Texoma Living! is no longer being published,
you can search every story, on every page, of every issue.
The last issue published was October 2010. The economic downturn caught up with us.
It took two years of work to move all of Texoma Living! Magazine's nineteen issues to this final online resting place. There are over 2,000 pages available.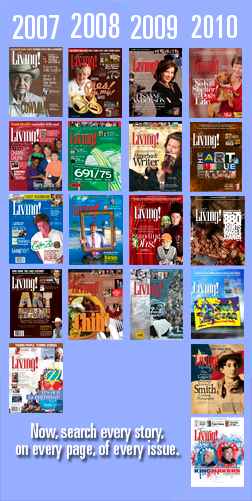 To search for a particular story or subject, just use the search box on the above right of the page. Put in name, a place, a subject and read to your heart's delight.
On Reflection
As I update this addendum in Winter 2015, it is with great pride that I share the pages of Texoma Living!. As of this update, there have been 1,730,241 visits to our pages. That's impressive for a local magazine, in a small community.
I also want to pay tribute to Edward Southerland. Edward's words made up the best stories we published. It was his article on Lee Hudgins in issue #1 that convinced me it was worth the investment to continue to publish.
I never intended to put the Hudgins story on the cover. When photographer Anne Marie Shumate showed us the prints from her session with Mr. Hudgins, there was no question that it would be the first cover.
Many people don't know the origin story of Texoma Living!. It was supposed to be a once-a-year magazine for the Sherman Chamber of Commerce —you may notice the name on the first cover as "Sherman Living!".  It took four months to produce that issue. When the finished magazine arrived from the printer, we realized this is something special.
Publishing Texoma Living! fulfilled a dream for both Edward and me.
What a Picture is Worth
Anne Marine Shuimate was our first contributing photographer. But Texoma Living!'s pages came alive thanks to the creativity of a short list of artists whose photos matched anything seen on the pages of the biggest and best magazines.
Words and pictures. The legacy of a grand experiment in big city publishing for a small community in North Texas.
Rarely a day goes by that I do not have the opportunity to reminisce about my time as publisher. I am convinced that in the end, my obit will lead with "former publisher of Texoma Living! Magazine." I'm OK with that.


Featured Archive Story

Garrett Patton will tell you that he's no better at styling hair than anyone else. He may not think he is but his clients do. Despite the disclaimer, he's booked solid and often can't even get away to grab lunch. The 33-year-old projects an air of easy confidence with clients who return year after year to benefit from his eye for style and his intense concentration.

Category: FOB

A lifeguard's work is never done. What does it take to keep your cool at the pool? TLM caught up with two local lifeguards, a rookie and an eight-year veteran, to find the ins and outs of this traditional summer job. Sara Bilyeu, the rookie, is sixteen and a Sherman High School junior. She is a member of the SHS varsity swim team.

Category: People

By Staff Report

It was as much a homecoming as a concert for the Oklahoma-born singer/actor. Many in the audience knew about Reba's accident and how she became a benefactor of Texoma Medical Center's health care services.

Category: FOB
Looking for the Printed Version?

You can find a complete set of Texoma Living! Magazine in the library at Austin College.