Although Texoma Living! is no longer being published,
you can search every story, on every page, of every issue.
The last issue published was October 2010. The economic downturn caught up with us.
It took two years of work to move all of Texoma Living! Magazine's nineteen issues to this final online resting place. There are over 2,000 pages available.
To search for a particular story or subject, just use the search box on the above right of the page. Put in a name, a place, a subject, and read to your heart's delight.
On Reflection
As I update this addendum in Spring 2016, it is with great pride that I share the pages of Texoma Living!. As of this update, there have been 2,357,182 visits to our pages. That's impressive for a local magazine in a small community.
I also want to pay tribute to Edward Southerland. Edward's words made up the best stories we published. It was his article on Lee Hudgins in issue #1 that convinced me it was worth the investment to continue to publish.
I never intended to put the Hudgins story on the cover. When photographer Anne Marie Shumate showed us the prints from her session with Mr. Hudgins, there was no question that it would be the first cover.
Many people don't know the origin story of Texoma Living!. It was supposed to be a once-a-year magazine for the Sherman Chamber of Commerce —you may notice the name on the first cover as "Sherman Living!".  It took four months to produce that issue. When the finished magazine arrived from the printer, we realized this is something special.
Publishing Texoma Living! fulfilled a dream for both Edward and me.
What a Picture is Worth
Anne Marine Shumate was our first contributing photographer. But Texoma Living!'s pages came alive thanks to the creativity of a short list of artists whose photos matched anything seen on the pages of the biggest and best magazines. Stephen Olner's magnificent architectural photos of unique homes and his intimate images for some of my favorite features are still on my personal favorites list. Jacki Lee (Miller) Sanoja became a go-to photographer for capturing just about anything. I was first attracted to her out-of-the-box style and composition. There were many contributors to Texoma Living! and you will see their names attached to stories in this archive. All were important, and part of what made this magazine special.
Words and pictures. The legacy of a grand experiment in big city publishing for a small community in North Texas.
Rarely a day goes by that I do not have the opportunity to reminisce about my time as publisher. I am convinced that in the end, my obit will lead with "former publisher of Texoma Living! Magazine." I'm OK with that.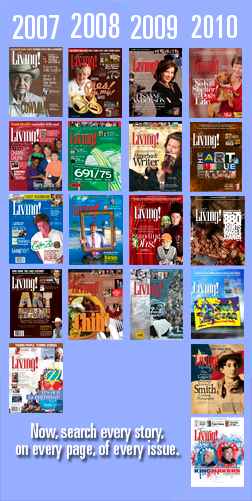 Featured Archive Story

The charcoal and silver reptilian patterned face mask—the Black Mamba—hides Jerry Wright's salt and pepper goatee and ready grin. In gray sweats, sunglasses, and a black company ball cap turned backwards, the man behind the mask is the Black Mamba's creator and CEO of Save Phace Inc, a company which produces protective face masks for all manner of sports and athletic endeavors.

Category: Business

By Kathy Floyd

Jonathan Dryden's hands create beautiful pieces of art from wood, but a childhood accident almost took away that gift. At thirteen-months old, he burned his hands so severely that he was not expected to have full use of them again. To everyone's surprise, after three weeks in bandages, his hands slowly came back to life.

By Dan Acree

Not so long ago, the nightscapes of many American cities were bright with brilliant electric signs and the rainbow hues of glowing neon. Actually, neon (Ne) is used for red and orange. The other noble gases on the Periodic Table of Elements, argon (Ar), helium (He), krypton (Kr), and xenon (Xe), are used for other colors along with phosphors and a bit of mercury (Hg). The sixth member of the nobility is radon (Rn), but it's radioactive and not to be messed with.

Category: Business
Looking for the Printed Version?

You can find a complete set of Texoma Living! Magazine in the library at Austin College.

Featured Archive Story

By Joe Munoz on December 1, 2008

The rattle of the alarm echoed across the area, signaling a chlorine leak from a storage tank at the large industrial plant in Grayson County. As the men encased in the special gear that gives them the look of moon-walking astronauts went about the very serious job of dealing with the problem, a company representative standing a safe distance from the scene remarked.

Category: Business

By Edward Southerland on March 1, 2008

"The day of the Christmas parade in 1995, I had gone to a doctor for a second opinion. I came right up here, straight from the doctor's office. I had a parade to do. I did the parade and then met my husband at a Christmas party. I sat there beside him and told him I had to go to the hospital in two days."

By Special to TLM on December 1, 2007

Some people may think having a shoeshine is simply about improving or restoring the appearance of their shoes, but don't you believe it. If Willie Riles, who has been bringing up the shine at Kelly Square in Sherman for 18 years, has ministered to their needs, they know that it is about something more, including a smile and an entertaining conversation.