Although Texoma Living! is no longer being published, you can search every story, on every page, of every issue.
The last issue published was October 2010. The economic downturn caught up with us.
It took two years of work to move all of Texoma Living! Magazine's nineteen issues to this final online resting place. There are over 2,000 pages available.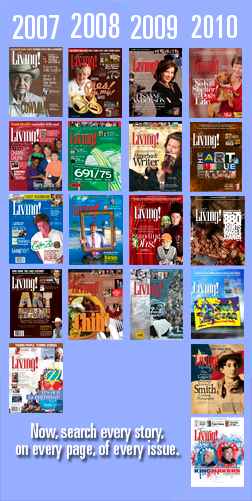 To search for a particular story or subject, just use the search box on the above right of the page. Put in name, a place, a subject and read to your heart's delight.
On Reflection
As I update this addendum in Winter 2015, it is with great pride that I share the pages of Texoma Living!. As of this update, there have been 1,730,241 visits to our pages. That's impressive for a local magazine in a small community.
I also want to pay tribute to Edward Southerland. Edward's words made up the best stories we published. It was his article on Lee Hudgins in issue #1 that convinced me it was worth the investment to continue to publish.
I never intended to put the Hudgins story on the cover. When photographer Anne Marie Shumate showed us the prints from her session with Mr. Hudgins, there was no question that it would be the first cover.
Many people don't know the origin story of Texoma Living!. It was supposed to be a once-a-year magazine for the Sherman Chamber of Commerce —you may notice the name on the first cover as "Sherman Living!".  It took four months to produce that issue. When the finished magazine arrived from the printer, we realized this is something special.
Publishing Texoma Living! fulfilled a dream for both Edward and me.
What a Picture is Worth
Anne Marine Shuimate was our first contributing photographer. But Texoma Living!'s pages came alive thanks to the creativity of a short list of artists whose photos matched anything seen on the pages of the biggest and best magazines.
Words and pictures. The legacy of a grand experiment in big city publishing for a small community in North Texas.
Rarely a day goes by that I do not have the opportunity to reminisce about my time as publisher. I am convinced that in the end, my obit will lead with "former publisher of Texoma Living! Magazine." I'm OK with that.


Featured Archive Story

Ladies and Gentlemen! Texoma Living! presents three rounds for the Electronic Championship of Texoma. In the Sherman Town Center, sporting the blue and gold sign, the current Texoma Big Box Electronics Champion—Best Buy. The challenger, in Sherman Commons, wearing red and white—Circuit City.

Category: FOB

Hillary Clinton is in a serious race for the White House. She feels pressure to appear sophisticated, scrupulous, and sedulous. After all, the world has serious problems! Now just hold on. Who says you can't be serious minded, savvy and lighthearted at the same time? In fact, the press and political consultants gave Hillary feedback that she needed to lighten up, laugh more and not be so stiff.

Category: FOB

By Kathy Floyd

Texoma is deep in the heart of the Red Dirt music scene. Taking their names from the iron- oxide-rich soil that colors the Red River, Red Dirt trailblazers such as Cross Canadian Ragweed and Stoney LaRue blurred the line between country and rock in Oklahoma and let the winds carry the grit south to Texas, where artists such as Texoma's Spur 503 have put their own spin on the dirt.

Category: FOB
Looking for the Printed Version?

You can find a complete set of Texoma Living! Magazine in the library at Austin College.