Although Texoma Living! is no longer being published,
you can search every story, on every page, of every issue.
The last issue published was October 2010. The economic downturn caught up with us.
It took two years of work to move all of Texoma Living! Magazine's nineteen issues to this final online resting place. There are over 2,000 pages available.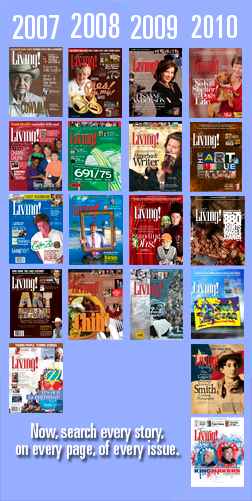 To search for a particular story or subject, just use the search box on the above right of the page. Put in name, a place, a subject and read to your heart's delight.
On Reflection
As I update this addendum in Winter 2015, it is with great pride that I share the pages of Texoma Living!. As of this update, there have been 1,730,241 visits to our pages. That's impressive for a local magazine, in a small community.
I also want to pay tribute to Edward Southerland. Edward's words made up the best stories we published. It was his article on Lee Hudgins in issue #1 that convinced me it was worth the investment to continue to publish.
I never intended to put the Hudgins story on the cover. When photographer Anne Marie Shumate showed us the prints from her session with Mr. Hudgins, there was no question that it would be the first cover.
Many people don't know the origin story of Texoma Living!. It was supposed to be a once-a-year magazine for the Sherman Chamber of Commerce —you may notice the name on the first cover as "Sherman Living!".  It took four months to produce that issue. When the finished magazine arrived from the printer, we realized this is something special.
Publishing Texoma Living! fulfilled a dream for both Edward and me.
What a Picture is Worth
Anne Marine Shumate was our first contributing photographer. But Texoma Living!'s pages came alive thanks to the creativity of a short list of artists whose photos matched anything seen on the pages of the biggest and best magazines.
Words and pictures. The legacy of a grand experiment in big city publishing for a small community in North Texas.
Rarely a day goes by that I do not have the opportunity to reminisce about my time as publisher. I am convinced that in the end, my obit will lead with "former publisher of Texoma Living! Magazine." I'm OK with that.


Featured Archive Story

By Dan Acree

Most entrepreneurs like myself, are more inclined to do well with the creative side of a business and more often than not find themselves short on running-the-business skills. Now, I'm not talking about leadership. I mean the basics of business.

Category: Dan Acree

If you're going to garden organically around here, you've got to be tough—at least as tough as my friend Nancy, who confesses that the greatest pleasure of her summertime morning is to roam her dewy garden, waking up sleepy grasshoppers and flicking their heads off with her thumbnail.

Category: Style

"The day of the Christmas parade in 1995, I had gone to a doctor for a second opinion. I came right up here, straight from the doctor's office. I had a parade to do. I did the parade and then met my husband at a Christmas party. I sat there beside him and told him I had to go to the hospital in two days."
Looking for the Printed Version?

You can find a complete set of Texoma Living! Magazine in the library at Austin College.