---
Some of Our Favorite Stories
---
Although Texoma Living! is no longer being published,
you can search every story, on every page, of every issue
of Texoma's Best Read Magazine, ever.
The last issue to be published was in October 2010. The economic downturn caught up with us.
It took two years of work to move all of Texoma Living! Magazine's nineteen issues to this final online resting home. There are already more than 2,000 pages of material available. Plus, we are adding new stories (never before published) whenever possible.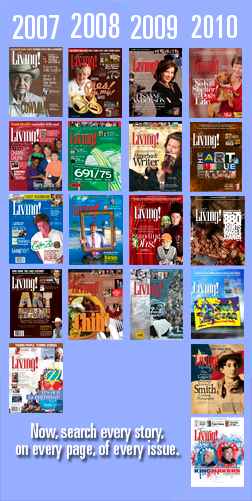 To search for a particular story or subject, just use the search box on the above right of the page. Put in name, a place, a subject and read to your heart's delight.
On Reflection
As I update this addendum in Spring of 2014, it is with great pride that I share the pages of Texoma Living!. Since putting these past issues online there have been 1,030,540 visits to our pages. That's impressive for a local magazine in a small community.
Rarely a day goes by that I do not have the opportunity to reminisce about my time as publisher. I am convinced that in the end, my obit will lead with "former publisher of Texoma Living! Magazine." I'm OK with that.


Featured Archive Story

As pilot Bruce Lemoine brought his Japanese Zero in for a landing, everyone watched anxiously. The war birds have a tendency to tip over on the propeller, fellow pilot Dan Eshelman said as the plane closed on the runway. Lemoine lined up his plane for a landing on the grass next to the runway to soften the blow to the prop in case the WWII bird tipped, but the extra precautions were unnecessary.

Category: FOB

By Staff Report

It was as much a homecoming as a concert for the Oklahoma-born singer/actor. Many in the audience knew about Reba's accident and how she became a benefactor of Texoma Medical Center's health care services.

Category: FOB

By Staff Report

Walter E. Potts was born in Denison in 1892 and lived to be 105 years old. The son of William and Mollie Potts distinguished himself in World War I serving as one of thousands of "Buffalo Soldiers" assigned to the U.S. Army's 92nd and 93rd Infantry Divisions. The 92nd was attached to France's 4th Army.

Category: FOB
Looking for the Printed Version?

You can find a complete set of Texoma Living! Magazine in the library at Austin College.