---
Some of Our Favorite Stories
---
Although Texoma Living! is no longer being published,
you can search every story, on every page, of every issue
of Texoma's Best Read Magazine, ever.
The last issue to be published was in October 2010. The economic downturn caught up with us.
It took two years of work to move all of Texoma Living! Magazine's nineteen issues to this final online resting home. There are already more than 2,000 pages of material available. Plus, we are adding new stories (never before published) whenever possible.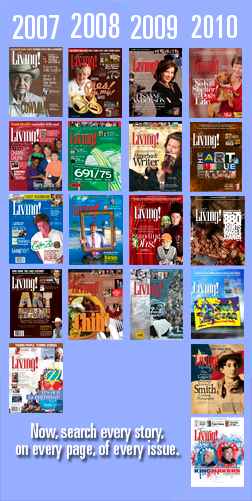 To search for a particular story or subject, just use the search box on the above right of the page. Put in name, a place, a subject and read to your heart's delight.
On Reflection
As I update this addendum in Spring of 2014, it is with great pride that I share the pages of Texoma Living!. Since putting these past issues online there have been 1,030,540 visits to our pages. That's impressive for a local magazine in a small community.
Rarely a day goes by that I do not have the opportunity to reminisce about my time as publisher. I am convinced that in the end, my obit will lead with "former publisher of Texoma Living! Magazine." I'm OK with that.


Featured Archive Story

Noel Barrick, AIA, a 1966 graduate of Sherman High School, was the principal-in charge and the project manager for the new Texoma Medical Center in Denison.

Category: People

John Frair, a former United Press photographer, spent a career recording the great and near great, the tragic and inspirational events of the past on film. In June, Frair will display an exhibition of his travel photography at the Creative Art Center in Bonham. The photographs chronicle trips to London and the West County of England, Belgium, Spain, France and Paris.

Category: FOB

One of the things that set Texoma Living! apart is the inclusion in each issue of a long-form profile, usually three thousand words or more, on someone who brings something special to our community. From the beginning, the goal was to offer the reader something more than a superficial glance at the subject. We wanted the reader to finish the story and say, "I never knew that." This is a very short retrospective of some of those stories.

Category: People
Looking for the Printed Version?

You can find a complete set of Texoma Living! Magazine in the library at Austin College.