---
Some of Our Favorite Stories
---
Although Texoma Living! is no longer being published,
you can search every story, on every page, of every issue
of Texoma's Best Read Magazine, ever.
The last issue to be published was in October 2010. The economic downturn caught up with us.
It took two years of work to move all of Texoma Living! Magazine's nineteen issues to this final online resting home. There are already more than 2,000 pages of material available. Plus, we are adding new stories (never before published) whenever possible.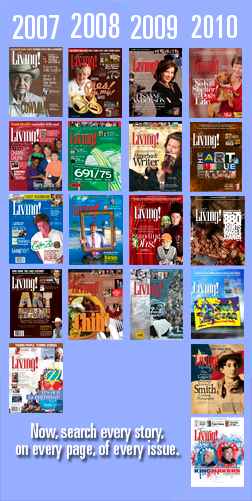 To search for a particular story or subject, just use the search box on the above right of the page. Put in name, a place, a subject and read to your heart's delight.
On Reflection
As I update this addendum in Spring of 2014, it is with great pride that I share the pages of Texoma Living!. Since putting these past issues online there have been 1,030,540 visits to our pages. That's impressive for a local magazine in a small community.
Rarely a day goes by that I do not have the opportunity to reminisce about my time as publisher. I am convinced that in the end, my obit will lead with "former publisher of Texoma Living! Magazine." I'm OK with that.


Featured Archive Story

By Dan Acree

By most accounts the business of photographing kids on ponies began not long after the camera was invented. There are tintypes in museums with faded images of boys and girls astride, usually Shetland horses.

Category: Dan Acree

With court approval, Luella held its first election on April 11, 1978, and by a vote of eighty-nine to ten, Luella became a city. The next big vote was to dissolve the town.

Category: Heritage

For someone who failed fourth grade art because he flunked a sewing project, Michael Winegarden has come a long way. Honors for his accomplishments in art today are numerous. His fourth-grade art teacher might not believe it, but Winegarden now teaches drawing and art appreciation at Grayson County College.
Looking for the Printed Version?

You can find a complete set of Texoma Living! Magazine in the library at Austin College.