---
Some of Our Favorite Stories
---
Although Texoma Living! is no longer being published,
you can search every story, on every page, of every issue
of Texoma's Best Read Magazine, ever.
The last issue to be published was in October 2010. The economic downturn caught up with us.
It took two years of work to move all of Texoma Living! Magazine's nineteen issues to this final online resting home. There are already more than 2,000 pages of material available. Plus, we are adding new stories (never before published) whenever possible.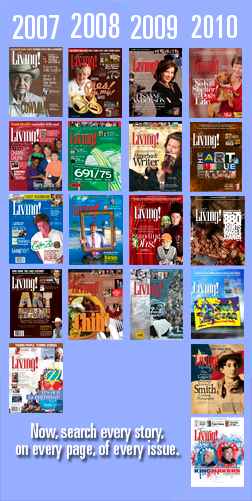 To search for a particular story or subject, just use the search box on the above right of the page. Put in name, a place, a subject and read to your heart's delight.
On Reflection
As I update this addendum in Spring of 2014, it is with great pride that I share the pages of Texoma Living!. Since putting these past issues online there have been 1,030,540 visits to our pages. That's impressive for a local magazine in a small community.
Rarely a day goes by that I do not have the opportunity to reminisce about my time as publisher. I am convinced that in the end, my obit will lead with "former publisher of Texoma Living! Magazine." I'm OK with that.


Featured Archive Story

In neither Hollywood nor New York do many celebrities have the distinction of saying that they have appeared on television regularly for twenty years—Oprah Winfrey, Bill O'Reilly, David Letterman maybe. Joining those ranks this year is Texoma's own Blake Utter.

Category: FOB

By Staff Report

CASA of Grayson Co. is a service organization dedicated to area children who have found themselves in the court system, not for what they have done, but as victims of abuse and neglect. The goal of CASA is to represent these children as Guardians ad Litem to protect their rights and to ultimately place each into a loving and protective home.

Category: FOB

By Staff Report

There's a great story behind the grand prize in a fundraiser to benefit the Child & Family Guidance Center of Texoma. Gerald Knox bought a rare 2003 Harley-Davidson Screamin' Eagle Road King motorcycle. He kept it preserved as a collectible with just 18 miles on the odometer. When Knox decided this summer to relocate out of the area he donated the bike to the Guidance Center to raffle for charity.

Category: FOB
Looking for the Printed Version?

You can find a complete set of Texoma Living! Magazine in the library at Austin College.