---
Some of Our Favorite Stories
---
Although Texoma Living! is no longer being published,
you can search every story, on every page, of every issue
of Texoma's Best Read Magazine, ever.
The last issue to be published was in October 2010. The economic downturn caught up with us.
It took two years of work to move all of Texoma Living! Magazine's nineteen issues to this final online resting home. There are already more than 2,000 pages of material available. Plus, we are adding new stories (never before published) whenever possible.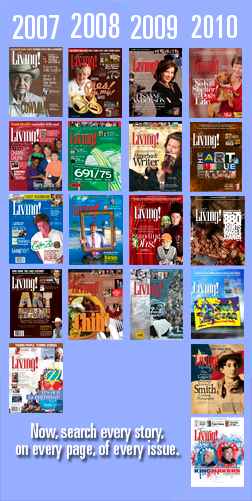 To search for a particular story or subject, just use the search box on the above right of the page. Put in name, a place, a subject and read to your heart's delight.
On Reflection
As I update this addendum in Spring of 2014, it is with great pride that I share the pages of Texoma Living!. Since putting these past issues online there have been 1,030,540 visits to our pages. That's impressive for a local magazine in a small community.
Rarely a day goes by that I do not have the opportunity to reminisce about my time as publisher. I am convinced that in the end, my obit will lead with "former publisher of Texoma Living! Magazine." I'm OK with that.


Featured Archive Story

By Dan Acree

Collectors consider 1954 to 1965 to be the "Golden Age" of transistor radio design. A revolution in small circuitry emerged from the invention of the transistor and built Texas Instruments into a behemoth in consumer and military electronics.

Category: FOB

By Kathy Floyd

Texoma is deep in the heart of the Red Dirt music scene. Taking their names from the iron- oxide-rich soil that colors the Red River, Red Dirt trailblazers such as Cross Canadian Ragweed and Stoney LaRue blurred the line between country and rock in Oklahoma and let the winds carry the grit south to Texas, where artists such as Texoma's Spur 503 have put their own spin on the dirt.

Category: FOB

Summer vacation is over. School has started. Nikki Bitzer is back in the classroom. Life is good, really good. For this Sherman teacher, nothing sounds so sweet as the bell signaling the start of another class.

Category: People
Looking for the Printed Version?

You can find a complete set of Texoma Living! Magazine in the library at Austin College.