Chef Robert Morf's Wyoming's Restaurant has folks standing in line for a taste of big city food. So far, so good. Since opening, Wyoming's has been a hot topic for Texoma diners as the word about what was cooking in Howe spread. Texoma Living! learned about the place from an avalanche of e-mail essentially saying the same thing—"Check this out." So we did.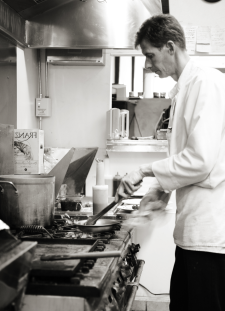 Before Howe, Morf, who is a St. Louis native, worked in or owned restaurants in California, Oregon, and Wyoming— the inspiration for his current venture's name. Skilled in more than cooking, he also did the carpentry work that transformed the building on Haning Street into a restaurant. "I do all the faux painting and carpentry and the cooking," he said. His mother, Lesley Gadsby, contributed the large paintings of Western scenes with buffaloes, elk, and grizzlies. "We'll add some more paintings when the expansion is through." The expansion, which Morf is building when the restaurant is dark on Sundays and Mondays, will add seating and a bar area and allow an expanded appetizer menu.
Wyoming's menu is eclectic, not surprising since the chef has no formal culinary training and learned by doing. "I can cook Chinese, Thai, Mexican and Salvadoran," Morf said. To learn the authentic aspects of these diverse cuisines, he sought out assistants who could teach as well as help him. "My dishwashers and prep cooks taught me. I feel the more you know, the more you're worth. I'm not a trend follower."
He calls what emerges from his tiny kitchen—with his long arms on a skyscraper sixfoot- eight-inch frame, Morf can just about reach all the corners of the kitchen while standing at the stove— "New American Bistro." The menu includes steaks, pork, chicken, pasta, lamb, and homemade sausage. It often reflects what is fresh and available in the area, but some dishes have achieved more or less permanent status. "I almost took the Pistachio Jalapeno Chicken off the menu because no one was ordering it. Now it's one of the most popular items," said Morf. "I want to play, have fun, and honor customer requests." And that's what's cooking in Howe.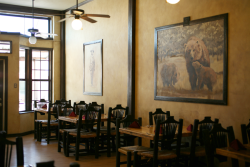 Wyoming's Restaurant
110 East Haning Street
Howe, TX 75459
903-814-2128
Tuesday through Saturday
Lunch: 11am to 3pm
Dinner: 5:30pm to 9pm
Reservations accepted and encouraged on weekends.