Another of last year's (2010) discoveries in our search for Texoma's Favorite BBQ Stands, Shacks, and Joints, Nick Williams is the hands down choice for the Po Sam Memorial Brown Gravy Sauce Award for the second year running. We have not tried his elixir—Williams just calls it "sauce"—on chocolate cake yet, but it's an intriguing idea. It probably would be good on cardboard, but across the river at Williams Old Style in Colbert, Oklahoma you get to pour it over brisket, pork, sausage, hot links and ribs.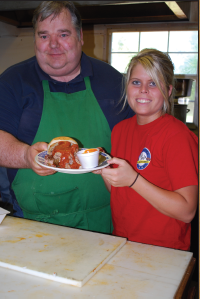 Oops, we said "brisket," and Williams doesn't cook brisket, he cooks clod. Think "higher on the hog" or in this case, cow. Clod comes from high on the bovine's shoulder, and Williams thinks that makes all the difference. "It costs a little more," he said, "but the final product is so much better." The beef sandwiches are chopped, and come doused with "sauce" mild or spicy or a more traditional red sauce.
Meanwhile, back at the sauce, Williams doesn't claim his sauce is the same as Po Sam's, but he knew the man. "I used to swap wood with him," Williams said. That was in a different life, before he gave up his first barbecue ventures in Madill and Colbert and joined the corporate world. He retired four years back and came back home to Colbert and to the sublime smoke.
There's nothing "retiring" about Williams' operation. He and his assistant, a pretty young woman named Atoria Miller, put in plenty of time waiting on customers and make the homemade side dishes available on the menu. The latest addition is tamales, beef, chicken, and pork, handmade and heavy. "A dozen of them weigh more than six pounds," he said. "I'm selling a couple of hundred a week."
But all of that is secondary to the meat and the sauce. Williams said he goes through about eight gallons of sauce each day, so there is always a big pot simmering away on the stove. "Ninety percent of my customers want the sauce," he said. As for the long smoker in the back room, it is never shut down. "They haven't gone cool in four years," he said. It's a simple declaration to what it takes to make real barbecue—time.
Williams' Old Style BBQ
306 Moore Ave (US 91)
Colbert, Oklahoma
(580) 296-5880
Tues–Fri 11 a.m.-8 p.m.
Sat 11 a.m.-7 p.m.