This recipe appeared in the Winter 2008 issue of Texoma Living!.
1 cup white onion, diced
1 cup fresh zucchini, diced
1 cup red pepper, diced
1 cup green pepper, diced
1 cup orange pepper, diced
7 ounces (1 can) chopped green chilies
15 ounces (1 can) kidney beans with juice
14 ounces (1 can) diced tomatoes
14 ounces (1 can) all natural beef broth
4 tablespoons extra virgin olive oil
2 tablespoons chili powder
1 tablespoons ground cumin
1 teaspoon garlic powder
1 teaspoon paprika
– 1 cup water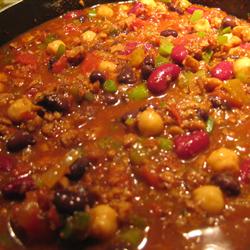 In a large pot over medium-high heat, sauté onion, zucchini, red, green, and orange peppers, and green chilies in extra virgin olive oil and spices. Cook for 5 minutes, stirring occasionally. Add kidney beans and diced tomatoes. Stir to incorporate. Lower heat and add beef broth and water. Simmer over low-medium heat for 30 minutes. Serve hot.
Garnish per serving
1 teaspoon pico de gallo
1 teaspoon diced avocado