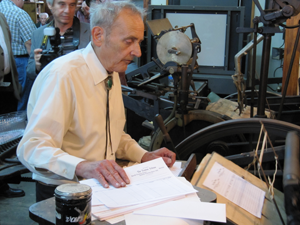 On October 22, 1909, the people in the southwest corner of Fannin County first got a look at their new newspaper, The Trenton Tribune. One hundred plus years later, folks still find out what's going on in that part of the world with a weekly copy of the Tribune. Last month, on the paper's one hundredth birthday, the newspaper office was packed with well-wishers to help the owner, publisher, editor, reporter, layout man, photographer, copy boy and janitor—Tom Mac Holmes wears all those hats—celebrate the birthday.


Do you have a special story about Tom Mac Holmes?
Share it with our readers. Leave a Comment about this story.