Texoma Living! Magazine took first place at the annual meeting of Press Women of Texas in Bryan on June 6. Writer Ginger Mynatt took five first place awards for stories published in Texoma Living! and writer Jesse Gunn Stephens won seven awards, including three first place recognitions for articles in the magazine over the last year.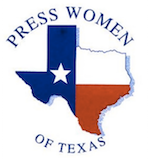 All of the first place winners will go on to compete in the annual competition sponsored by the National Federation of Press Women this month.
Edward Southerland, editor-in-chief of Texoma Living! Magazine said the awards are confirmation that the writers who contribute to the regional magazine are on a level with any major city publication in the state. "Ginger Mynatt and Jessie Gunn Stephens represent writers that connect to their subjects and tell their stories in a way that allows the reader to bond with the subject," said Southerland.
Texas Press Women was organized as the Texas Woman's Press Association on May 10, 1893, in the Windsor Hotel in Dallas, by a group of writers attending the Texas Press Association meeting. They were led by Aurelia H. Mohl of Houston. The purpose of the new association was to encourage Texas women writers and illustrators in their literary work through organized activities and communication with similar groups. Thirty-eight women (membership was then restricted to whites), representing eighteen Texas towns, became charter members.
To learn more about Texas Press Women visit the Handbook of Texas Online.