At the end of one spring semester, when Willie Jacobs was in school at North Texas in Denton in the mid 1950's, a friend and classmate ask him if he would like to join a band he was forming to play around Wink, Texas for the summer. "No," Jacobs told Roy Orbison, "you're never going to make any money in the music business; I'm going to the wheat harvest." Jacobs laughs when he tells that story, but you know he sometimes wonders—what if?

Jacobs, who was born in Grandview, started out at North Texas with a country trio which also included Ken Scott and Paul Kunz. Jacobs played guitar and sang lead. The country sound of Hank Williams moved to the Rockabilly sound when the group added three more members and took the name "The Strikes." "Somebody said we were sure to 'strike out,'" said Jacobs.
Their first recording, in 1956, was "Baby I'm Sorry" and "If You Can't Rock Me." Jacobs and bassist Don Alexander wrote the songs. They would record only two more records before Jacobs went into the army in 1957. When that happened the band broke up with the musicians going very different ways. Kunz went into education, Parsons made a career of the U.S. Navy, Alexander became a TV news anchor and Cornelius opened a tire store.
Jacobs, well, when he got out of the army he moved to Sherman and worked as reporter for the Herald Democrat for a while and then went into the insurance business. Ricky Nelson did a version of "If You Can't Rock Me" on his first album. The album was a hit, Nelson became a star, and Willie Jacobs still gets a royalty check every now and then.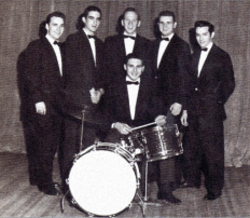 This article appeared in the Winter 2006 issue of Texoma Living!.