If you are looking for a Texas symbol as big as the state itself, consider the longhorns. They evolved from cattle brought to the Americas from the Canary Islands by Spanish explorers in the late 1400s and early 1500s. By the early 1800s wild longhorn cattle were common throughout Texas. On the four hundred-acre Hope Ranch near Bonham those most "Texas" of bovine critters graze quietly under the care of ranchers Tommy and Barbara Hope.
Tommy Hope himself meets all of the requirements of a Texas icon. His weathered, tanned features sit comfortably beneath a well-worn straw cowboy hat. His silver mustache adds even more character to a face that is as open and honest as any Western hero.
"I was always interested in the history of the longhorn and the preservation of the breed," said Hope. "We have fifteen head right now, two of those are bulls for breeding." The Hopes started their cattle operation thirty-six years ago with standard registered beef cattle. Then they started raising history, and at one time was their ranch was home to over two hundred longhorns. Today, the herd has been thinned to a more manageable handful kept mostly for sentimental purposes.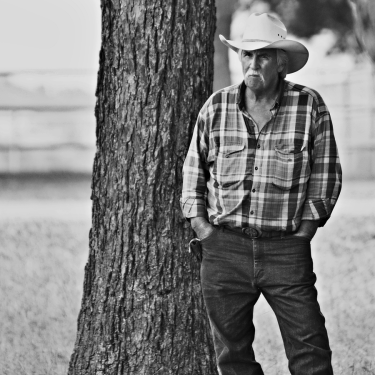 Hope says the longhorn's size (1,500-1,800 pounds for a cow and as much as 2,100 pounds for a bull), and long sharp-pointed horns make the breed look menacing, but they're not. "They are gentle and docile, not at all rough and aggressive, but watch out for those horns," Hope chuckled.
"There is no real average size with them. There are small framed and large framed individual animals. I'll breed one with the other and that's always worked out for me," said Hope.
Longhorns are intelligent, disease resistant, and will eat anything—unlike beef cattle, that eat three times as much. "You can have more head per acre of longhorns than other breeds because they don't consume as much," said Hope. "They can actually survive on cactus, and I've never had to help birth a longhorn calf, either."
A the animal's horns begin to grow at a month old and can grow as long as 126-inches from tip to tip according to the Texas Longhorn Breeders Association of America.