This article appeared in the Spring 2008 issue of Texoma Living!.
On Thursday, February 7, a fire at the Imperial Sugar Company near Savannah, GA sent dozens of workers to the hospital, eight lost their lives. The Port Wentworth, GA plant is one of the largest in the U.S. and refines sugar products marketed under the brands Imperial, Dixie Crystals and Holly.
The Imperial Sugar brand in particular is a favorite of bakers and confectioners because it is made from pure cane, rather than sugar beets. Ray Bledsoe who was profiled in our last issue ("Mayor of Cookie Town" Winter '07) was headed to Sam's Club in Sherman when we ran into him just a day after the refinery fire. "I heard there was a large supply of the pure cane sugar at Sam's and I want to stock up before the supply lines are depleted," said Bledsoe. The former mayor of Howe now retired, bakes thousands of cookies each year and delivers them free of charge around the community.
Bledsoe's recipes strictly require Imperial Pure Cane brown sugar. Much of what consumers find on grocery store shelves comes from sugar beets and despite what sugar industry officials claim, beet and cane sugar are not alike. The labels on most brands of sugars neglect to say whether what's inside is cane or beet. In some brands, the contents can vary from day to day. The beet versus cane controversy is a new development. Cane was once the dominant sugar in U.S. markets, but the beet has taken the lead. One reason is that beet sugar is generally cheaper to produce. Beets also thrive in a wider range of climates.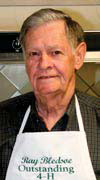 Brown sugar can be a particular problem because of the way it's made. Brown cane sugar—a combination of sugar and molasses, both inherent in the sugarcane plant—is produced naturally as part of the process of refining white cane sugar by the traditional method, crystallization. Beet sugar is refined by stripping off all the molasses because beet molasses is unfit for human consumption (it's recycled as cattle feed). Then cane molasses is added back into thge sugar through a process called "painting." Painting coats the granules but does not necessarily penetrate them—the molasses can sometimes be rubbed right off. Take it from Ray Bledsoe—the sugar does make a difference.