This article appeared in the Spring 2008 issue of Texoma Living!.
Sue Conrad is opening a new restaurant. No one knows where or when yet. She probably doesn't know where or when yet. She's only been at Conrad's Pies & More at 221 Sunset in Sherman for a little over a year, and business is good, but as sure as the turning of the earth, Sue Conrad will be opening a new restaurant before long. It's what she does. She's a restaurant-opener-upper. It's not that she can't get it right; she gets it too right.
"My whole thing is, I just love to set up a restaurant, sell it, and set up another one," Conrad said. "That's what I really like to do. I guess it's the challenge. And then after I get going, I'm bored and I want to do it again."
Since she started cooking for a living more than 30 years ago, Conrad has had eight, count 'em, eight, restaurants. That is if you count her first effort, a short-lived venture in Howe, which she counts, but doesn't talk about. If this were a movie, that scene would be the one left on the cutting room floor.
By now, she has the opening-up routine down pat. "Most of them have been from scratch, that is to say, there was nothing in the buildings." That meant she could set up the kitchen her way. "Everything is set up where you can just spin, turn, just do it." Twice she went into existing restaurants, and both were far more difficult to get going. "Both of them were just filthy," she said. "I had to spend a lot of time cleaning them up, so I'd rather start from the get-go."
Conrad's first successful restaurant, number #2 on the list, started in a bank. No, she wasn't there to borrow money, but she did plan on making dough. In 1981, she opened a café in the First National Bank of Whitewright. The dough was in the boardroom, which served as the kitchen. The cashier worked in a teller's cage, the patrons ate in the lobby, and Conrad kept the books in an office in the vault.
"I always wanted to be in the restaurant business," Conrad said. "A friend with a beauty shop on Grand in Whitewright told me that the bank building was available, so I decided to open a restaurant."
That is way too simple. Starting a business, especially a restaurant, is a big undertaking, but each time Conrad glides past the difficulties with the casualness of a woman well practiced in assuming she can do anything she wants to. The trials and tribulations, and any story has to have some trials and tribulations to keep the plot moving, are like the trimmings of her pie crusts—they never make the final cut.
"It was an all-purpose restaurant. We were even open on the weekends. We sold steaks on Saturday nights, and I even did breakfast," said Conrad. "It was a gorgeous old building. My daughter Marci and her friend painted a mural of our side of the street on the wall."
It was Conrad's first real foray into commercial cooking. It was not her first experience as a baker, however. "I'd always made pies. Since I was young, I had loved to bake." Her mother's desserts were cobblers and cakes, but a junior high home-economics teacher, Mrs. Penton, taught Conrad to make pies for the faculty meetings, and pies have been her signature ever since.
Conrad lived in Sherman and drove back and forth to Whitewright to run the restaurant. It was a wearing schedule with son Scott in high school and daughter Marci in college. After a couple of years, when she got a good offer, she sold the business and got out of the kitchen—for about six months.
Elizabeth Nabors, a Sherman woman with an itch to own a restaurant, came to Conrad with an idea for a restaurant on Houston Street on the second floor of an old boarding house, above an antique store. "She called it Lizzie Ann's Tearoom," Conrad said. "I set it up for her, set up the kitchen and ran it."
Restaurant #3 was clicking along when the owner of a revamped building on the square came to Conrad and asked her to start a new place. She opened the first restaurant in Kelly Square in 1984 and ran it, with considerable success, for four years. "I served lunches, six days a week. We had a private dining room, could seat 130 and had parties booked in there all the time. We had a heck of a business," Conrad recalled.
If one Conrad on the Sherman square was good, son Scott figured two would be even better, so a few years later, he opened a restaurant in the oldest building (circa 1850s) in downtown Sherman on the northwest corner of Houston and Crockett, formerly Jaco's Men's Wear. He called it Conrad's. Alas, two Conrads on the square were one too many for the owner of Kelly's, and when he decided not to renew Sue Conrad's lease, she packed up her pie pans and moved across the courthouse lawn to join her son. "We did breakfast and lunch, and of course pies." (This is restaurant #5, for those who are keeping track.)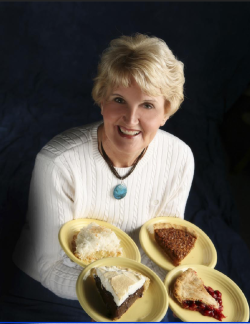 Don't get the impression that Sue Conrad's culinary reputation is built only on a foundation of pie crust. There are heartier vittles mixed in there too. "Stew and cornbread and chicken fried steak," she says quickly. "Before I sold out, I was making about 100 chicken-fried steaks every Thursday, hand breading every one of them. My hands got so I could hardly use them."
All good stories need a cameo by a movie star, so here is Sue Conrad's. "I was going to tell you. I did the reception when they opened Midway Mall. They had Clayton Moore there, the Lone Ranger. There were a lot of kids, but there were more people my age standing around engrossed in his stories." Hanging on the wall is a photograph of Conrad and "The Masked Rider of the Plains," who led the fight for law and order in the early West. Come with us now to those thrilling days of yesteryear… But wait, that's another story.
Restaurant #6 was more a lateral move than a completely new start. The oldest building in downtown Sherman had the kind of problems one would associate with the oldest building in downtown Sherman. That was more than the Conrad's wanted to deal with, so…
Sue and Scott moved Conrad's to the almost as old Mays' Pharmacy location on Travis Street. "It was across the street from the Merchants & Planters Bank, which is Bank One, now," Conrad said. "It had the 15-foot tin ceilings and the little ceramic tile floor. The Blue Door is in there now."
Conrad ran number #6 and sold it to try something different. At least that was the plan. "That was one of the times I was going to get out of the restaurant business and just have a pie shop," said Conrad. "I was there five years, and then I sold it to the Blue Door." Exit Conrad's Pies and More #6. Cue Conrad's Pies #7.
The pie-only shop didn't make it. Oh, the restaurant on Woods Street, between Houston and Lamar, was bustling, plenty of customers, but they were a disgruntled lot. "It was going to be just a place to come in and have pie and coffee," said Conrad, "and I had talked to a big bakery in Pauls Valley, Oklahoma, about manufacturing my pies." She lets out a sigh and continues, "But here came all the people. 'Could you just start making stew and cornbread, 'cause the other place isn't making them the way you taught them to.'"
So Conrad added stew and cornbread and sandwiches and, presumably, put the "More" back on the "Conrad's Pies" sign. "'Well, could you make chicken fried steak just once a month for us, just once a month?'" It was back to 100 chicken-fried steaks every Thursday. In 2004, Conrad sold the shop to Carol Robinson, who renamed it Carol's Red Apron, added a few touches of her own, but generally stayed with the popular fare Sue Conrad had developed over the years.
"I was out of the business, and I was exhausted," said Conrad. The exhaustion passed, but not the pleas of legions of pie and stew and cornbread and chicken fried steak lovers who begged her to open a new place. "So here I am," she said. "I would drive by this place every day to see if the girl who was running it had given up yet. One day she did, and I bought it."
It took a while to clean up the new place, Conrad's Pies and More # 8, but she has finally put an end to chicken-fried-steak Thursdays. Now it is chicken fried steak Tuesdays.
There is an ancillary plot in this tale, and this is as good a place as any to put it in. Several years back, a food broker friend of Conrad's approached her about developing a pie mix for Morrison Milling of Denton. The mixes, for chocolate, coconut cream, chess and sweet potato pies came together, and Sue, like the pieman of the Simple Simon rhyme, set off to the fair, or in this case, the food trade shows, to sell her wares. Soon the mixes were in Albertson's, Tom Thumb, Central Market and other grocery stores.
Conrad had visions of becoming the next Paula Deen, the Savannah chef who has gained national prominence through her television show on the Food Network, but it was not to be, at least not yet. Pioneer Mills of San Antonio took over Morrison Milling and decided to drop several of their smaller product lines. Conrad is working to find a new partner for her pie mixes, but until that happens, she mixes, bags, and sells the dessert makings at her Sherman restaurant.
The latest Conrad's Pies and More closes at two in the afternoon. It is not a stretch to imagine that the reason is to give Sue Conrad the time to head out on a scout for a place to start #9. But then 10 is a nice round number, and everyone knows that 11 is lucky, and then there is 12, an even dozen and…
Sue Conrad – Conrad's Pies & More
221 Sunset
Sherman TX 75092
(903) 893-3333
Open Tues-Fri 11am-2pm