Anyone who has visited Lake Texoma has likely seen the tower at Diamond Pointe.  Its unique exterior and limited accessibility to the general public has left many curious and eager for a peek inside.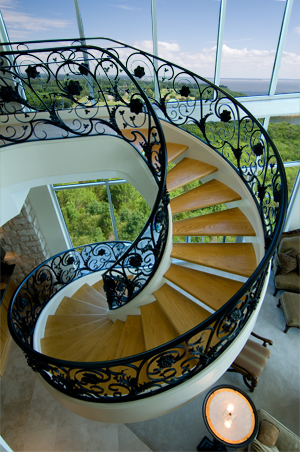 The inspiration for Diamond Pointe came from Jim Forest's love for Lake Texoma and his affection for boating.  With limited lake view lots, Jim realized the need to create real estate vertically instead of traditional, horizontal development with limited views.  The end result: A private 10 story tower with 13 spacious condos plus 2 penthouses.  All of which achieved Jim's goal to create units equal in quality with no "bad" views.
The private weekend home of Dan and Suzanne Crowley
The busy professional couple, (Dan an executive and Suzanne an author), were looking for a lakeside getaway when they came across Diamond Pointe at Lake Texoma.  The couple and their four children wanted to remain close to their Ft. Worth home.  After looking at many other resort areas, the Crawley's were sold on the 180-degree view of Lake Texoma which they saw from the 9th story penthouse at Diamond Pointe.
Suzanne wanted their home on the lake much different from their primary residence, which has more of an old world/traditional style. To accomplish this Suzanne enlisted help from interior designer, Adrian Wright whose design projects have been featured in such magazines as 360 West and Elle Décor.
Adriane selected what he calls a transitional style, elegant yet comfortable. The choice incorporated Dan's preference for clean lines of contemporary style with Suzanne's favored warmth of traditional style.  Adrian didn't want visual noise, heavy drapes or large patterns, which would compete with the phenomenal view where Adrian wanted guests focus to be.  Adrian selected a mixture of furnishings with soothing shades of sea green, soft rust, and gold.  This combination resulted in a relaxing atmosphere where the family can unwind from a busy week and it allows Suzanne to have a peaceful place to write.
Some of Suzanne's favorite aspects are the bed in the master, zebra ottomans on either side of their TV cabinet, sofa and accent chairs in living room.  A "flying staircase" —named because it appears to be floating between floors—is a fascinating feature in the home.
Photos by Stephen Olner Photography