This article appeared in the Winter 2008 issue of Texoma Living!.
Who Comes Up with This Stuff?
If you look closely at the closing credits of some television documentaries now being broadcast on the new Smithsonian Channel, you'll see the name of Sherman writer Gene Lenore. Lenore is listed as writer or co-writer on five shows produced for the Smithsonian Channel by Fiveson Entertainment of Virginia. The shows include "Stealth: Flying Invisible," "America's Hanger," "World's Smallest Planes," "When Pigs Fly" and "The Golden Age of Zeppelins."
The hour-long documentary, "America's Hanger," was selected to be screened for Congress. The program was filmed at the Smithsonian's National Air and Space Museum on the National Mall in Washington and at the Udar-Hazy Museum at Dulles International Airport outside the nation's capitol. Udar-Hazy is a companion facility to the museum on the Mall.
"While I had done some documentaries while working in TV news," Lenore said, "participating in the development and writing of the Smithsonian shows provided me with a lot of new experiences and gave me some real insight into just how much work goes into getting these kinds of shows on the air."
Lenore was no stranger to writing or to television when these projects began. He had started his career by earning a degree in journalism from East Texas State College (now Texas A&M Commerce) and then zigzagging across the southwest, working for both newspapers and television stations. At WFAA-TV in Dallas, he was a writer-cameraman, and later in Tucson, Arizona, he was assistant news director. There he ran the assignments desk, did on-camera reporting, and some anchor work.
From Tucson, Lenore made a major move to Washington, D.C. where he became a news writer at Voice of America and National Public Radio. Back in Texas decades later, he worked at a number of radio and television stations, including KXIITV Channel 12, where he spent six years as reporter, assignment editor, newscast producer, program host, news director, and anchor on the six o'clock and ten o'clock newscasts.
Between 1987 and 1993, Lenore was active in producing local, regional and national publications—including an area magazine similar to Texoma Living!. Between all his various projects in the mid-90s, Lenore worked as a freelance writer and acted in film and television as an extra. His acting work included several episodes of "Walker, Texas Ranger," starring Chuck Norris and produced on location in the Dallas area.
Although he had some exposure to the work, Gene Lenore didn't consider himself a documentary writer when he took his first assignment for a Washington area production company in the late nineties.
A summary for a proposed hour-long documentary on the great Galveston storm of 1900 got the attention of Washington, D.C. producer, Robert Fiveson. While the Galveston project never got off the drawing table, Fiveson was impressed with Lenore's style and detail. That eventually led to Fiveson's hiring Lenore to write the first of five programs for the Smithsonian television channel.
All the shows Lenore worked on are aviation based, a subject he admits he knew very little about when he started doing the research necessary to develop treatments for the documentaries.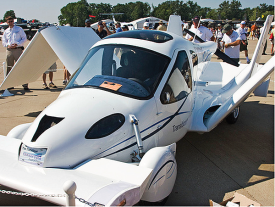 Everything begins with a concept—for example, a documentary on the world's smallest airplanes. That's followed by hours and hours of research, which is then organized and written into a treatment—a sort of road map that sets the direction of the film. A treatment for an hour-long show might run ten to fifteen typewritten pages and be organized around several acts.
What next for the Sherman documentary writer? "That," says Lenore, "depends on what proposed shows might get a 'green light' from channels like National Geographic, the History Channel, the Discovery Channel or even some international network.
Lenore says several treatments have been done and will soon begin making the rounds to the cable networks. The shows range from a ten-part science series to a tale of a missing fortune believed worth billions, to a mystery temple in the Mideast that is slowly being recovered from the shifting desert sands.
Just how interesting were some of the things Lenore turned up in his research? While researching the " World's Smallest Planes", Lenore discovered:
– There's a small plane called the Sky Pup that's built of wood, Styrofoam and the kind of material that used to line a man's suit jacket. Someone who's good with hand tools can build it in a garage.
– The first plane to go into the record books as the world's smallest plane was built in the 1940s. It was 14 feet long and had a wingspan of 18 feet. To fly the Wee Bee, the pilot had to lay in a prone position atop the fuselage!
– There's a plane in the record books as the world's smallest biplane. It's called the Bumble Bee II. It has a wingspan of just 5.5 feet.
– Inventors have been trying to build a practical flying car since 1919 when the first government patent for one was issued.