This article appeared in the Winter 2007 issue of Texoma Living!.
by Angela Bodine
Some people may think having a shoeshine is simply about improving or restoring the appearance of their shoes, but don't you believe it. If Willie Riles, who has been bringing up the shine at Kelly Square in Sherman for 18 years, has ministered to their needs, they know that it is about something more, including a smile and an entertaining conversation. Riles is semi-retired now, but he has been a part of Kelly Square for so long that folks just won't let him get too far away.
Born in Mississippi, the only boy of five children, Riles began shining shoes at a time when his efforts brought in a nickel or a dime. The price has gone up, but other than that, there have not been too many changes in the shoe-shining business since then, except that many different types of shoes and myriad colors have now joined the black and brown.
"There weren't but a couple of colors when I was a kid," explained Riles. "Now, you got all kinds: green, yellow, blue, grey, red. When I was a kid, you could spend about fifteen cents, and you'd have everything you'd need. Now, you'd need about 200 dollars just to get started."
After leaving Mississippi in 1955, Willie lived in Los Angeles and New Orleans before settling in Sherman in 1989. He has been at Kelly Square ever since, much to the delight of his customers and coworkers.
"The best thing is there's always somebody to talk to," said Riles. "A lot of people stop by to talk for a few minutes."
Overall, his customers have been generous or (at the very least) reciprocally amiable. Some stop by the stand regularly, others, like the fellow with a special affinity for the holidays, not so often. "He always comes on Christmas Eve. He only comes that one time of year to get that shoeshine, and he always gives me $105, every Christmas. He don't miss it." That's five for the shine and a century note for a tip.
Riles has shined the shoes of many Texomans, friends and strangers alike, and most of the strangers become friends after a few visits.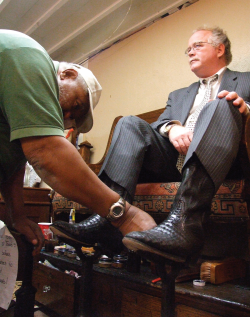 Riles' laid back personality explains how the man has spent 18 years at Kelly Square with only one altercation. Shari Atterberry, owner of Salon On The Square, described Riles as "easygoing," with a "kind heart."
"Kelly Square just wouldn't be the same without Willie," said Atterberry. "He's probably the most popular person and probably the most well known. It's a joy to see Willie every day."
So if you're in Sherman Monday through Friday, with a few minutes to spare, stop by Kelly Square and pass a few minutes with Willie Riles and his shines and smiles. It's a wonderful way to start the day.
For the time being, Willie Riles holds court at Kelly Square Monday through Friday.
Riles tells of a less-than-pleasant customer, who, he pointed out, provided the only run-in he has had in all his years at Kelly Square. It started when the man asked Riles which political party he preferred. "I guess I been a Democrat all my life," Willie told the man. "Not that I vote for one particular party. If I like the person, I'll vote for the person, not for what he represents." "Well, that guy jumped right off of that shoe stand and he said, 'I don't want no Democrat touching my shoes.' I said, 'Fine with me. Either you want me to finish your shine or you don't.'" He said, "I don't want no Democrat shining my shoes. Well, how much do I owe you?" Riles told him, "Well, I don't want no Republican's money."
Brush up on your shoe shine trivia
– Did you know that you can effectively shine your shoes with a banana peel?
– Shoe polish was most often referred to as "blacking" in the nineteenth century, hence the term, "bootblack."
– The late James Brown and Malcom X, and Alejandro Toledo (President of Peru) all shined shoes before achieving prominence.
– Charles Dickens, at age twelve, worked in a London, England shoe polish factory.
– Kiwi-brand shoe polish is named for New Zealand's national bird.
– Shoeshiners in film: "Boot Polish" (1954), "El Bolero de Raquel" (1956), "Shoeshine" (1946) and of course "Underdog," the television cartoon series.