Sarah Birdsong is nineteen. She's small, and even wearing a paintsplashed apron and the black-and- white striped hat she favors while working, she looks more like a cherub than an artist. But once you see the portraits of her father and grandfather, there is no question that Birdsong is an artist.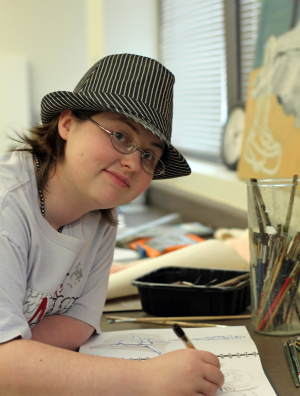 Her father's portrait is painted in oil with a palette knife—a process called impasto. The tiny daubs of color give so much depth to the portrait that you're sure if you touch it, you'll feel it in 3-D. Her father looks gentle and wise; he is someone Birdsong admires a lot.
Her grandfather's portrait is sad. A cigarette burns in his fingers, and an ashtray lies on the window sill behind him. His skin tones are yellowish and his expression cheerless. Birdsong's grandfather has COPD (chronic obstructive pulmonary disease).
Birdsong is currently studying art at Grayson County College. At the time of this interview, she was working on anatomy, studying how the bones and muscles make the outside of the body look and how different types of light bring out different skin tones.
"I love to see all the different colors that make up skin. I've discovered that pale people tend to give off blue tones, African Americans and tanned people give off oranges. But in the portrait of my dad, I saw purple tones."
Birdsong's dad and her grandmother on her mother's side were both artists. She comes by her talent naturally and admits that as soon as she could hold a crayon, she began drawing.
While she was still in McKinney North High School, organizations noticed her. Last year she donated two paintings to the Festival of Trees in McKinney.
Youth and stature are not deterrents to the high regard that fellow artists and older students show to Birdsong. Cassandra Harris, artist and fellow student said, "Sarah has actually taught me how to paint. In her portraits, she creates such depth. She did a drawing of me. I had never thought of myself that way. It was so beautiful I almost cried. Sarah paints the emotion of the personality."
Because she is an undergraduate student, Birdsong studies other types of art besides human figures. Steve Black, Fine Arts Chairman, who oversees the visual arts as well as other genres, said of her, "Toss an idea or a new technique at Sarah and she mulls it around in her head for a while and then executes it."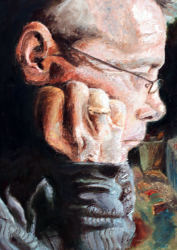 On his computer screen, he brought up a painting of a small red fish in white water, shown in a mirror held by brown fingers. "Look how unusual this is. Sarah has such a strong sense of form and color and does things no one else thinks up."
Last month, Birdsong's assignment to combine an animal with a musical instrument produced a papier-mâché fish swimming upward with its tail flipped back.
The tail became the mouth piece of the horn, the open mouth the bell. Two soft plastic Christmas lights formed the eyes.
As an artist, Birdsong is still a work in progress. Right now, if she had to stop learning new techniques and skills, she knows what she would do. "Large, really large, figurative pieces," she said. "Happy ones with lots of large texture and chunks of color—the kind that up close don't tell you a lot, but from a distance you see what they are."