If Brussels Sprouts aren't your thing, toss them into a pan with Yukon Gold, red, or fingerling potatoes and you'll soon come around.
Roasted Brussels Sprouts and Potatoes with Smoked Bacon
(Serves 8)
Ingredients:
6 tablespoons olive oil
1 pound diced smoked bacon
4 shallots, thinly sliced
2 pounds brussels sprouts, trimmed and halved (can use frozen)
16 baby Yukon gold, red, or fingerling potatoes, halved
salt and freshly ground pepper
4 tablespoons unsalted butter
juice of one lemon
Heat oven to 425°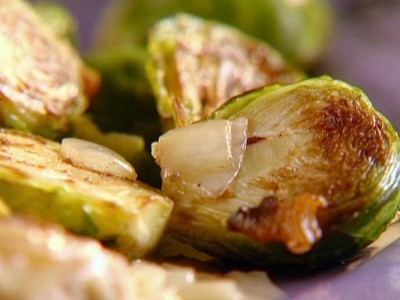 Heat the oil over medium heat in a roasting pan or large skillet. Add the bacon and cook until golden brown and crisp. Remove the bacon to a plate lined with paper towels. Add the shallots to the pan and cook until soft. Add the Brussels sprouts and potatoes and toss to combine. Season with salt and pepper and roast in the oven until the vegetables are cooked through and golden brown. Remove the vegetables from the oven and stir in the butter and lemon juice. Transfer to a platter and top with the reserved bacon.