This article appeared in the Spring 2008 issue of Texoma Living!.
By Krista Lowrey
Some folks say that you can tell a lot about a man by his shoes. If true, Naif Risk's shoes, sturdy, dependable and well maintained, declare him an amiable man with a can-do attitude. His father's shoes would say the same, as would have his grandfather's. All three generations of Risk men have shaped the success of one of Sherman's oldest businesses with their skill and congeniality.
In the early 1920s John Risk, a Lebanese immigrant, opened Risk's Boot & Shoe Repair on Houston Street in Sherman. A short time later, he moved the shop around the corner to South Crockett where it operates today. When John Risk died in 1945, the business passed to his son Raymond. The business passed from father to son again when Raymond retired. Today Naif Risk is the third generation to carry on as a "mender of bad soles."
(So you won't have to look it up, it's Julius Caesar, Act 1, scene1.)
Naif Risk is surrounded by much of the same equipment that his father and grandfather used in the store, but the business is very different now than it was almost a century ago. "I heard something on the radio not too long ago that back in 1930 there were about 100,000 shoe repair shops in the US," Risk said. "Today there are about 7,000." He attributed this decline to the waning quality of the footwear produced today.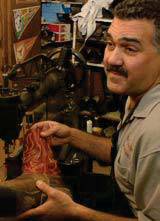 "We live in a throw away society," Risk said. "The shoes are so inexpensive and cheaply made that people just throw them away; there's no reason to fix them. That's why we specialize in fixing good quality footwear—fixing shoes and boots that cost a few hundred dollars." Risk said that as long as the uppers are in good condition, he could resole a pair of shoes countless times and get as many as 15-20 years use out of them.
Because there are fewer shoes that warrant repair these days, Risk has evolved his business to compensate for it. He has expanded the store with a larger inventory of shoes and boots for sale, the most on the shelves than any time since the store's early days. One customer called Risk's "the best-kept secret in Sherman," because not enough people realize the extent of this inventory. Risk's has the largest selection of the comfortable and stylish Born and Clarks brands in the area. Anyone who has a fancy for good shoes gets an eyeful when they walk into the shoe store.
The store also supplies something for aching feet. "Shoes just don't offer the support they used to," Risk explained. "Several physicians and physical therapists in the area send patients to me for simple arch supports." Risk's repair team can also modify footwear with orthotic lifts when necessary.
Not just locals look to Risk's. With good cobblers so few in number these days, Risk's customers from all across the country—as far away as Alaska—send their boots and shoes to Sherman to be fixed. Why? Because they know, if the shoe fits—repair it.
Risk's Boot & Shoe
102 S. Crockett
Sherman, TX 75090
(903) 892-2238