Ordinarily, I'm not a clock watcher. In fact, I abhor clock watchers. But yesterday I was focused to the point of distraction on a 2:00 pm deadline set by Starbucks.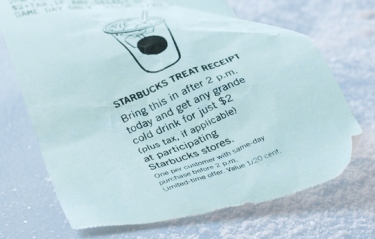 On the way to work I drove through for a venti two Splenda® latté and upon checkout received a "Starbucks Treat Receipt." I'm not sure if everyone received one, but I'm pretty sure my number had hit, and I was among the very lucky few yesterday. It makes me feel special to think that way. That's when the clock began to tick.
According to the rules of use on my hand-stamped coupon, "Bring this in after 2 p.m. today and get any grandé cold drink for just $2 (plus tax). With just five-and-a-half hours to the deadline for redemption, I was already tasting my heavily-discounted frozen afternoon beverage. I clipped the coupon on my visor (all important reminder notes go here) and headed off to the office.
When I got out of the car at work I decided to take my gift receipt inside and make a photocopy. The original was placed back on the visor and the copy sat next to my cell phone on the desk. This extra precaution was taken because I have a long history of forgetting to redeem coupons. In most cases I find them under the car seat anywhere from six months to two years past their expiration date.
Do I really need this extra stress? No, but a heavily-discounted frozen afternoon beverage will taste ever so sweet in the heat of the early afternoon.
Some of us from the office went over to Glory To God Restaurant in Sherman for lunch. I insisted on driving, so that I could drop off the gang back at the office, then head on over to Starbucks for my treat. I'm not sure what went wrong, but it was very busy at the restaurant and the clock was ticking. By the time we got back to the office it was 1:50 p.m. Ten minutes to redeem.
Now, back to the morning for just a moment. I left out that when I drove through Starbucks my gauge lit up and "dinged" to let me know I was low on gas. At this point I'm running on fumes so I stop at the Exeleron gas station next to the office to refuel. Five minutes to redemption.
Had I actually gone on to Starbucks I am absolutely sure they would have honored my Treat Receipt—I was only a few minutes late, but I decided to just u-turn back to the office and call it a day. I'll try again another day.