Ray Bledsoe doesn't believe in day-old cookies. They have to be fresh to be good in his estimation, which is why he mixes his dry ingredients the night before and puts them into zipped plastic bags, three batches at a time. In the morning all he has to do is add the eggs and liquid or oil and whatever other ingredients are called for, and he is in business.
He is right picky about the eggs too. He wants a certain weight, no more, no less. He cracks the egg into a little bowl and weighs it on an electronic kitchen scale, and if the egg is over weight, he grabs a spoon and fishes out the chalaza (the rope-like strand that keeps the yoke centered in a fresh egg) and a little of the white until the weight is on the mark.
The big Kitchen-Aid mixer on the counter is the mark of someone who is serious about baking, and after the ingredients are properly combined, Bledsoe rolls up balls of dough, arranges them on four big cookie sheets, and pops them into the double ovens, and in a few minutes he has 40 steaming hot creations.
More often than not, the cookies are still warm when he makes his cookie run—deliveries to friends who have helped him with special projects. Over the years, Bledsoe has had a lot of projects, and he has made a lot of cookies and a lot of friends.
He moved to Howe from Sherman 43 years ago, and he was a busy man when he worked in management at Burlington Industries for 36 years. His wife passed away in 1984, and when the plant closed two years later, Bledsoe retired. Retired was a relative term in Ray Bledsoe's case. He may not have been working for a weekly paycheck, but he was as busy as ever.
He was involved in everything from coaching baseball to working with the volunteer fire department, and he was a member of the Howe School Board. He served on the Howe City Council and then turned in seven terms as mayor. A newspaper article written when he left office in 2000 referred to Bledsoe as the "24/7" mayor. Not very original, perhaps, but folks in Howe will tell you it was accurate. The City of Howe's loss was Grayson County's gain as Bledsoe turned his efforts to the Grayson County Fair and the Christmas Lights Exhibit, both at Loy Park. And of course there are all those cookies.
Bledsoe began baking cookies and making peanut rounders and other candies about 25 years ago. When he went to a meeting, he always took a tray of candy or cookies, and in a blink of the eye the tray would be empty.
A Sherman doctor who had been a regular recipient of Bledsoe's tasty treats offered to set him up in a building with equipment if he would open a "sweet treat shop" so the doctor could have all the sweets that Bledsoe could make. Bledsoe declined because he didn't want to make a business out of it. He cooks as a hobby and enjoys producing something that makes people happy.
A few years ago, Bledsoe agreed to make 225 cookies for the Employee Appreciation Day that the Howe Chamber of Commerce holds each year on the day before school begins. The night before the event, he got a call saying there had been a mistake—there were 200 people coming to lunch, so they needed more cookies.
At 4:00 the next morning, unable to sleep for thinking about the task ahead, Bledsoe got up, went to the kitchen, and began mixing and baking. By 8:00 he had 425 cookies made, cooled, and arranged on nine serving trays, ready to deliver. "It nearly killed me," he said, adding, "Never again."
Christmas is when Bledsoe really shines. With eight or nine kinds of cookies decorating the trays, and with candy—Pecan Fudge, Pecan Clusters, Millionaires, Pecan Divinity are his holiday specialties—filling in the open spaces, and he delivers sweet treats to folks who have helped him with his different charities. Many of his cookie constituents say the Oatmeal Apricot cookies are tops, but Bledsoe votes for the Pecan Chocolate Chip as his favorite.
In 2003, heart surgery slowed him down a little, but his kitchen didn't stay idle very long. He's still turning out the delicacies the year around, especially during the end of year holidays.
Last year, 2006, was the only year he had to buy pecans because that was the only year a neighbor's pecan trees failed him and did not produce. The neighbor, who lives out of state, gives Bledsoe all the pecans he can gather and use, and he keeps two freezers full.
He is quick to share his recipes, but some would-be imitators have accused him of doing something special, because their cookies aren't as good as his. "There's a reason for that," Bledsoe said. "It takes practice." It has taken him years to get some of his recipes just the way he wants them.
Whatever the secret, Ray Bledsoe is everyone's pick for Mayor of Cookie Town, and you can take that to the ballot box.
Bledsoe has shared several of his recipes, and he's included those "special twists" that he's perfected to make his cookies and candy so special. The brands he uses are included in parentheses.
Bledsoe's Oatmeal Apricot Cookies
-2 sticks margarine (Parkay)
-1-½ cups brown sugar (Imperial)
-½ cup sugar (Imperial)
-2 large eggs (No medium or jumbo)
-2 cups chopped pecans
-1 cup diced dried apricots (1/4 inch pieces)
-2 tsp. vanilla
-2-¼ cups + 1 Tablespoon flour
-1 tsp. baking soda
-½ tsp. salt
-2-½ cups quick oats (Quick Quaker Oats—the one minute kind, not instant)
Cream margarine and sugars. Add eggs, one at a time. Add vanilla. Mix flour, soda, and salt. Add to margarine and sugar mixture. Add oats and mix. Add pecans. Add apricots. Roll into golf ball-sized balls and put 2" apart on un-greased air bake cookie sheet. Cook at 375 degrees on middle shelf for 10 minutes. Let set on sheet for 5 minutes and remove to cooking rack.
Bledsoe buys apricots from Sam's Club in a 3-pound bag. You may purchase them at Wal-Mart in 1-pound packages found next to the bananas. Before adding the apricot pieces to the cookie batter, he rolls them in a sandwich bag with one tablespoon of flour.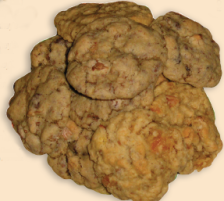 Bledsoe's Chocolate Chip Cookies
-2 sticks margarine (Parkay or Fleishman)
-1 cup sugar (Imperial)
-1 cup brown sugar (Imperial)
-2 large eggs (No medium or jumbo)
-2 cups flour (Dip cup into flour and rake the top level. Use any bleached all-purpose flour, unsifted.)
-1 tsp. baking soda and ½ tsp. salt (Mix soda and salt with the flour in a plastic zip-lock bag and shake to blend.)
-2-½ cups quick oatmeal, ground (Quick Quaker Oats. Measure before grinding. Press oats into the measuring cup until full, and then put them into food processor and grind the 2-½ cups all at once.)
-1 tsp. vanilla extract (Adam's Best)
-4 oz. grated milk chocolate (Hershey's bar)
-1-12 oz. package Nestle semi-sweet chocolate chips
-2 cups pecans (broken in chunks of about ¼ to ½ inch.)
Cream margarine and sugars. Add eggs, one at a time. Add vanilla. Add flour, then oatmeal. Add grated milk chocolate, then chocolate chips and nuts. Roll into golf ball-sized balls and put 2" apart on un-greased air bake cookie sheet. Use only an aluminum-colored cookie sheet, not a dark one. Cook at 375 degrees on middle shelf for 9-10 minutes. Let set on sheet for five minutes and remove to cooling rack. Cookies will be soft and flexible. They are best when eaten on day baked. Otherwise, 10 seconds in the microwave will revive them.
Oklahoma Pecan Candy
-3 cups sugar
-3 cups pecans, broken
-1 cup whipping cream
-¼ stick margarine (Parkay)
-½ tsp. baking soda
-½ tsp. vanilla
In small HEAVY pan place 1 cup sugar, and melt until dissolved. It will be brown in color. At the same time, set a 4-quart heavy saucepan on medium heat on another burner and put in 2 cups sugar and the whipping cream. Stir to mix. Cook both pots over medium heat, stirring the latter regularly.
Start another pan on medium heat on another burner and put in 2 cups sugar and the whipping cream. Stir to mix. Cook both pots over medium heat, stirring the latter regularly. When the 1 cup of sugar is melted, pour it into the other mixture in a slow, fi ne stream while stirring continuously. Cook to 234 degrees on food thermometer or soft ball stage. Remove from heat and add soda, stirring vigorously. Then stir in margarine until melted, and let stand for 20 minutes. After 20 minutes, add vanilla and pecans, and stir until it loses its glossy look. Spoon or knife the candy out onto wax paper in small patties and let set until firm.
Divinity
-2 cups sugar
-½ cup white corn syrup (Karo)
-½ cup water
-2 egg whites
-½ tsp. vanilla
-2 cups pecans
Cook sugar, syrup, and water over medium heat to 250 degrees. Meanwhile, beat egg whites in 4-5-quart mixing bowl. When syrup mixture reaches 250 degrees, slowly and carefully pour it into the beaten egg whites, continuing to beat at high speed. Turn the mixer to low and beat until thick, about 5 minutes. Use large spoon to fold for 5 minutes. Add broken pecans and fold until candy loses its glossy look. Spoon onto wax paper.
Photos by Alton Lynch.
This article appeared in the Winter 2007 issue of Texoma Living!.