This article appeared in the Fall 2008 issue of Texoma Living!.
Bob Lusk of Gordonville wears two hats. One hat transforms him into the publisher/editor of a successful little magazine called Pond Boss. When he puts on the other hat he really is a pond boss, traveling the country designing and overseeing the construction, stocking and management of private lakes and recreational ponds. No matter which hat is on his head, Lusk's passion for fish has brought him national recognition.
Lusk first heard the call of the fish when he was fourteen years old. His dad bought some land near the Brazos River and Lake Granbury in Hood County. Lusk fell in love with the river and was fascinated with all the creatures who call it home.
"I knew then that I had a passion for working with fish and I knew I would make a living doing it," Lusk said. After graduating from Richland High School in Fort Worth, he went to Texas A&M, and in 1979 received a degree in fisheries management. Lusk moved to Grayson County in 1984 as a young fisheries biologist to manage the former Texoma Hatchery.
In the mid-1980s, Lusk went out on his own to focus his career on pond management. He credits the growth of his business to an early client who gave him free rein to turn lakes near Meridian into great fishing holes. The lakes' owner, professional fisherman Ray Murski, was soon reeling them in, and word of Lusk's talents spread. In time, he found himself standing at the bottom of a drained lake with race car driver Tony Stewart and Bass Pro Shops owner Johnny Morris, telling Stewart how to make the bottom of his lake a haven for fish. This is Lusk in his element, living his passion.
While meeting famous people and flying to beautiful locations to manage ponds could sound glamorous, he realizes all too well its seriousness. He has to produce for his clients, and he sees the impact on the environment of teaching good land management.
"I help people become better stewards of their land and water," Lusk said. "There is a finite amount of water on this planet. It's important for me to spread the word of what people can  do with their water. It's more about stewardship than anything else. The minute you fire up a bulldozer and you move any dirt, you have altered that environment for four generations beyond you. So the decisions you make now need to be well thought out, well planned out, then well executed."
Helping pond owners to make better decisions is where Pond Boss the magazine comes in. In the early 1990s, former Dallas Times Herald editor Mark McDonald convinced Lusk that he could write, so write Lusk did. He has written three books about what he knows best—fish and ponds. He also covered sports for The Whitesboro News-Record while his children were in school, to sharpen his writing.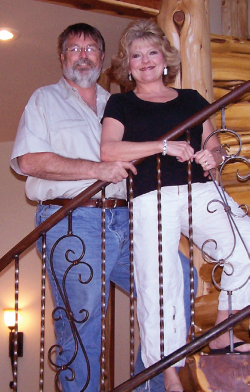 Lusk and McDonald came up with the idea of Pond Boss magazine 16 years ago over a Whataburger, and they decided that the magazine would dispense good information about pond and fish management in a fun, lighthearted way. Now, landowners all over the country who have burning questions, such as what to do about filamentous algae in their ponds, turn to Pond Boss to tell them how to nip that algae in the bud.
Along with Lusk, a panel of experts in every area of pond and fish management contributes to Pond Boss, making it THE authority on its subject. Lusk now owns Pond Boss with one of his experts, Lindsay earthmover Mike Otto. About 4,200 copies of Pond Boss reach a well-defined niche market of dedicated readers, including one who lives at 1600 Pennsylvania Ave., Washington D.C. What makes the magazine special is the plainspoken and often tongue-in-cheek way that complicated scientific subjects such as fish management and the aforementioned algae are discussed. "You can't dumb it down but you have to communicate where it can be understood," Lusk said.
Lusk's knowledge and easygoing style have also made him a popular guest on nature and discussion television shows on RFD TV. Outdoor legend Ray Scott, father of competitive fishing and the bass fishing industry among many other things, explained why Lusk is so respected.
"There is no better fi shery biologist in the world, period," Scott said. "But his greatest asset is his God-given gift of communication. Bob Lusk is the best communicator in the world, period."
Lusk, his wife Debbie and two stepchildren now live near Gordonville on 12 acres with eight ponds. He also has four grown children. He and Debbie have been married five years, but Lusk said that they should have married 20 years ago when they first dated. After a fire burned their home in 2005, the Lusks chose to rebuild in the same spot because of their love of that land and the area.
"I don't think there's any area in the country that has the same beauty, the same attractions," Lusk said. "Sure there are other places with better climate and scenery, but I don't know of any place any better than this to raise a family."
To rebuild their home, Lusk practiced his environmental stewardship by cutting encroaching cedar trees—trees which grow unchecked and drain the water table—for the vaulted ceiling. He also cut and milled the logs for the steps of a unique cedar log staircase.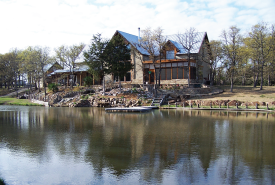 In the future Lusk hopes to reduce his travels and use his home as a think tank and a gathering place for fish and pond management seminars with his own ponds as a laboratory. Until then, he will keep on wearing his two hats and traveling the country for the love of fish.
"This is my driving passion every single day of my life and I love it," Lusk said. "I have the most perfect job on the planet. People fly me all over the country and pay me for what I know about fish. Then I get to write about it for Pond Boss."