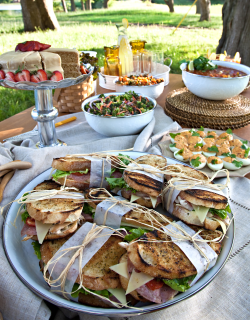 These fantastic sandwiches are a must-have on any picnic outing.
Ingredients
-1 round rustic loaf of bread cut into 12 slices about ½ inch thick
-Pulled meat of one rotisserie chicken
-¼ pound hard salami thinly sliced
-12 slices of baby Swiss cheese
-1 tomato sliced
-6 leaves of green leaf lettuce
-½ cup mayonnaise
-1 clove garlic crushed and chopped
-1 tablespoon chopped rosemary Olive oil
Preparation
Brush sliced bread with olive oil and season to taste. Place bread on sheet pan and toast in 350° oven till crisp and golden brown.
Mix mayonnaise with garlic and rosemary and spread on one side of each toasted slice of bread.
Place two slices of Swiss cheese on six of the slices of bread.
Divide the pulled chicken among the slices of bread with the cheese on them.
Add three to four slices of salami to each sandwich, and top with lettuce and tomato.