Nothing beats the aroma, or the taste, of a golden brown Parker House roll. This recipe was passed down to Angela Boedeker by her grandmother and she makes it often in her restaurant, Angela's Cafe in Denison, Texas.
My Grandmother's Parker House Rolls
2 dozen rolls
1 cup whole milk
2 packages dry yeast
½ cup butter, melted
¼ teaspoon salt
¼ cup sugar
2 eggs
4 ½ to 5 cups flour
more melted butter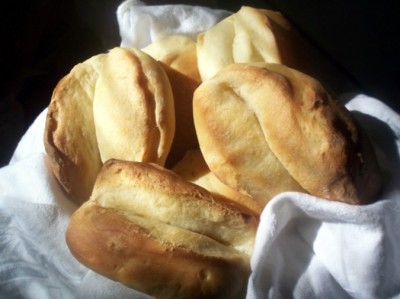 Warm the milk in a small saucepan over low heat. Mix 1/3 of the milk with the dry yeast in a small bowl and let sit until bubbly, about 15 minutes. In a large bowl, combine remaining milk, melted butter, salt and sugar, and beat until the sugar is dissolved. Then add the beaten eggs and yeast mixture.
Beating on high speed of a stand mixer, add flour, ¼ cup at a time. This step should take at least 5 minutes. When the dough gets too stiff to beat, stir in rest of flour by hand, if necessary, to make soft dough. Turn out onto floured surface and knead for 5 minutes, until smooth and satiny. Place dough in greased bowl, turning to grease top. Cover and let rise in warm place until light and doubled in size, about 1 hour. (I have also covered the dough well with plastic wrap and placed in the refrigerator overnight. This works really well. Let the dough stand at room temp for 1 hour before proceeding with recipe.)
Punch down the dough and roll out on floured surface to ½ inch thickness. Cut with 3 inch round cookie cutter. Brush each roll with melted butter and fold in half to make half circles. Pinch edge lightly to hold, so the rolls don't unfold as they rise. Place in 2 greased 13 x 9 inch pans, cover, and let rise again until double, about 45 minutes. (If you have refrigerated the dough, this step will take longer.)
Bake rolls at 350° for 20-25 minutes or until golden brown. Remove from pan immediately and brush with more melted butter. Don't use the same butter you used when forming the rolls—melt some fresh just for this step.