It's about meat, or MEAT in the vernacular of the hungry summer grill master. Brisket smoking long and slow, pork chops, really thick pork chops, and of course, steaks—ribeyes, T-bones, the regal porterhouse—all with a char and a sizzle and juice that runs pink and warm when your knife slides through the beef. Got the picture? Now, take a moment to refocus on this story. Are you back? Good.
Did you ever stop to consider what makes the image you just conjured up come true? Ninety percent of success in grilling comes from the superior quality of the meat you grill, and since the general demise of the old-fashioned butcher shop, you just might have to look around a bit to find that quality. Well, look no further; go see Randy Henderson at the Old World Meat Market in Whitesboro, and have the grill ready when you get back.
This throwback to the old days of customer service opened its doors the day before Memorial Day in 1999. Henderson spent 25 years working in the meat business for the Kroger and Tom Thumb grocery chains in Dallas. Nice work, but an 80-mile commute each day will wear you out, so he and Brenda—she's Mrs. Henderson— renovated a 1955 gas station on Main Street and set up shop.
The long case filled with more cuts of cow than most folks knew existed greets you when you walk in the door, and there are usually a half dozen folks ready to get what you want or help you figure out what you want, if you're not sure. "Most meat, 99 percent of it, is select," said Henderson. Select is in the middle of the U.S.D.A. grading system of prime, choice, select, good, and below. "There's very little prime and most of that goes to restaurants. I can get it, but it's so costly, I'll only get it as a special order. Most of what we sell is choice." The Old World's beef is never frozen and is not "flavor enhanced" with water and chemical solutions.
Henderson and his assistant manager, David Reynolds, have 55 years of meat cutting experience between them. These guys have seen a lot of cows, and they know that the cutting can make or break a piece of beef. "Even the best cut of meat can be tough, if it's cut wrong. This day and time, a lot of that art is gone," Henderson said.
Over the years, choices available at the market have grown beyond just quality beef. These days they carry pork cuts, hams, cheeses, homemade, fresh German sausage in natural casings, and farmhouse breakfast sausage. They also do custom smoking, process deer, and make jerky out of just about anything—think ostrich.
If your taste buds start tingling while you're in Whitesboro, and you just can't wait to fire up the grill, you can stop by the market for a sandwich. They open early, and the most recent addition to the breakfast menu, a bacon, egg and cheese sandwich, is a tasty way to start the day. The Hendersons added a bakery three years ago and now turn out yeast rolls, cookies, muffins, pies, and the sandwich breads.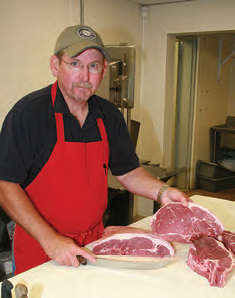 A final note for you true Lone Star gourmets. In his book, "A Bowl of Red," Frank X. Tolbert spoke with high praise of a long-forgotten chuck wagon treat, Son of a B—oops, make that Gentleman from Odessa Stew. It's sometimes called that because folks in Midland say a gentleman from Odessa is really a—well, you get the picture. Anyway, the essential ingredient of the dish is marrow gut. (Don't ask.) Tolbert allowed that if the concoction didn't have "guts" it wasn't authentic. One old cocinero put it even plainer, "You throwed ever thing in the pot but the hide, the horns and the holler."
This article appeared in the Summer 2007 issue of Texoma Living!
Photos by Alton Lynch
The Old World Meat Market and Sandwich Shop
301 W. Main Street
Whitesboro, Texas 76273
903-564-4500
7-7 Monday-Saturday
Closed Sundays