Martha Hovers has been operating Arfhouse in Sadler for twenty years, ever since she transformed her grandfather's farm into a "no-kill" animal shelter. "No-kill" means just that. No dogs are ever put down at the shelter. At last count, the facility has 314 dogs that patrol the property and greet newcomers to the gate with an array of barks, howls and wagging tails.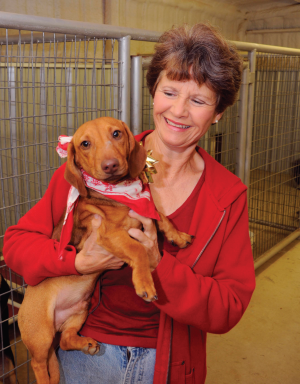 Arfhouse is also an adoption agency for stray and surrendered dogs, pets which are brought in by their owners. Each year more than one hundred Arfhouse residents find new homes with new families.
Some are transfers to Sadler from a sister shelter, Arfhouse Chicago, affectionately referred to as Mutt Hut. These dogs, for various reasons such as their temperament or an illness, are unadoptable, but they too are given a warm bed and food to live out their lives. It's a two-way swap, with Arfhouse Chicago helping find new homes in the Midwest for some of the Texas dogs.
Arfhouse has an annual budget of $175,000, most of which goes to pay vet bills, two full time employees, and several part time workers. The shelter goes through about three hundred pounds of donated food per day, and they would not be able to sustain operations but for the generosity of dog lovers, local and nationwide, who contribute funds. Local vets also help by providing their services at a discount.
Hovers works twelve-hour days caring for her charges, but the rewards for a true animal lover are what keep her going. Seeing that her dogs are heading to happy homes and knowing they will be well cared for is all the thanks she needs.

Red River SPCA
Just a few miles west of Sherman lives Tommie Kirksmith, author of several books on horse riding and care, and the director of the Red River SPCA, another local no-kill shelter. Her shelter houses about twenty larger dogs, some cats, and a couple of horses. She also is proud of her own five-foot-long ball python.
She spends her days fielding calls, sometimes more than two dozen, and sometimes late at night after she has gone to bed, calls that range from allegations of animal cruelty (possibly requiring an on-site visit by her), to questions about animal illnesses or behavior. She is neither a vet nor an attorney, but she will offer advice to the caller as though the animal was her own.
Kirksmith moved here from Corpus Christi, where she spent seventeen years working with the Gulf Coast Humane Society. For a time, she did a show called "Pet Talk" on KXII TV, but while the effort to help viewers with questions about their animals was popular, the program also generated pet surrenders in numbers that threatened to overwhelm the shelter, so for now at least, the TV program is on hold.
The Red River SPCA also provides up-to-date vaccinations for the majority of the cats and kittens and some of the dogs offered for adoption at Pet Smart, in Sherman Town Center. Seventy animals have been placed in the last three months via this special partnership.
Another forty to seventy smaller dogs, cats, puppies, and kittens are sheltered in a Denison foster home run by Audrey Rowbotham. Almost every Saturday she sets up across from the Petsmart, in the Sherman Town Center, with a screened van, to display dogs and cats to potential owners.
Beverly and Scooter, a Success Story
In September of 2008, Beverly Nelson's terrier, Mix, passed away. Mix had been adopted from a shelter. It wasn't long before Nelson knew there was a void in her life that needed to be filled. On New Year's Day, she returned to work to find a stray beagle behind her place of employment.
Nelson had heard of Arfhouse and called Martha Hovers to see if the stray could be taken there for refuge. While talking to Nelson, Hovers mentioned a new arrival, a small terrier named Scooter and suggested that Nelson come in and see the animal.
The next day, on Channel 32, Nelson saw a mug-shot of the newly-groomed Scooter, and it was love at first sight. The next Saturday Nelson and Scooter got together, and they have been hanging ever since. "He's a great dog. There's not a mean bone in his body. Oh, he can be stubborn, but he's big-hearted," she said.
Where to Find Adoptable Pets
Animal Refuge Foundation (ARF)
Located in Sadler west of Sherman is the nation's third largest care-for-life, no-kill canine sanctuary and home to more than 300 dogs. ARF plans to open a branch for cats in the near future. Donations of dry and canned dog and cat food are always needed. Pet food donations can be dropped at Neimann Publication at 201 E. Houston in Sherman. All donations are taxdeductible. ARF is a 501(c)3 non-profit organization. Find out more online at www.arfhouse.org.
Red River SPCA
Red River SPCA is an independent no-kill shelter run entirely by volunteers and coordinated by Tommie Kirksmith-Newman. The group rescues and rehabilitates animals, investigates abuse calls, answers questions, adopts out animals, and helps owners get low-cost spaying and neutering. Red River SPCA rescues dogs and cats, livestock and creatures in the wild. Most of the animals are kept at Kirksmith-Newman's home at 1215 Cooke County Road 140 in Whitesboro. In lieu of adoption fees, the Red River SPCA asks for tax-deductible donations. Some of Red River SPCA's animals can be seen online at www. petfinder.com. Foster homes are always needed to provide temporary care. To adopt or to offer foster care, call (903) 668-6309.
Do you have a rescue animal? Tell us about your new friend. Click on Comments below.
Sherman Animal Shelter
Operated by the City of Sherman, the Sherman Animal Shelter is located east of Sherman at 1800 E. Ida Road. Shelter hours are 10 a.m. until 5 p.m. Monday through Friday and 10 a.m. until 4 p.m. on Saturdays. Visit the shelter or call the shelter at (903) 892-7255. Animals for adoption can be viewed online at www.petfinder.com.
Denison Animal Shelter – Happy Hearts
Denison's animal shelter is located inside the Morton Street Animal Hospital at 2500 W. Morton Street, Denison 75020 (903) 465-4714. Hours are Monday, Tuesday, Thursday and Friday from 8 a.m. until noon and 1 until 5 p.m. Adoption fees are $55 for puppies and adult dogs, and $45 for kittens and adult cats. The fee includes the animal's rabies vaccination, veterinarian checkup, and spaying or neutering. No website found.

Barn Cats, Inc.
Barn Cats places sterilized feral (nondomesticed) cats into a barn or similar location as an alternative to toxic pest control. Barn Cats is a non-profit organization. A donation is requested. For information call (972) 315-2875 or visit online at www.barncats.org.
Find more area shelters visit www.petfinder.com