When the owner of this magnificent estate began to plan his lake home he wanted to create an environment reminiscent of Montana's wilderness areas. Giant pine and spruce logs—some of the largest diameter logs in North America—were cut and prepared for construction near their growth site, then transported over fifteen-hundred miles by truck to Lake Texoma.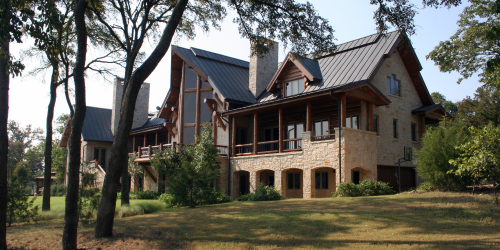 The winding drive gives no hint of what is just beyond the 32-foot lodge pole gate—not until you have passed the authentic totem pole carved by artisan George Gulli does the massive home appear from behind the tree line. At first sight a towering porte cochere dominates the view, but soon your focus goes to the detail of the home and its hand-carved entry way. Realtor George Piper of ERA Steve Cook & Co. Realtors first brought this opulent home to our attention. It is on the market for just over $3 million.

While this incredible estate is over the top in its scale, the interior reflects the tastes of someone who appreciates a comfortable style you might expect from a self-made man who enjoys a quiet, simple environment. Upon entering the foyer you immediately notice this is a place built entirely for comfort. No crystal chandeliers dangle from the ceiling of the two-and-a-half story great room. Its prow-shaped glass windows offer clear and unobstructed eastern views of the lake, and cliffs of Eisenhower Park. In all over eight-thousand square feet of enclosed space and twenty-five hundred square feet of covered patio deck is ample room to relax and bask in the serenity of Lake Texoma.