Recently I had moles removed from my head.
I never paid much attention to them, but my mother insisted I go to a dermatologist to have them checked.
Men tend to stay away from doctors, but when Mom wouldn't let it go, I made an appointment. Within a few days after the initial check-up by Dr. Creed Stewart at Texoma Dermatology, I was in an operating room having my head sewed up after a basal cell carcinoma was successfully removed. The surgery was performed by a ENT physician.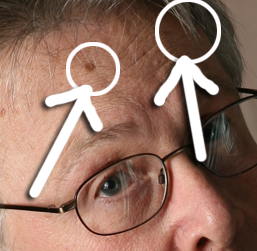 Last week Dr. Stewart removed three other benign moles during simple office surgery. If you have a mole that has changed color or gotten bigger, go ahead and make the appointment. Early intervention is the best plan.