This article appeared in the Spring 2007 issue of Texoma Living!.
by Dara McCoy
The charcoal and silver reptilian patterned face mask—the Black Mamba—hides Jerry Wright's salt and pepper goatee and ready grin. In gray sweats, sunglasses, and a black company ball cap turned backwards, the man behind the mask is the Black Mamba's creator and CEO of Save Phace Inc, a company which produces protective face masks for all manner of sports and athletic endeavors. It has its headquarters in Sherman and its regional sales office in California, and the products are manufactured in Taiwan.
Running the company is not a three-piece suit, corner office, luxury car operation; Wright drives a pick-up truck. "I'll never be that way," he says. "I'm too much of a simple country boy. I don't mind getting my hands dirty." He is just off the warehouse floor, taking a breather from bagging, tagging, and boxing a large Bass Pro Shops order for his company's multi-purpose sports utility masks.
Shortly before the $20,000 order was due in Sherman, Wright learned that the lens mold had broken at his manufacturing plant. A few nervous days and $77,000 later, the mold was fixed, and what could have been a production disaster was averted. Stuff happens when you run a small business, and Wright is no stranger to adversity.
An Education in Making it Big
A Grayson County native, born and raised, Wright was an outdoor guy, always looking for a thrill. He was a tennis ace for the Yellow Jackets ("People don't think tennis is an adrenaline sport, but my first serve was about 135 miles per hour," Wright said) and he won a few district championships before he graduated from Denison High School in 1983. College? Nope, Wright passed on that, taking to heart some words of wisdom from his dad, Daniel Wright, a 28-year man at Pillsbury. "Son, this world is all about the money. The school system teaches you history and economics, but they don't teach you how to make money. Until that type of education comes along, it's up to you to figure it out."
Jerry Wright figured it out, at least for the time. He turned to the one calling where every day is a new opportunity. He became a salesman. He moved to Dallas and hawked vacuum cleaners, electronics, and storm windows and doors. As he improved his sales technique, he became a regional trainer working for Fortune 500 companies. "They would let you get to about $60,000 a year, and that's when you'd hit that glass ceiling," Wright said. "I decided at 28 that I needed to own my own business because that's the only way I'm ever going to make any large sums of money."
Easier said than done. Wright started several businesses, had them fail, and found himself in radio. Then he found himself without a job after the radio station he worked for laid him off. A trip to California for a friend's wedding convinced Wright that it was time for a change of scenery. "I was broke. So, I moved out to California pretty much with my tail between my legs," he said.
Jerry the Texas Guy Moves to California
It was 1998 when Jerry left Texas for California. The friends he'd seen get married earlier that year helped get his resume out to radio stations and after one interview he had a job selling ads at KZST 100.1 FM in Sonoma County. It was his first day when a fellow stopped by Wright's cubicle and started a long and rambling conversation. Tired, irritable, and worried about getting organized on his new job, Wright asked the man to leave him alone.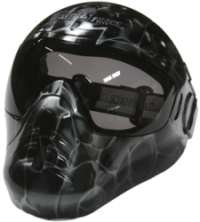 The next morning Wright was at home, when he heard the man's voice on the radio and realized that it was Brent Farris, the KZST program director and morning DJ Farris was recounting the meeting with Jerry for his morning audience, and then he began lambasting "funny walking and slow talking" Texans.
That was too much. Wright changed out of his suit into jeans, a cowboy hat, belt and duster and drove to the station, determined to teach the DJ a lesson—Texas style. Farris was on air when Wright barged into the booth and let him have it. "You know, I don't care; you can fire me right now, but you insulted me, my friends, my family, my state, my state of mind, and my country. You can either apologize to me on the air or we can go out back, and I've got a rope and a truck and there's a tree outside."
"He just stood there toe to toe and didn't let me get a word in edgewise," said Farris. "If he'd just have mealymouthed or walked away, he'd never been famous." Wright managed to keep a straight face during the tirade, got an on-air apology and was invited to defend Texas over the radio on a regular basis. He also got a new persona. He was "Jerry the Texas Guy."
His first challenge from Farris was to name one thing Texas had better than California. "Oh hell, that's easy," Wright said. "I'm not saying that all the women in California are ugly. I'm just saying that if a flock of quail would fly by they'd all point." Wright's comments sent KZST's female- dominated audience into an uproar and locked up the station's phone system.
No dummy, Farris played it to the hilt. He sent Jerry the Texas Guy to popular Sonoma County attractions and had him describe them to KZST's listeners from a Texas point of view. Wright became a local celebrity, attending fundraisers, cook-offs and other events dressed in a cowboy hat, bandana and sunglasses to hide his identity and increase the mystique.
"When he was here as Jerry the Texas Guy, he was the most famous character we've ever had," Farris said. "I still get calls asking about him." Wright's Texas rendition of 'Twas the Night Before Christmas' is still played at the station around the holiday.
After being recognized by his Texas drawl while grocery shopping and needing a police escort out of the store, Wright decided enough was enough. "At that point, I decided, I can't do this anymore," he said. "I couldn't find a girl to date. I couldn't go out in public. I quit doing the show for that simple reason." So, Wright retired "Jerry the Texas Guy" and went back to selling radio ads full time.
Mixing Business and Love
Thousands of miles from a Texas honky-tonk, two Lone Star natives met at California's version of a country bar. It took Wright only one swing around the dance floor with his future wife, Staci, a Taylor, Texas
native, to know he'd found someone from home. "People in California that are country are Coca-Cola cowboys. They don't know how to dance," Wright said. "If you're not rubbin' bellies, in Texas, it ain't real dancing. We call it boot scootin' belt buckle-shining dancing for a reason; we think it's like foreplay."
In May 2000, without warning, Wright got the gate at the radio station; equally unexpected, Staci, a partner in an insurance agency, got locked out by her partner a few weeks later. No jobs, not much money—about a $1,000—they decided to sell insurance to Indian tribes and casinos. Say what? Yes, you read it right. They decided to sell insurance to Indians – make that Native Americans with casinos. They wrote a business plan, got a loan for $5,000 and opened shop.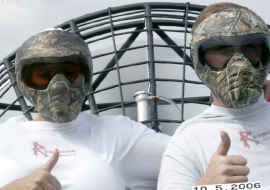 There's an adage about the dangers of mixing business with pleasure, but marriage was a "must do" for Staci; she had been burned by her last partner and now wanted everything in writing. "We went down to the JP that day and got married specifically for that reason," Wright said. "We mixed what you're not supposed to mix, and we make a really awesome team."
Six months in, their insurance company had yet to sign a contract. "We were eating macaroni and cheese and beans in a can," Wright said, but they stayed with their plan. In month seven, they landed their first client, and before the year ended, they had 20 tribes signed up for $4 million in business.
The Trail Back to Texas
Wright and Staci were officially millionaire business owners, and things were looking good, when Staci developed breast cancer. The diagnosis staggered Wright, whose sister had died of the disease at 34. "I was scared to death," he said. "We had an 18 month-old daughter and a successful business and had bought a $550,000 house. It was just all of a sudden."
Wright had his hands full with the business and raising his daughter while Staci won her battle with breast cancer. "It's not like we're timid people," Wright said. "We're fighters." It's good that they were, because the battles weren't over.
After four successful years in business, increased competition and a crumbling market pushed the Wrights to sell the operation. But the end of one thing ushered in the beginning of something else. Just two weeks before selling the insurance company, in October 2004, Wright had cooked up an idea for an innovative sports product.
Save Phace Inc. and Wright's sports utility mask were born in the middle of a bass tournament on Lake Shasta near Redding, California. Wright and his fishing buddy were caught in a hail storm while racing back to the weigh-in area. After being pelted in the face by hail at 75 miles per hour, Wright's friend figured someone should invent face protection for sportsmen.
That someone became Wright when he got a friend to make sketches of what he thought the mask should look like. Then, he sent the drawings to his attorney who spent two months doing a patent search before giving Wright the go-ahead to obtain a patent. With patent in hand, Wright met with industrial designers, who designed the product and fine tuned the drawings, and an engineering group, who wrote specifications and made the mask work.
Wright took his drawings and specifications to Asia where he found a manufacturer and started production. After seven months of development, the first masks, called Fish Hedz, were ready to be marketed directly to fishermen.
Wright ran ads in fishing magazines, sent product samples and press releases to editors, and debuted his product at ICAST, one of sport fishing's largest trade shows. "Within 18 months, ESPN called us one of the hottest products in sports," he said. Soon, his masks were on the shelves of Bass Pro Shops and Gander Mountain.
Success was once again tempered by family medical problems; his father had Alzheimer's disease. Wright wanted to come home to be close to the family, so in August 2006, he came back to Sherman. He brought his family home, and he brought his business too. Lower operating costs and shorter shipping times made that feasible and good business, so he transferred the Save Phace operations to North Texas.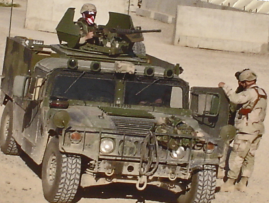 "Your product proved worth its weight in gold. Today we were subjected to a sand storm, and a lot of sun and wind. The mask kept me protected from the elements and comfortable in performing my mission. The soldier who took the photo was getting an unwanted free facial from the effects of the wind sandblasting him at 60 mph. We have found that your product has not only met our expectations but exceeded them by far. Thanks again for having a product that stands up to the way its described." – Sgt. Leadingham, Iraq
Today's challenges include caring for his dad and preparing his company to enter the paintball, military and law enforcement markets. Save Phace is testing a safety mask that needs to "stop a 17 gram shrapnel piece traveling at 600 feet per second," said Wright.
If you were a gambler, you'd do well to keep your money on Jerry Wright. He's doing well and so is the rest of the clan. Staci's health is good, daughter Addison, who is four, has a 21-month-old little sister named Jolie Carmen (Carmen after Wright's sister who died of breast cancer), and the family can now do a little better than beans in a can for dinner.
Lens molds break, celebrity status fades, businesses fail, and health can be lost, but Wright has always survived to see better days. "I always know the harder the fight and the bigger the struggle, the bigger the payoff's going to be," he said. "My attitude is just that I refuse to quit."