The Town That Threw In the Towel
On May 1, 1993, 213 of the 302 registered voters in the city of Luella showed up at the polls to cast a ballot. It was a far cry from the previous election when only ten voters showed up, or the one before that when twenty-two showed up. Why the big jump in participation? Luellans were there to decide whether or not to do away with their city. And they did by a vote of 128 to 85.
Luella, like many small communities of its era, was born from the railroad. In 1888, a man named J. L. Hughes saw a business opportunity in a piece of land adjacent to the St. Louis & Southwestern Railroad line from Sherman to Commerce. He built a general merchandise store combined with a railroad station, applied for, and got, a post office and became the postmaster. He even preached the Sunday sermons at the Old School Baptist Church. Hughes named his town Luella after his oldest daughter.
Do you have remembrances of Luella?
Share them to our readers. Leave a Comment.
Within a few months, the town of Luella boasted a cotton gin, two general stores, a cotton and grain market, a doctor's office, a drug store, a blacksmith shop and a government licensed distillery and saloon. Luella was a lively and convivial place, with the public school functioning as a community center. Besides freight, the railroad, known as the Cotton Belt Line, ran a passenger trolley each day from Sherman to Commerce and back. A trolley? It was probably what old timers called a doodlebug, a self-propelled, gasoline-powered passenger car that resembled a streetcar.
By the time Mary Jane Morphew's father, Weldon Nelson, was born in 1910, Luella had already declined. The doctor and drug store were gone. The still was no longer in operation, and the saloon was gone. Nelson attended the grade school in Luella, but rode his horse to Sherman for high school.
T. J. Williams moved to Luella in 1926. His family's farm was situated on top of the hill on Cedar Road and overlooked the Cotton Belt. He remembers watching a circus train come through, the cars filled with lions and tigers and bears. The locomotive could not pull the grade through Luella and had to be divided, the engine taking part of the cars to Tom Bean where the track leveled out and then returned for the remaining cars.
Williams rode the bus to Tom Bean for high school. He remembers calling the local freight train "The Rattler" and how he and his friends would jump in box cars just as the train was leaving Tom Bean. They would stay on as it sped up for as long as they dared and then jump off. Once, one of his friends rode all the way to Whitewright.
By 1930, the post office was gone. When the trains stopped running in the early fifties, Grayson County bought the railroad right-of-way, and the dirt lane next to the tracks became Farm to Market Road 1281. Essentially, Luella was a place to pass through on the way to somewhere else, and it might have stayed that way except for three important assets: lovely building sites, lots of water and a proximity to growing industries. And as realtors like to say: "Location, location, location."
In 1964, fifty residents of Luella put up $50 each and started the Luella Water Supply District. With water, Luella became a choice place to live. In the 1970s, four new developments offered acre-plus lots, Luella Heights, Chamberlain Ridge, Golden Acres and Highland Meadows, and they more than quadrupled Luella's population.
Teddy and Tootsie (Marge) Morse built a store, the Super T. With a larger congregation, the Luella Baptist Church built a new building. According to Mary Jane Morphew, one newspaper called Luella, "the richest town per capita in the state."
Sherman needed water, too, to support industries such as Folgers, and most of Luella fell within the extraterritorial jurisdiction of the City. Sherman drilled several tests wells near Luella properties, and rumors of annexation spread panic through the community.
J. C. Anderson and Bill Kincaid led the rush to incorporate. They went door to door with petitions, telling their neighbors that if Sherman annexed them, Luellans would pay property tax, but not have any of the services that Sherman residents had.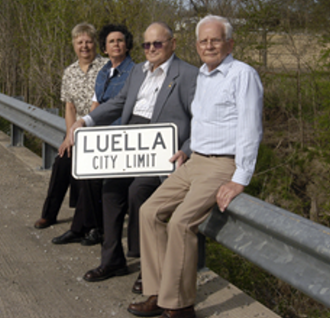 John Mahaffey thought they were jumping the gun. "I was never aware that Sherman had any intention of annexing us. But those that thought so used a lot of scare tactics." In short order, proponents had all the signatures they needed. Luella annexed all the major roads and the property within 250 feet of the center line of each road. If any part of a house were within the specified distance, it was in Luella proper.
Because the town did not include much of the surrounding farm land or open areas, the map of Luella in 1977, showing mostly twisting and turning roads, looked like a path through a maze. Patty Madison recalled the population density requirements: "We had to have 'x' amount of people to not too much acreage. It really was gerrymandered."
With court approval, Luella held its first election on April 11, 1978, and by a vote of eighty-nine to ten, Luella became a city. The voters also chose J. C. Rich as mayor and William Kincaid, Jerry Smith, Patti Madison, Margie Morse and Elton Bentley to be members of the town council.
Initially things went well. City residents were happy to have escaped paying taxes to Sherman for no services. Donald Morris and R. D. and Amy Meek donated two tracts of land for a city park. With sales tax from a new store, municipal utility taxes from the water board, two electric companies and a telephone company, Luella was able to supply materials the county needed to maintain the roads. In 1978, streets in the new housing developments were in good shape, but as years went by, they disintegrated, and soon all roads in Luella needed resurfacing, at a cost of $10,000 a mile.
Realization dawned late that cities cost money. After fourteen years, Luella had no fire department, no police department, and no money to develop the park. The mayor, council, election officials, the municipal judge and city building inspector, all donated their time. No one would serve as constable. Lack of funds came to a head when the Tom Bean school bus refused to cross Watkins Road Bridge.
Jacque Peace said the bridge was beautiful, an old iron bridge, and people really didn't want to lose it, but it was not safe. John Mahaffey said every time a heavy rain swelled the waters of Cedar Creek, Watkins Bridge flooded. The Tom Bean school district knew that if it rained during the day, it would be impossible to return the children to their homes without detouring a long way around.
Negotiations with the county to replace the bridge were unsuccessful. A grant from the state looked like a better deal, with an eighty-twenty percent split. But the construction costs ran over, and delays stretched the timetable far beyond its projected end. By the time it was finished, Luella was close to bankruptcy, and there were other bridges needing repair. The city council, under the leadership of Dolores Bernhardt, proposed a twenty-five cents per $100 property tax, or $250 on a $50,000 home. This rate was as high as Sherman's and while it would raise enough money to fix the roads, it still did not guarantee any other services. Residents of Luella had jumped from the frying pan to the fire.
J. C. Anderson said he wished he had never campaigned for incorporation. J. T. Williams said he was ignorant when he voted for it. John Elkins, the appointed municipal judge, said the laws had changed, and Sherman now could not annex without providing full services within four and a half years. As far as Elkins was concerned, the best thing to do was "give it up." Elkins placed large signs at public places to collect signatures supporting the disincorporation of the city of Luella, wrote letters to the newspapers and spoke at city meetings. He mailed a flyer to the 320 registered voters, urging them to save themselves from taxes.
The mayor of Luella, Dolores Bernhardt, sent an SOS call to Luella's citizens in a letter to the editor of the Sherman Democrat entitled "Luella needs help." "There's no such thing as a free lunch. The city can disband and revert back to the county. But the road problem will not get better," she wrote.
Election Day arrived and Luella as a city went quietly into history. It had lasted fifteen years. Today, Luella is still growing. The Luella Cafe stands where Morse's Super T was. Luella First Baptist Church and newly-built Fellowship Church draw good-sized congregations. Several small home businesses enjoy the .25 percent sales tax break. By last count, Luella Special Utility District supplied water to over 1000 homes. Using an average of 2.5 people per household, that is 2,500 people.
How do the residents of Luella feel about the era during which their community was a city? Except for a few of the long-term inhabitants who were there when it began and ended, it is only an abstract piece of history—if they even know about it at all.