Sarah Bilyeu, 16, and Chelsea Schock, 26, patrol the waters at Fairview Pool and Waterloo Pool. Fear the whistle.
No splashing.
No running.
No diving in shallow end.
A lifeguard's work is never done. What does it take to keep your cool at the pool? TLM caught up with two local lifeguards, a rookie and an eight-year veteran, to find the ins and outs of this traditional summer job. Sara Bilyeu, the rookie, is sixteen and a Sherman High School junior. She is a member of the SHS varsity swim team. She started at Fairview Pool in Sherman at the end of May. Chelsea Schock, twenty-six, is the old hand. She is a 2002 graduate of Sherman High School and is now the manager of Waterloo Pool in Denison. She began lifeguarding in 2002 and has worked in the field regularly since.
Does being at a pool all day make you sick of the water?
Sara: "No. I spend a lot of my life in water. I didn't get this sunburn on the stand., I got it at the lake after work. I lap swim in the pool for fun sometimes. A number of people on the swim team are lifeguards. We start swimming again the second week of school, so this is a great opportunity to stay in shape over the summer."
Chelsea: "I always loved water, loved to swim, loved to be at the pool. When I first started working, I worked a lot and I kind of got burned out on it, but now I do try to get up here and swim occasionally."
What's the funniest thing you've seen at the pool?
Sara: "The kids that come to the pool are funny a lot. One little boy just started peeing in the water— I couldn't believe it—and there was a kid who went down the slide and his trunks fell off. I saw one girl wearing skinny jeans in the pool. That's something I'd never seen before."
Chelsea: "There's always different people, different things that keep it interesting. There was an embarrassing incident when I was trying to get someone's attention and I didn't realize they were deaf, so I was blowing my whistle a lot and I finally realized after a while I had to figure out hand gestures. I definitely felt really, I guess, silly."
Have you ever rescued anyone?
Sara: "Not yet, but sometimes people pretend they're drowning 'cause they think it's funny. I have had to help a few kids who were struggling in the water, but I haven't had to save someone from drowning."
Chelsea: "The first rescue I had, a little girl who had a lifejacket on took it off in the middle of the pool. When I looked again all I saw was the lifejacket, and she was kind of flailing behind it so I couldn't see her. I remember having a sense, kind of, of panic and then I pulled her to the side and she was fine. It was pretty scary from my perspective for a little while."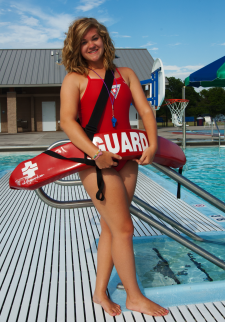 What advice would you give to a new guard?
Sara: "Don't be too nervous! Sometimes the little kids can get annoying, and some people just won't listen. Patrons have to get kicked out sometimes. A lot of people think this job is boring and you do the same thing every day, but it's actually really interesting."
Chelsea: "The first day I worked I remember I was so nervous that something bad was going to happen. I realized as I worked more that if you're doing everything you're supposed to most of the time serious accidents aren't going to happen. A pretty common mistake I see new guards making is being unsure of what they're supposed to do, and they hesitate about reprimanding people. They just need to realize that the rules are there for the patron's safety, and you're doing your job by protecting their safety—be more authoritative, be surer of yourself."
This article appeared in the August 2010 issue of Texoma Living!.
Sherman
Fairview Park Aquatic Center
1121 W. Taylor St.
(903) 892.7307
Mon, Tues, Thur Noon-8pm
Wed, Fri Noon-6pm
Sat 10am-6pm
Sun 1-6pm
Check with Sherman Parks and Recreation (903- 892-7344) for opening and closing dates.
Denison
Waterloo Pool
1501 Brock St.
(903) 464-4475
Mon, Wed Fri 6-8am
Mon, Tues, Wed, Thur 1:30-9pm
Fri 1:30-6pm
Sat 1-7pm
Sun 1-5pm
Open All Year
Whitesboro
Whitesboro Municipal Pool
400 N. Wilson
(903) 564-5964
Mon, Tues, Thur, Fri 1-7pm
Wed 2-7pm
Sat 1-6pm
Sun 1-5pm
Check with Whitesboro Parks and Recreation (903-564-9281) for opening and closing dates.