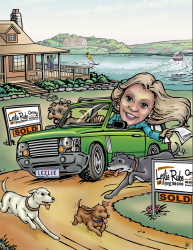 This article appeared in the Winter 2006 issue of Texoma Living!
If you want a home on Lake Texoma, you see Lezlie Rube. It's just that simple. There are other realtors of course, but there is only one Queen of Lake Texoma Real Estate. She works under the umbrella of Century21 Dean Gilbert, Realtors, and Gilbert says that she is, "a high energy person with an enthusiastic positive outlook on life. She channels her energy into customer service and creates customers and clients for life with her 'can do' attitude. When marketing a listing or negotiating a sales contract, every detail gets scrutinized for her clients. She has professional top producer qualities: service, service, and service!"
Call Lezlie the top agent, and she will have none of it. She believes that there are too many variables to that claim "I can say I am one of the top agents, but there are so many ways to look at that." Nonetheless, ask almost anyone aside from Lezlie herself and they will quickly tell you she has no equal when it comes to moving houses around Lake Texoma.
She sells a lifestyle as much as she sells houses. "Eighty-five percent of the time I am selling second homes to people and selling the lifestyle of the lake or Grayson County in general. Many people find a better quality of life here."
She has a real estate savvy that goes beyond just selling a property that spills over into marketing and customer service, and she is always working to ease the transitions from old homes to new homes to second homes. Walter Ragsdale, a recent client, sings her praises without reservation.
"Lezlie helped my wife and I find a vacation home on Lake Texoma. She knew the back roads better than the back of her hand," said Ragsdale.
Her parents were realtors, so Lezlie, who has been selling homes since 2001, says she was always surrounded by a sales environment. She remembers many times when she spent a day playing in backyards during open houses.
She did not get in the business until her son Trevin was in middle school. "It takes a lot of commitment, so I didn't begin until he was at the right age." But once she started, she never looked back. "I really didn't expect to get as busy as fast as I did, but I think I just came into this growing area at the right time and things were starting to boom here. A lot of the real estate people in the area were 'part-timers,' but I came in and worked seven days a week for two years and that was what did it."
"I think a lot of new agents make a mistake in that they don't promote their properties and themselves aggressively or spend the money that is required for marketing. It's knowing where to advertise and what works, and that takes work and study. You are promoting all these different properties, to be sure, but really, you are promoting yourself. It's budgeting and time management." Time and money is a business principle as tried and true as they come.
During those early days it took a lot of energy to juggle a young teenage son and a new career. And as anyone who has worked in real estate will tell you, there's nothing regular about the work hours.
"About three months after getting my real estate license I was having second thought s about my career choice , " Rube remembers. "One night after pushing Trevin through a ton of homework, cooking dinner, wrangling the dogs and trying to write listing copy I managed to drag myself to the edge of the bed and fall in!"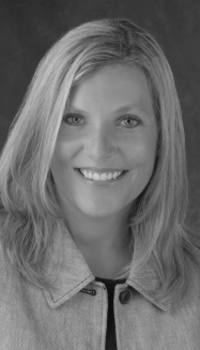 Seconds later the phone rang. The couple from Amarillo was in town unexpectedly and wanted to know if Lezlie could show them two of the properties she had mentioned to them earlier—now, in the cold dark night, at 8:30 p.m.
"I thought, 'What in the world have I gotten myself into?'" but I got up, pulled on some clothes, told Trevin to finish his homework and headed for the car with a handful of listings."
The couple changed their minds a week later and the deal was off, but the experience wasn't the last of its kind. Buying a home is the largest purchase most people will ever make, says Rube. "It's symbolic of success and security and you can't take that lightly."
Today her business is such that Rube has a full-time assistant to help her keep things in order. "With any business, you have to have all aspects covered, so my assistant handles the customer service administrative leg, and so many other things I didn't know I needed. That allows me more face-to-face time with my customers." She also thinks real estate is more about service than selling. "It is not really a sales job; it is more like being a concierge in a grand hotel. People don't really know what they want, so you have to listen carefully and be really patient."
Lezlie averages about two closings a week, and she is quick to note that she has had an incredible run of success. Even so, she does admit that there have been times when she wanted to quit. "There have been some really frustrating times," she said. "It is not as easy as it looks. There are a lot of crazy things that can come up and lots of problems, and it seems like you always have the problems back to back—something very difficult or strange or legally complicated."
But she does not let the complications get to her. "You know there will be quite a few disappointments along the way, but it is so rewarding when things do go well, and you are able to help people get what they want."
She works hard, but while she takes short vacations when she can, she is never gone for long. That is OK; it is a balance of work and personal life that works for her. But sometimes, even time off time can turn into an unexpected opportunity, as Rob Rowland of the Merrill Corporation recalled.
"It was just an hour before the start of the corporate race at Lakefest, and I was desperately shorthanded for crew. Lezlie was dropping a customer off at Grandpappy Marina." Pressed into service as a member of the crew on Rowland's sailboat, the Queen got even closer to the water than usual, ending up in the middle of both a boat race and a picture on the front page of the newspaper that Sunday.
"That was the first time I met Lezlie," Rowland said. "I mentioned that I had been searching for a second home on Lake Texoma, and she drew up a long list of properties that we just 'had to see.' After two exhausting weekends of tramping through cottages and cobwebs, we found the home of my dreams at Russwood, on The Lake."
Now, with son Trevin in pre-med at Baylor it's a little easier to make those late night appointments seen less frazzling.