This article appeared in the Fall 2008 issue of Texoma Living!.
by Molly O'Farrell
Want a tip? Work hard and remember what people like.
With a cheery personality and a knack for customer service, Kim Blake has been raking in tips at the Sonic Drive-in at US 75 and FM 120 in Denison for eight years. But new technology is changing the way people tip, or can tip.
Increased use of debit and credit cards is making it difficult for customers to leave a tip for carhops who give good service. Sonic added "pay-at-your-stall" machines for the cards to their drive-in facilities in 2006. The card scanners speed things up, but at what cost to the carhops?
"Hardly anyone carries cash anymore," Blake said, "and one of the big complaints that customers had when those terminals were put in was that there was not an option to leave a tip. People want to tip, but they don't carry cash."
Unlike some restaurant waiters and waitresses, Sonic carhops start at minimum wage for their work and get raises. The tips they receive are a demonstration that the customer truly is pleased with the service.
Despite her initial concern, the debit terminals haven't reduced Blake's income very much. Her personality, big smile and friendly wave make customers, old and new, feel welcome each time they pull in. Her regulars, whom she calls friends, know about the machines and make sure they have tip money. Ask Boni James of Pottsboro.
"I have been going to this Sonic for about four and a half years now, before and after work, and I have known Kim for all those years," said James. "Kim is a genuinely nice lady. She really cares about her customers and goes above and beyond in taking care of me no matter how minuscule the task. I try to carry cash because I know that this is hard work, and I like to give that little bit extra."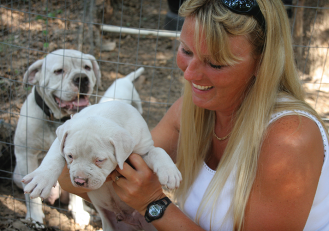 Blake moved to Pottsboro from Dallas about ten years ago to live what she calls a slower life here in Texoma. When she is not delivering drinks and meals to Sonic customers, she raises American Bulldogs, practices her dog grooming skills and hangs out at the lake. All that is understandable, but what about the carhop career? Most people would consider it a job for teenagers, but not Blake.
"I love my job and what I do," she said. "I like being outdoors, I like talking to people, and the hours are flexible, so Sonic is a good fit for me."
Kim Blake is a good fit for many Sonic regulars too. They are not about to let their favorite carhop go unrewarded, so until somebody gets a clue at Sonic's headquarters, they will remember to carry a little bit of extra cash to tip their friendly, local carhop.