This article appeared in the Fall 2008 issue of Texoma Living!.
by Jacqueline White
John Frair knows the role that luck plays in the career of a news photographer. In the summer of 1966, when Charles Whitman started shooting from behind the thick walls atop the Tower on the campus of the University of Texas in Austin, Frair was the only professional photographer on the scene.
Frair grew up in Ravenna, graduated from Bonham High School in 1958, and studied journalism for a while at East Texas State in Commerce, before dropping out and going to work for United Press International (UPI) in 1962. Working out of the Austin news bureau, he covered Central and South Texas for the news service.
When Lyndon Johnson became president and came home to his ranch in Johnson City, Frair was the man with a camera on the scene for UPI. If your memory reaches back to those days, you will recognize many of his pictures of LBJ, Barry Goldwater, Hubert Humphrey and John Connelly.
After leaving Austin, Frair was the state manager for UPI Newspictures in Louisiana, although his territory also covered the Deep South states of Mississippi and Alabama. If it happened in the Southeast, Frair took pictures—hurricanes Betsy and Camille, the civil rights struggles in Montgomery and Selma, the KKK and NASA.
Every time an astronaut lifted off from Cape Canaveral—Mercury, Gemini, Apollo—Frair took off with them, at least figuratively. And sports—from Super Bowls to the rise of a cocky young boxer from Kentucky named Cassius Clay—John Frair covered it all.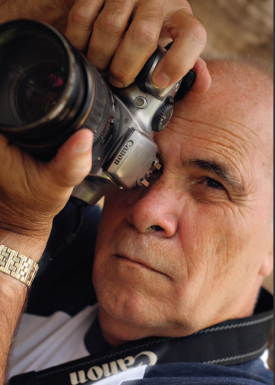 When John Frair left UPI, he went back to school, worked at television stations in New Orlerans and Houston and then spent 17 years teaching at Southern Mississippi University in Hattiesburg. While at Southern Miss, he pioneered the use of alternative light sources in forensic investigation and worked with police agencies in the United States, Great Britain, Israel and China.
When he retired from Southern Miss, he moved back to Bonham, where he published the Bonham Daily Favorite, the Honey Grove Signal-Citizen and the Ladonia News for several years. "I missed teaching," he said. So he moved to Edmond, Oklahoma and a second teaching career at the University of Central Oklahoma.
Frair retired for the second or third or fourth time in 2006 and came back to Bonham. Well, he almost retired. Texoma Living! roped him into taking pictures for the magazine, and he teaches photography classes at the Creative Art Center in Bonham.