This article appeared in the Summer 2008 issue of Texoma Living!.
Some people change the world daily but mostly go unnoticed. They work tirelessly and silently – one person, one community at a time. Meet Pottsboro's Capt. Gerald E. "Jerry" Peddicord, U.S. Navy (Ret.). For the past 30 years he has been a volunteer, a joiner, a motivator, a Good Citizen, in all regards.
Like many of his generation—what has accurately been called "The Greatest Generation"—he grew up in extraordinarily hard times.
His father was a Kansas farmer from Wamego, in a time when breaking the prairie meant battling the drought and the Depression to support his wife and six children. Then, in 1934, came the dust. "There were many days when at high noon it was necessary to turn on auto lights and building lights to see, even though there was not a cloud in the sky. Dust was everywhere," remembers Jerry Peddicord.
"That summer of 1934 burned a permanent scar in my young memory, and I resolved that if there were a better life somewhere, preferably near water, I would find it. Therefore, at the age of 17, upon graduating from high school in 1936, I joined the navy and I found water, plenty of it, even though it was a bit salty,"
Peddicord entered Annapolis from the fleet in 1937, graduated early with the Class of 1942, and joined the just-launched battleship USS Indiana. He saw action in the South Pacific and at war's end was a newly hatched fighter pilot.
Peddicord went to war again, this time in Korea, where he led the first operational jet fighter squadron in the U.S. Navy. It was the first of several commands that included a stint as Air Boss on the USS Independence. "That was the most tense, difficult, and fatiguing job I had in my whole career because the lives of so many men depended on me."
During the Cuban Missile Crisis in 1962, he was on staff at the National Military Command Center for the Joint Chiefs of Staff when President John F. Kennedy led the nation through one of its most dangerous times during the Cold War. "During the Cuban Missile Crisis, everyone was on pins and needles.
"We knew that if the Ruskies kept coming with those missiles and met up with our naval blockade, there would have been war. And when ol' Kruschev told his ships to make a 180 and turn around, everyone erupted with joy and relief. And I was right there in the middle of it passing those reports to the Joint Chiefs of Staff and the President," he said.
A few years later Peddicord was planning officer for presidential hopeful Senator John McCain's father, Admiral John McCain, Jr. then the Commander in Chief of US Naval Forces Europe. "I used to play tennis with McCain and we talked about his son a lot," he said.
Capt. Peddicord closed out his 33-year naval career as the commander of the Naval Flight School in Beeville, Texas, training pilots to fly in Vietnam. He retired from the Navy with the rank of captain on April 1, 1969.
"When I was down at Beeville, thinking about retiring from the navy, I noticed a classified ad [in the Wall Street Journal] for a general manager position at a country club up on Lake Texoma," Peddicord recalled. "That sounded like a good option after retiring from the navy and the war. So I got the job at Tanglewood Resorts."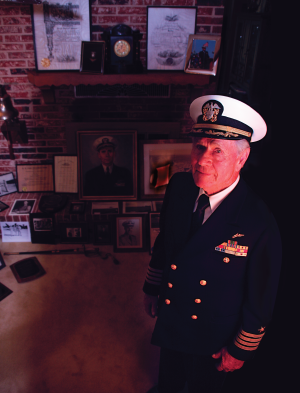 After ten years as Tanglewood's general manager, and after he married Cozy Dyre in 1970, Peddicord began what he calls "another life altogether," a third career of sorts.
"This whole area of North Texas and Southern Oklahoma is so trashy. My brother came down to visit me one time from his small, clean farming community in Kansas and asked me why this whole area was so trashy. That kind of made me mad and pretty much started my civic career." The Pottsboro Chamber of Commerce named Peddicord "Mr. Clean" in 1985, a name he lives up to every day.
Over the last 28 years, Peddicord has lined his home's walls with awards and recognition for his service. He was the Pottsboro Area Citizen of the Year in 1985, Grayson County Citizen of the Year, he is a member of the Texoma Area Senior Hall of Fame, Keep Texas Beautiful has honored his work and is the first recipient of the Pottsboro Chamber's "Jerry Peddicord Lifetime Achievement Award."
At 90 years, Capt. Peddicord is still out cleaning up the highways around his adopted hometown of Pottsboro on any given Saturday morning. "I don't regret anything. I'm very happy with what I've done. The thing I'm most proud of with what I've done is that I've helped and seen Pottsboro develop into a pretty decent city."