This article appeared in the Summer 2007 issue of Texoma Living!. Mr. Nolen passed away in September 2010.

Editor's note: In the Spring issue of Texoma Living! we ran a short piece about Sherman radio station owner Bob Allen entitled, "The Man Who Knew Icky Twerp." The response from Twerpians, if that's the word we're looking for, was substantial, and so, to correct a few errors in the first piece and to expand on the phenomenon that captured a generation of North Texas children 50 years ago, here is a bit more, although not all, of the story.
The meeting came to order at three o'clock in the afternoon at the home of George Nolen in Pottsboro. Present in fact were Nolen, Phil Crow and Clem Candelaria. Present in spirit were Ickamore Twerpwhistle aka Icky Twerp, Mortimer Moolah, Gorgon, Captain Swabbie, Blitz and Blotz of department store fame, Constable Cavendish, Louie Lavender, and of course, the apes, Ajax, Arkadelphia, Delphinium, Linoleum, and Clyde. The show aired mornings and afternoons.
Nolen: "From 1957 until 1964, I did a character called Captain Swabbie, on Channel 11 in Fort Worth, in a show built around Popeye cartoons. In the early days of television, virtually all of the TV staff came from radio. It was KFJZ radio, and in the beginning, Channel 11 was KFJZ-TV—later to become KTVT Live-ly 11—I was a staff announcer or booth announcer."
Crow: "George started in radio when he was 14 years old."
Nolen: "In those days a lot of the men were off at war, so they would hire kids. My voice changed one day, and I went to work in radio the next day. That was 1945. I was born in Texarkana and grew up in Denton. I started on a station in Denton, KDNT, 100 watts. We covered both blocks.
"I started the Captain Swabbie character in 1957. I had been doing silly little voices on the radio for years. I can still do Captain Swabbie; at the end of the show, I'd say something like: (In a mix of Gabby Hayes, Parker Finley, and Amos McCoy) Lower the mizzen mast, scuttle the portholes, and we'll see you tomorrow."
Crow: "I went to work for Channel 11 in 1959 and worked for them for 36 years. Channel 11 was an independent, no network affiliation. That meant that everything that went on the air came out of that building.
"Management bought the rights to the Three Stooges, and they went to Bill Camfield, who was already at the station doing a little bit of everything, and asked him to come up with a show to showcase the Stooges. Bill had a degree from TCU in creative writing, and being the creative fellow that he was, he came up with a character called Ickamore Twerpwhistle and a show called Slam Bang Theater. Icky Twerp grew from there.
"Camfield would elicit help from everyone who worked at the studio—camera men, lighting people, secretaries— to be other characters. Clem Candelaria and I were both TCU graduates who were just starting in television. That's how we were involved.
"One of the things people remember about Slam Bang Theater is the apes. There were five apes, Ajax, Delphinium, Arkadelphia, Linoleum, and Clyde. Camfield had a deal with Harris Costume Shop in Fort Worth. We gave them ads, and they lent us costumes. Bill would go out there and just wander through the warehouse and bring props and costumes, including the rubber ape masks, back to the station.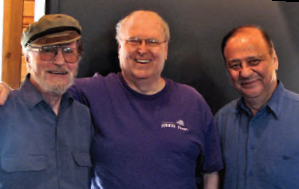 One day I would be Delphinium, the next day Clem might be Delphinium. They didn't talk, so it didn't matter who was behind the mask. There was a lot of sight comedy. Then other characters came along. Clem and I played brothers, Blitz and Blotz. They owned a department store, and their scheme was to cheat Icky Twerp out of something. Icky would come into the store wanting a new pair of shoes, and we would end up selling his old shoes back to him."
Candelaria: "As Phil said, we were part of the Icky Twerp entourage. We would play recurring characters on the show. Phil was Constable Cavendish, who was always interrupting Icky when he was doing something, and Lavender Louie was the janitor who tried to clean up the stage when the show was going on. I was Mr. Blotz and Phil was Blitz. Sometimes we would tape 15 different scripts in one night, usually working a week ahead. We may have recorded two or three thousand scripts."
Crow: "Slam Bang ran five days a week, and for each show we would do an opening, a little sketch leading in to a Three Stooges short. We'd do a feature sketch inside the middle of the program, and we would do a close. We did it for 13 years, from 1959 to 1972. It was the highest-rated children's program on television in Dallas-Fort Worth.
"Camfield developed other characters unrelated to Slam Bang. Mortimer Moolah did commercials for an advertiser called Texas Consumer Finance. Bill wrote the commercials and acted in them."
Nolen: "Actually his basic job at Channel 11 was in promotions and advertising, in addition to all the others."
Crow: "Bill would come to work each morning in a suit and tie, and then he would change into his Icky Twerp costume, which was a too small, blue, pinstriped, double-breasted suit, with the ugliest tie you could imagine, a black wig and a little tiny cowboy hat that sat on the top of his head. He had poor eyesight; he wore real thick glasses, and that was part of the Icky Twerp character."
Candelaria: "Bill also created Cosmo the Clown for morning cartoons and Hoover the Hound dog. Hoover was a plastic puppet who introduced the afternoon movie. Hoover sat on a table, and Bill would be behind a wall with his hand through a hole in the wall and in the puppet's head. Hoover talked to an announcer sitting in a chair next to the table."
Crow: "Ted Lumpkin and Hoover would discuss the movie on Million Dollar Matinee. It was all ad-lib. Ted would ask Hoover about the day's movie, and Bill would just make up a bunch of junk that might have nothing to do with the movie. They'd do four or five minutes, some really funny stuff."
Nolen: "Hoover was always having Tom Mix come into the movie, even when Tom Mix had nothing to do with it. It was disassociation comedy at its best."
Crow: "The station bought a package of old horror movies, and Bill came up with Gorgon to host Nightmare Theater each week. I thought Gorgon was one the best things that Bill ever did creatively."
Candelaria: "Nightmare started before Slam Bang, in about 1957 I think, and it was live. He didn't talk about the movie so much as develop some sort of scheme that would tie in with the movie. I remember we had a movie called The Man They Could Not Hang. We had a gallows and Gorgon talked about how bad the guy was and what was going to happen to him."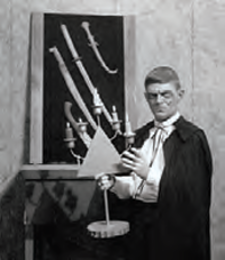 Nolen: "He had an amazing maniacal laugh."
Crow: "We didn't have the technology to do things like reverb, so we would tape a lavaliere microphone right next to his Adam's apple and then run the sound through a machine to get an echo effect. As George said, Bill had this guttural laugh as Gorgon that was frightening, and of course the kids loved that."
"The kids loved that." There could not be a better epitaph for Bill Camfield and his characters than that. Camfield left Channel 11 in 1972 to become the program director for a station in Denver, and Icky Twerp bid farewell. He announced to his loyal fans that he had inherited the Lost Twerp Mine from Uncle Ickabod, and with a shovel on his shoulder, he walked across the station parking lot and in to the sunset, as "You'll Never Walk Alone," played in the background.
Camfield did not find the gold mine and returned to Texas a year later, but except for the occasional personal appearance, he put the characters away and concentrated on a broadcast consulting company he started called Business communications, Inc. Camfield died in 1991. TCU awards a Bill Camfield Creative Writing Scholarship and in 2005, he joined the Ernie Kovacs Comedy Hall of Fame. But there is something else.
Crow: "On the last page of every Slam Bang Theater script, written in big letters was F O C. It stood for Fade on Confusion."