This article appeared in the Summer 2007 issue of Texoma Living!.
There is a large map of Grayson County set into the floor just inside the main entrance of the courthouse in Sherman. The county's boundries—Fannin County to the east, Collin to the south, Denton to the southwest, Cooke to the west, and the Red River and Oklahoma to the north—are delineated by dark strips of metal, and the four county precincts that existed at the time the courthouse was built in the 1930s are shown in different colored stones. The county's towns are there too, with each name set in contrasting stone carefully fitted into place.
When Horace Groff stepped into the courthouse on a Friday afternoon, a man stopped him at Denison. He shook Groff's hand and asked how he was doing. Another well-wisher met him at Sherman; there was another at Howe, and when Groff got to Van Alstyne, where the map ends at the main hall, there was someone there too, hand out, with a smile and a hello.
His walk across that map illustrates most of what anyone really needs to know about Horace Groff. It has been more than five years since he retired, after 21 years on the job, but for many of the citizens of Grayson County, he is, and always will be, the County Judge.
In Texas, the title has a special meaning. The position, mandated by the state constitution, is not a judicial post, well not really. The county judge handles uncontested probate matters and takes a course the state offers to learn what to do, but he does not have to be a lawyer, and in counties of any size, he has well-trained help to handle the details.
The real job of the county judge is to administer the county government, but that definition is too simple by half. Texas counties have a host of other constitutionally mandated, independently elected officials—the county clerk, county or district attorney, district clerk, sheriff, tax assessor/collector, treasurer, and four county commissioners. Then there are elected judges, justices of the peace, and constables.
The county judge may be the man at the top of the chart, but like the prime minister in the British Cabinet, he is only "first among equals." What he achieves during his term of office is more dependent on his skills in bringing people together for a common cause than on any inherent power in the position. Some people may be able to learn the skills, and certainly, experience will improve them, but the core instinct has to be there from the beginning.
For Horace Groff the beginning was in Denison. He was a cotton mill kid. He grew up in a company house and bought things at the company store. When he graduated from Denison High School in 1958, he scouted around for something to do. The choice was an unusual one. "I had a friend who worked at the Bratcher Funeral Home, and I'd drop by and visit when they weren't busy. I guess it just evolved. Mr. Bratcher offered me a job in the late fall of '58, and I took it."
With Bratcher's encouragement, Groff enrolled in mortuary school the next year, commuting five days a week until he graduated in December and passed the state licensing exam. Then came a required two-year apprenticeship.
"In 1965, I decided there might be something to do besides working nights and weekends, so when Grayson College opened, I went to work for the police department in Denison as a dispatcher at night and went to school during the day," Groff said. After two semesters in school, Groff left the Denison PD for a night job at the county jail in Sherman. When he finished at Grayson, he commuted to East Texas State in Commerce until he earned a degree in criminal justice.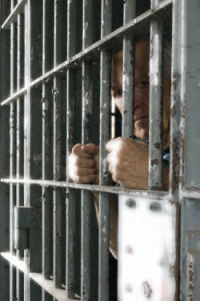 "I was working in the jail and going to school, when one day the probation officer told me he had resigned," said Groff. "The district judge appointed the probation officer, and I knew Judge Vaughan and Judge David Brown, so after I thought about it for a while, I went in and talked with Judge Vaughan." Groff started at the top as the chief probation officer—" I was the only one." He held the job for 13 years.
From the time he finished high school, Groff spent most of his working life helping people with problems, first in the funeral business and then as a probation officer. In 1978, Groff decided to run for county judge.
"Les Tribble had been in the office for 16 years and had decided not to seek reelection. I had several conversations with him, and he gave me a lot of encouragement." Back then, the people who worked in the courthouse came from all corners of the county. Groff had a lot of friends from his 13 years in the probation office, and those friends translated into a strong base of support for his candidacy all over Grayson, so after much thought and consultation with his wife, Jeanne, he—no, that's not the way he put it—"they" decided to make a run at it.
"We didn't have any money," he said. "We found that a lot of people who said they were behind you were hard to find when the bills came due. We struggled through that campaign, but just found tremendous people throughout the county who got behind us."
All that mattered in 1978 was the Democratic primary. No Republican had been seen in Grayson County since Reconstruction, at least none who would admit it, so the money, marbles, and chalk went on the line in the May primary.
"The children were all at home, and they spent Saturdays and Sundays campaigning with us," said Groff. "They could pull some heartstrings; like when a little six-year old blonde says, 'Will you please vote for my daddy.'" On May 6, Groff's birthday, he beat Sherman Mayor Ed Gillespie for the Democratic nomination, and with no opposition in November, the job was his.
Groff went back to the probation office until he took the oath of office in January 1979 and immediately had to deal with a wicked ice storm. "I always thought that ice storm helped me adjust to the office. The ice was so bad nobody could get out and come to the courthouse, so I had time to figure out where things were and get settled in."
Almost immediately on taking office, Groff faced two knotty problems, tax evaluations and the need for a new jail. The courts had ordered a general property revaluation, and the property owners, seeing disparate evaluations from multiple taxing entities—the county, the city, the schools, and others—were not amused. This was before the state created central appraisal districts, so the commissioners' court sat as a board of equalization to hear and decide grievances, and there were many.
It was a foregone conclusion that the jail would never meet the regulations of the new Texas Commission on Jail Standards. The 50-year old jail was on the top floor of the courthouse, an unacceptable location under the new rules, and furthermore, the location produced problems that had nothing to do with inmate safety. "The vandalism that went on in the jail, such as the prisoners stopping up the sewer, was damaging the offices and courtrooms below. It was a real mess," said Groff.
Veteran political heads warned Groff that advocating for a new jail would be his political downfall. "You can probably stay here for a long time," Groff recalled one man saying, "but if you get out front for a jail, you'll serve one term and they'll turn you out."
"It was the right thing to do," said Groff. "We put together a citizens' study group, and the citizens decided we needed more than a jail. That's how the justice center got into the project. We worked hard for several months and had an election on February 14. Somebody said this might be another St. Valentine's Day massacre." The electorate approved the project by 14 votes.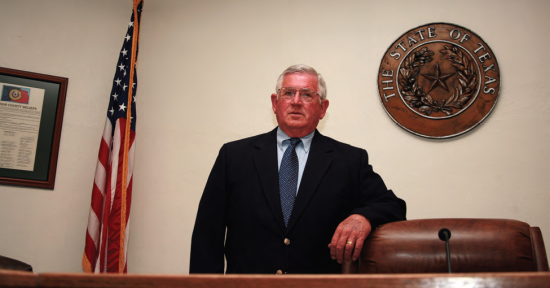 "We built that jail to hold twice the average daily inmate population, but before we occupied that jail, the drug culture moved into Grayson County, and it's been chaos ever since." Groff spoke the last part of the sentence very quietly, the disappointment of it all evident. "We didn't really have a drug problem before; now it's just about crippled our justice system."
It does not take too long to see that Judge Groff is an optimistic man. He spent 30 years looking for ways to make things better; it is habit as well as inclination. "I always believed that you got more benefit if you put your resources into preventive measures rather than corrective measures," he said.
He had been talking about the 1987 restoration and renovation of the Grayson County Courthouse, but the idea also applied to the Regional Detention Facility, a pretrial holding center for juvenile offenders from three counties at Grayson County Airport. It provided services that none of the counties involved—Grayson, Fannin, and Cooke—could have afforded alone, and it became a national model for inter-governmental cooperation.
Early in his third term of office, Judge Groff made a mistake. It didn't seem like one at the time, but it was. "I had a friend who had been appointed the deputy director of the Texas Association of Counties. He called and asked me to come to Austin and help him. He offered me considerably more money than I was making here, an automobile, and a lot of freedom." It could not get much better than that for a cotton mill kid.
In December 1987, Groff resigned as the county judge and moved his family to Austin. "I never made more money, had less responsibility, and was more unhappy on a job than with that one. It just wasn't for me. I wasn't mad at anybody, but I just didn't fit in."
He stayed in Austin for two years and then came home. But to what? He had invested close to a quarter of a century working in local government, but he could not simply pick up where he had left off.
When Groff resigned, the commissioner's court had appointed retired county clerk Paul Lee to fill the county judge's post for a term of one year; then a special election was in the offing. John Crawford of Denison beat two other candidates in the Democratic primary and then beat a Republican challenger in the general election to fill the two years remaining on Groff's term.
Groff decided to run again at the next election. "Some of my friends knew I was not happy, and they weren't happy with some of the things happening at the courthouse, so I got some encouragement to run again." It was not a decision made on a whim. Groff traveled the county, talking to people, listening to people.
"I'd tell them, 'This was my livelihood and a serious decision, so just level with me,' and they did. Some of them said, 'I'd always been for you, but I sure wasn't happy when you chose to leave.' There was only one way to answer that. 'I made a bad decision; if you're going hold it against me, you'll just have to, because I can't undo it.'" Still, Groff came away feeling his return to the Grayson political scene would be welcome and probably successful, and he was right.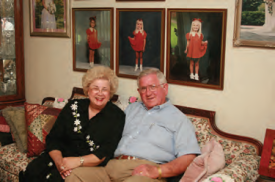 He bested the incumbent, Judge Crawford, and another opponent in the Democratic primary in March and easily won the general election in November. "I was out of office for three years, and then I found forgiveness from the people up here," he said, with perhaps an unintentional allusion to old fashioned, Old Testament redemption.
In January 1991, Groff once again became Judge Groff, the county judge, a post he held for the next 12 years, and a post he more than likely could still hold if he had wanted to stay in office. In that respect, he may be the last of his political breed in Grayson County. There was a long tradition, particularly in smaller counties and particularly when Texas was a one party state, for local officials to be career public servants.
As long as they did their jobs, the electorate was happy, and emotionally-charged contested political battles were the exception rather than the rule. That may be changing as party politics seep down to local levels, and that bothers Groff a bit.
Groff's successes were many, but there were misses too. The airport, an asset whose potential is still mostly that, a potential rather than a reality, is a battle not yet won. "That airport could be a huge engine for our economy. One of the biggest assets we have is that 9,000-foot runway. I hope that when highway 289 is extended adjacent to the airport, it will finally take off."
And of course there is the never-ending rivalry between the county's two biggest towns. "I've been to a lot of funerals," Groff said. "I thought when this one, this one, this one goes, some of the barriers would be broken down, but it seemed there was always someone to step in and take their place. Oh, for the most part, it's pretty friendly competition, but sometimes it gets aggravating."
The Sherman-Denison competition played into another disappointment during Judge Groff's tenure, although he doesn't ascribe it to that per se. "One of my dreams was a multi-purpose convention, meeting, entertainment facility. The idea got off the ground with Grayson College providing a lot of leadership for the project. We got people interested in it, then the economy hit a glitch, and inflation hit us, and it sort of went away."
There is no doubt, however, that Judge Groff sees his life spent in public service as a rewarding one. "We've really been blessed here," he said. "People around here have been good to us. It was a wonderful experience, and I don't know anything I'd want to do any different. Well, I'd try not to make as many mistakes as I did. I really enjoyed county government and met a lot of fine folks throughout the state."
The county's accomplishments under Groff's stewardship were many; better pay for county employees—although not as much as he would have liked— and better roads and bridges rank high on the list, but when you ask him, the things he mentions the most are closer to the people. "I think some of the preventive programs we started for the juvenile system have helped some kids," he said.
"Even working in probation, you try to do some things that will help people redirect their lives and have a different value system. I've always felt good about that." Groff said he still sees people he dealt with during his years in the probation office. "I've done their weddings; I've been a pallbearer for them," he said, and even though their paths crossed in less than happy circumstances, "I've been able to still look them in the eye. Some of them have come back and thanked me for helping them."
That is indicative of the man the people of Grayson County looked to and counted on for more than 30 years and who can still walk across the map from one end of the county to the other and meet friends all along the way.
Little has been written about Judge Groff's family in this profile of his life in pubic service, but the contributions of his wife Jeanne and his family are sprinkled throughout his conversation. The strength of family could not be shown better than by the six photographs that hang on the wall above the couch in the Groff's Denison home. At first glance the pictures appear much the same—a cute, yellowed-haired little girl in a red dress with a white collar. Actually, it is six cute, yellow-haired little girls in the same red dress with a white collar. Jeanne Groff is there; she was three and a half at the time. Her grandmother made a red dress for her and one for her mother. The other little girls represent two more generations of Groff girls, daughters, Tesa and Tama and granddaughters, Brittany, Lorie and Kenzie.